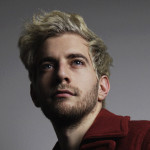 05/03/2021
It's March. Days are getting longer and spring is around the corner. How bittersweet to think that it's been almost a year since the start of the pandemic. More and more students, and even some professors, admit to being exhausted by online classes and social distancing.
But let's admit it, what's been at the back of our minds is - of course - travelling! Many among us must be daydreaming about the time this will be possible again... Travelling is at once a way to learn about the world and oneself. However, it is not the only way to do so!
At least, that's what novelist and academic Federico Castigliano argues in his book "Flâneur: the Art of wandering the streets of Paris", published in four languages, including Mandarin. According to Federico, every city conceals a story made of its people, buildings, and quirks that tend to go unnoticed. This could mean that many among us (I am speaking especially to you, fellow international student!) study and live in Utrecht, but don't take the time and care to unravel the thread that runs through our city.
Too often have I confronted other students on these issues, just to realise that they – me too, sadly – live in their own bubble. And no, I am not talking about the age-old question of learning the Dutch language, but that of "city learning". In other words, the skill to see and live the city like natives do. This is relevant in that lots of us only hang around the Drift, De Uithof, Neude and a few other places.
Some may argue that this is the worst time to burst the bubble. I'd like to think otherwise. After all, being a flâneur does not necessairly require company, nor flights abroad, just an attentive mind. The same the first generation of city walkers in mid-nineteenth-century Paris possessed. They made sense of modern city life through the act of walking aimlessly. Not only can this relieve us from some of that pandemic fatigue mentioned earlier, but it allows us to read the city's storyline at our own pace and according to our own drives.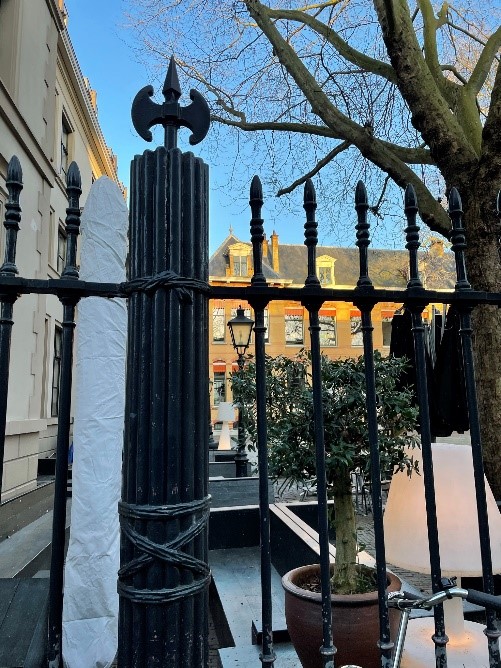 For example, architecture has been a great way for me to read the story that underpins Utrecht. During the city walks of the last few weeks, I have been particularly drawn to decorative elements on buildings that do not fit within the norm. First, I came across the fence of the Utrechts Archief, which presents fasces with double-sided axes. While this is typically recognised as a fascist symbol, here it probably indicated power in an abstract way. Turns out that the same building that hosts the city archive today used to be an important monastery. What I find interesting here is the fact that these controversial symbols of power go unnoticed.
The history student within me would have investigated more on the topic (and I probably will!), but a flâneur would let the city guide him/her to new discoveries. This is what separates the act of wandering from that of travelling, and makes the former all the more appealing. After all, we have to blame things like Trip Advisor and Loney Planet if  (pre-pandemic) we needed to compensate the quality of our trips with quantity. Being a flâneur could be a solution to this dissatisfaction as it leaves behind the prejudices, the streotypes and the list of must-see monuments that could distort a city's storyline.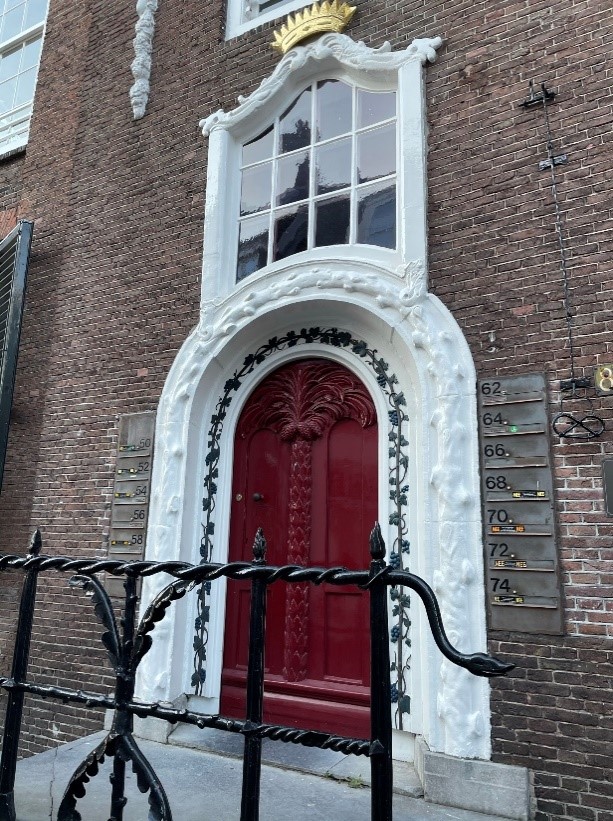 For instance, I had never found mention of this bright, burgundy door surrounded by immaculate stuccos, and a crown even! I invite you to spot this marvel yourself, which perhaps is not too far from the Drift you are all familiar with. What strikes me, once again, is the use of very specific images, in this case a long palm three, to guard places of power. But I guess I will have to embark on many more city walks to know more about my city and myself (like, why am I drawn to these quirky elements?).
What matters is that these coming spring months seem to be promising to do just that! City streets have never been easier to navigate and the average student can save up time from the lack of communting. This does not sound like a bad deal, does it? It's about taking upon ourselves the ability to be entertained and learn. Not unlike Atlas, that supports the globe from the rooftops of these houses (left for you to find!), we can and should bear this responsibility.