Read in Dutch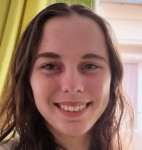 16/03/2020
"After my gap year at a language school in Málaga in 2018 I was certain that I wanted to return to Spain at some point. I received my B1 certificate in Spanish there, and my teachers encouraged me to continue studying the language. With just a little bit more effort I would soon speak Spanish better than most Spaniards, they said. When UCU gave me the opportunity to go on exchange, I didn't need much time to make up my mind. Here in Madrid they speak the most "pure" Castilian after all.
"I live in a student flat near the city centre. Normally, the house is occupied by six girls, but due to the current circumstances we are four now. We are all international students, but we communicate mostly in Spanish. They are all planning to stay for the time being.  
"About a week ago, the first students started leaving the city. I knew instantly that I wasn't just going to leave like that, if the UU wants me back, they would have to come and get me. I enjoyed my Erasmus adventure a lot and I didn't want to give up. If I go home now, there's no way back because the travel advice is negative. Besides that, I felt a little bit sick this weekend, so that was another reason for me not to go travel in this state. 
"They have declared the state of emergency here in Spain for the upcoming fifteen days. After that, the Congress has to reapprove any extensions. During those days, we are only allowed to go outside for doing groceries or getting medicine, for example. The government has already said that it will probably take longer than two weeks, and that it could be that the borders are closed temporarily. Until further notice, we are getting online classes. I am mostly taking courses in journalism, so that is quite challenging if you cannot go outside to interview people. The university of Madrid has recommended us that we stay anyways, since travelling can foster further spread of the virus. Utrecht University, however, is urging us to come back.
"I'm a little bit skeptical about that advice. Nobody can guarantee my safety here, but neither can they in Holland. I jokingly said lately: 'I'd rather have corona in the sun!'. From what I see in the Dutch news, the situation isn't all rosy there either. UCU agrees with me that the situations are indeed quite similar, and they are okay with me staying here. It probably gives me the best chances of completing my study program successfully. Also, I had already booked some trips, to the Basque Country and Barcelona, and I still hope that I can move those to later on this semester. The only thing I should keep into account is that I might not be able to travel to the Netherlands temporarily if the borders close.
"Fortunately, people around me are not too worried. I have both feet on the ground and so do my parents. I am keeping everyone up to date daily by posting blogs, that takes away a lot of concern."