Places & Spaces in Utrecht - 4th Edition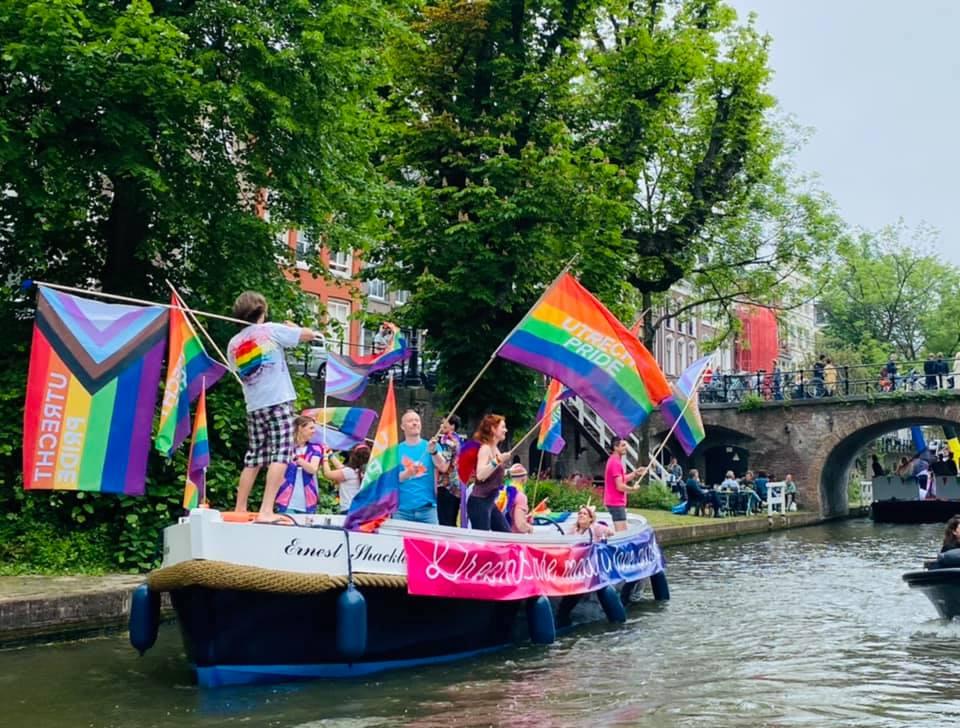 Photo: Utrecht Canal Pride Facebook
This is the fourth edition of places and spaces, I'm feeling like a seasoned columnist! The sun is starting to re-emerge after its melodramatic hiatus. So get out there and make the most of this city because there is always something happening, somewhere. In case you can't figure out exactly when and where, here is my handpicked selection of the best places to spend your sun-kissed (or sunburnt) hours. Bring friends, go by yourself, spend a couple of hours or more, steal a kiss, share a memory, have a drink, and explore.
Sidenote: I discovered this amazing app (so perfect I think it was made specifically for me) called Bimble. Users curate lists (or bimbles) of special places in their area for you to explore. On my account (@nowaymolly), I make corresponding bimbles to my Places & Spaces articles, but there's a lot more on there to spend hours scrolling through, so have a browse!
This Week: 
April 23-24: Yoga at SOIA
SOIA is a city-beach restaurant in Utrecht, well worth the visit on any day of the week in this pretty weather for good beer, good music and good vibes by the water. This place really doesn't feel like it's in Utrecht and is the perfect place to sit lazily with your friends and watch the hours roll slowly into one. They also host an exciting range of events, though, and this weekend at 10:30 each morning, there is river-side yoga. You can use your own mats or borrow one from SOIA, and relax in this lovely setting — myself and my friends will be there for a nice start to our Sundays. 
April 24: Vegan High Tea @ Molen de Ster
Molen de Ster is a quaint windmill restaurant in Utrecht with regular culture scheduling including flea markets, beer festivals, art markets and petting zoos (we may not be the target audience for these). On April 24th, the cafe is hosting a vegan high tea. With two time slots, the cafe offers a wide range of vegan treats and unlimited organic tea you can enjoy inside the mill itself or in the sunshine by the river. Super nice way to live out your Bridgerton fantasies, or just treat your friends and family. Tickets are 22.50 euros, but hey, unlimited tea...?
This Month: 
May 7: RUBBER Club Night @ BASIS, Utrecht
Every month, at BASIS nightclub, there is a gay party spanning from 11:00 pm to 6:00 am. The event describes itself as elastic, intimate and sometimes big, encouraging everyone to be their fantastic self. There is good music, drag acts and a silent disco — a great event for people to meet other open, LGBTQIA+ Utrecht folk. 
Later On:
June 4: Utrecht Canal Pride and Pride Festival
PRIDE WILL BE BACK THIS YEAR! I'm super excited for this year's event; wear your best outfits and line up along Utrecht's sun-soaked canals for the boat parade, with over 50 colourful and partying boats to celebrate along with. Afterwards, a host of LGBTQIA+ organisations are hosting a street festival with four stages, various music genres, dozens of artists and food trucks. Then, BASIS will be hosting their RUBBER gay night as the after-party. This is set to be an amazing day, so put it in your calendars now. 

June 18-19: Central Park Festival, Utrecht
In the height of summer, at Park Transwijk, Central Park Festival is happening, with a massive range of DJs, live music performances, bars and fun activities (think fairground rides and swan boats on the lake). Tickets for Saturday are sold out, so if this sounds like something for you (and why wouldn't it?) buy your Sunday tickets quick! The perfect event to make hazy, loud memories with your friends before everyone goes home for summer. 
Whenever: 
't Oude Pothuys, Utrecht 
't Oude Pothuys is a bar, restaurant and live music venue nestled in a cobbly underground cellar on the outskirts of Utrecht city centre. The drinks are good, the vibes are better and the continuous agenda of live music is amazing. They host one-off events, but also weekly jazz nights and open mics (my favourite). I attended the latter to watch my friend perform and it was a truly sweet night, I would highly recommend it. 
Chupito's Shot Bar
Open every Tuesday to Saturday evening is Chupito's Shot Bar, a hotspot for Utrecht students. The name is on the tin, this bar is devotedly dedicated to shots of all kinds (my favourite being Alien Nipple, closely followed by Scooby Snack). The vibes are chaotic but perfect for a messy night out, good luck! 
Advertisement