Places & Spaces in Utrecht - 6th Edition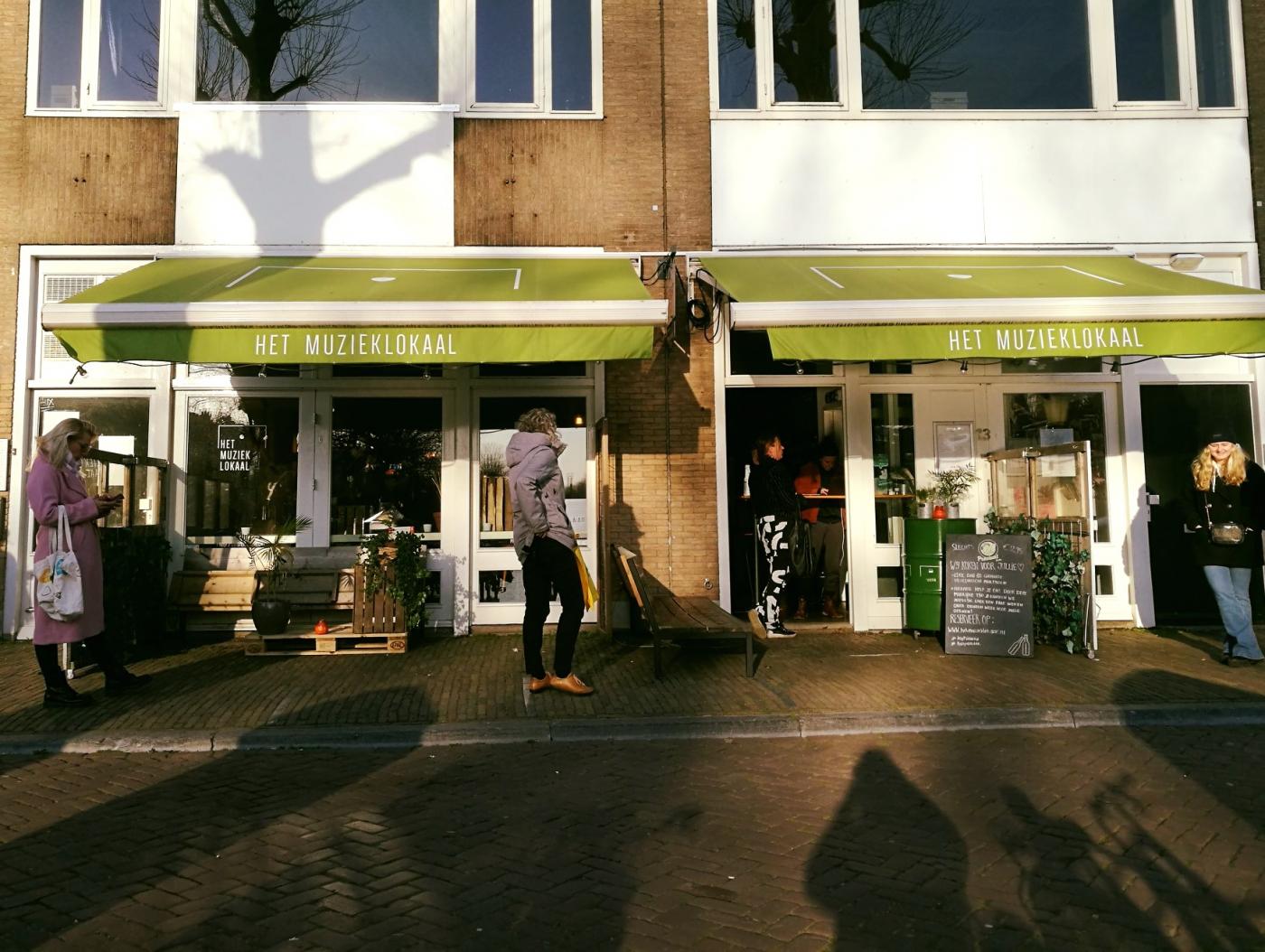 Molly stumbled upon Het Mozieklokaal while cycling around the city. Photo: Het Muzieeklokaal on Facebook
Living in Utrecht, a city so much bigger than anywhere I have lived before, has been the perfect choice for me. Now I can't even think of existing somewhere with less culture, fewer restaurants, fewer nice people... In sum, fewer spots to bring friends, go by yourself, spend a couple of hours or more, steal a kiss, share a memory, have a drink, and explore.
So much so, I often feel unfulfilled if I don't go out to the next big show, or the coolest club, or the nicest restaurant every night — although I know that shouldn't be the case. This city is captivating and enticing, but I urge you to take your time with it and, more importantly, away from it. Sitting by a river having a read and a smoke can be just as memorable as that techno night you booked weeks in advance. You're living in the city, and living involves those little, quiet, boring bits too.
That being said, Utrecht is still promising countless exciting ventures for you to enjoy your time at, but make sure you take some time for yourself too. 
This Week: 
May 18 - July 3: 'The Lost World' Immersive Exhibition @ The Ping Pong Club
At one of my favourite venues in Utrecht, the dreamy Ping Pong Club, a super unique, immersive exhibition is being held from May 18 to July 3: "The Lost World". The exhibition, by photographer Maan Limburg, promises to take guests on an exploration of the abandoned urban areas of Japan, presenting both their intimate and desolate natures. The immersion involves a custom-made soundtrack as well as accompanying, corresponding smells to each piece. Entry is free, but maybe book a table at the club if you fancy a drink after, as this spot is continually full.
May 21- 29: 'Creating Landscapes' Interactive Exhibition @ Fort Lunet I
From a collaboration between IMPAKT and Grounded Collective comes the immersive, interactive exhibition 'Creating Landscapes' at the beautiful Fort Lunet I. Running for just over a week, this exhibition (curated by Paul Schmidt) invites visitors to step into the space between human and non-human entities, exploring the relationship between ourselves and nature. Experimental by design, the event is composed of experience video games, storytelling installations and soundscapes. Tickets are 5 euros (4 euros for students). 
This Month (Up until June 25): 
June 3: 'Perfect Indie Disco' @ EKKO
I don't have to explain anymore how I love screaming along to songs on a night out, and I know this is exactly what I will be doing at this 'perfect' indie-rock night at the very cool venue, EKKO. Tickets are 7 euros and the organisers promise an eclectic array of tunes from The Cure to Fontaines D.C. to Caroline Polachek (where's the Mitski, though?)
June 14 & 21: English Open Mic Night @ The Comedy Cafe
Promising good food, good cocktails and (most importantly?) good comedy, this cafe has been a big player in the Utrecht comedy scene since 2009. With a super-wide range of events, typically five a week for Dutch speakers, the cafe also offers at least two English-speaking shows a month, the day of writing being one of them (and where I will be going tonight). Tickets are a lot cheaper than other English-speaking comedy shows in Utrecht, at 7.50 euros.
June 25: Grounded Festival @ Fort Lunet I
The Grounded Collective, busy as always, have organised their annual Grounded Festival, scheduled for Saturday, June 25. Located in the truly enchanting Fort bij't Hemeltje, this festival is deeply rooted in the collective's ethos of sustainability, inclusivity and community connection. Aesthetically, the festival is all psychedelic decorations, colourful flags, hidden art and multi-sensory installations. The line-up includes DJs like Dutch Afro and San Proper, artists like Benjamin Fro and Kush Band as well as workshops like hoop dancing, yoga and mindfulness. Tickets are just over 26 euros. 
Later On:
July 15: 'Lionstorm' @ de Nijverheid
This self-described queer, hip-hop duo stands for tilting power, pushing standards and breaking prejudices. Their show at de Nijverheid, as part of the urban venue's summer cultural agenda, is poised to be a riot. Their newest single 'Must Fuck' is experimental, explicit and inherently anarchist, very sad I'll be back in England and can't go party. Tickets are 13 euros. 
Whenever: 
GYS
My parents came to visit this past weekend, and we unanimously agreed that GYS was our favourite meal of the trip. This gluten-free, vegetarian and vegan restaurant has two locations in the city: Voorstraat and Amsterdamsestraatweg. Specialising in comfort food, the menu breaks down the flavourless stigma of plant-based eating and is relatively affordable. We shared the snack platter, consisting of teriyaki-style wings, falafel, oyster mushrooms and more, and could have had another four of them. Yes, it was that good. Highly recommend. 
Het Muzieklokaal
This hidden bar/cafe is a lively place and something I stumbled upon while having a cycle around the outskirts of the city. The food is good, but the performances are better: specialising in classical music, the bar has something on every night of the week and aims to champion young, upcoming artists. 
Advertisement