Places & Spaces in Utrecht, first edition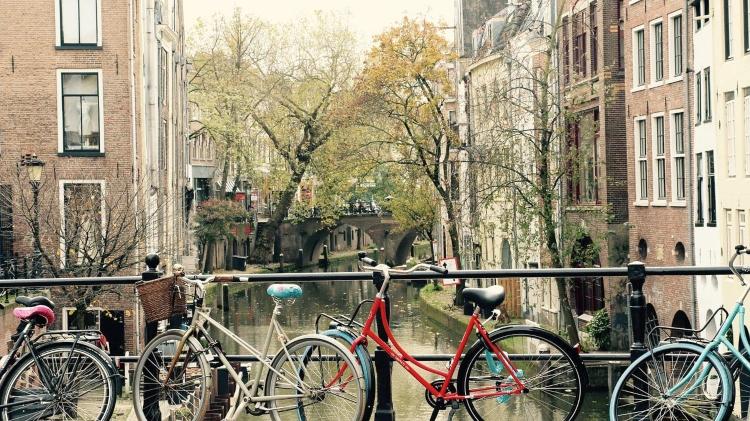 Image: Molly Field
Living in a city is hard sometimes; feeling like something is always happening, somewhere, but not knowing where or how or when. As a newly-transferred exchange student in Utrecht, I am terrified of missing anything and spend, literally, every morning looking for cool events to drag my friends to.
Utrecht is full of quirky, intimate, big, exciting, exclusive, inclusive events and activities that can really fuel the soul. Luckily, I've found most of them for you (emphasis on the most). Places & Spaces will be a bi-monthly round-up of all my morning research, at your disposal to find the best goings-on for students in Utrecht. Some are free, some can be free and some cost a little. Bring friends, go by yourself, spend a couple of hours or more, steal a kiss, share a memory, have a drink and explore. 
This Week:
March 8: International Women's Day March
IWD, a group of change-making feminists based in Utrecht, has organised an inspiring event for this year's international women's day! Beginning at 5:30 om in Vrouwe Justitiaplein, the evening will include rallying speeches, music, a march (wheelchair-accessible), food and zine-making. Make your best sign (made mine frantically last night and with too much glitter) and invite those in your life to join you in this important conversation. More information involving technicalities and accessibility can be found on the group's Instagram: @iwdutrecht. Happy international women's day! 
March 10: La Cassette Curated Movie Night @ De Nijverheid
La Cassette is a Utrecht-based art collective describing themselves as doing some party stuff, some radio stuff, some clothing, and movies on the side. As part of an ongoing series, La Cassette has invited young, talented creator Suzanne Koopstra to curate a movie that inspires their work as a film-maker. After the screening (the film is kept a secret until the event), Suzanne will host a Q&A with ice-cold beer and popcorn. In a very cool venue, with very cool people, and completely free. Head to their Instagram to find the post and reserve a ticket: @lacassette.online
March 12: Zer00s Heroes Club Night @ Tivoli Vrendenburg
It might be embarrassing to admit, but my favourite nightclubs are not the ones that would fit in Berlin, but the super cheesy ones. Think: sing-screaming the lyrics to songs you haven't heard in five years (or all the lyrics you can remember). Think: Toxic by Britney Spears and Stars are Blind by Paris Hilton. Zer00s Heroes club night is exactly that, opens at 11:00 pm on the 12th, and costs 12,80 euros. I'll see you there, I'll be wearing my double denim. 
This month:
'Language No Problem' Programme @ Springhaver Cinema
A cool, retro independent cinema in Utrecht is hosting an amazing programme catered towards English speakers (like me) with a selection of "must-see" foreign films (some old, some brand-new) like Amélie, Drive My Car and The Worst Person in the World (which, on the day of writing, I am seeing tonight and am beyond excited about). 
March 30: Rex Orange County Solo Concert @ Paradiso, Amsterdam
I may be a little biased, but one of the most talented indie artists, Rex Orange County (fellow Englishman), has just announced a solo show at Paradiso in Amsterdam. Paradiso, a colourfully-lit old church, is a really sick venue and Rex is really sick live, often interacting with the crowd and taking requests. Tickets go on sale at 10:00 am on March 9, so go support independent music venues! 
Later On:
April 21-23: MOMO Music, Performance and Art Festival, Rotterdam 
My friends and I snagged our tickets to this as soon as they came on sale. Motel Mozaique hosts the 20th edition of their eclectic and varied festival, intent on highlighting the coolest locations and hidden places in Rotterdam through raves, concerts, art installations, performances, street art, interactive experiences and (so much) more. The festival promises new encounters, some more awkward than others, to take you on a road to self-discovery with a musical line-up including both emerging new talents and renowned names. I am so excited for this. 
May 19: Stukafest, Utrecht 
This is maybe the coolest concept for a festival I've ever heard. Stukafest Utrecht (also in other cities around the Netherlands) is a host of performances (music, dance, theatre) held in different, cool student flats across the city for students. If you have a cool space, get in touch with Stukafest to host your own intimate performance. Otherwise, you can purchase tickets closer to the time to attend as many of the performances as you wish and meet loads of cool people in Utrecht.
Whenever:
Duke of Tokyo Karaoke Bar, Utrecht 
This insane karaoke bar has just opened in the centre of Utrecht, with the interior modelled on the buzzing back streets of Tokyo's coolest neighbourhoods. The karaoke book is, quite literally, endless and the bar features Japanese flavours, cocktails, sake and spirits. Go for a drink or a sing with the best performers of your friendship group. One look at their Instagram and you'll be hooked on visiting, trust me.
Exboot/Exbunker Exhibitions, Utrecht 
Exboot and Exbunker are two exhibition spaces in Utrecht that host a revolving door line-up of artists and works. Exboot, as the name suggests, is in an old, unused boat while Exbunker (sorry to be so obvious) is in an old bunker. I attended an amazing VR exhibition in Exbunker and had a lovely chat with the artists, who are usually watching over their work. Entrance is free! 
Advertisement