Coming to Utrecht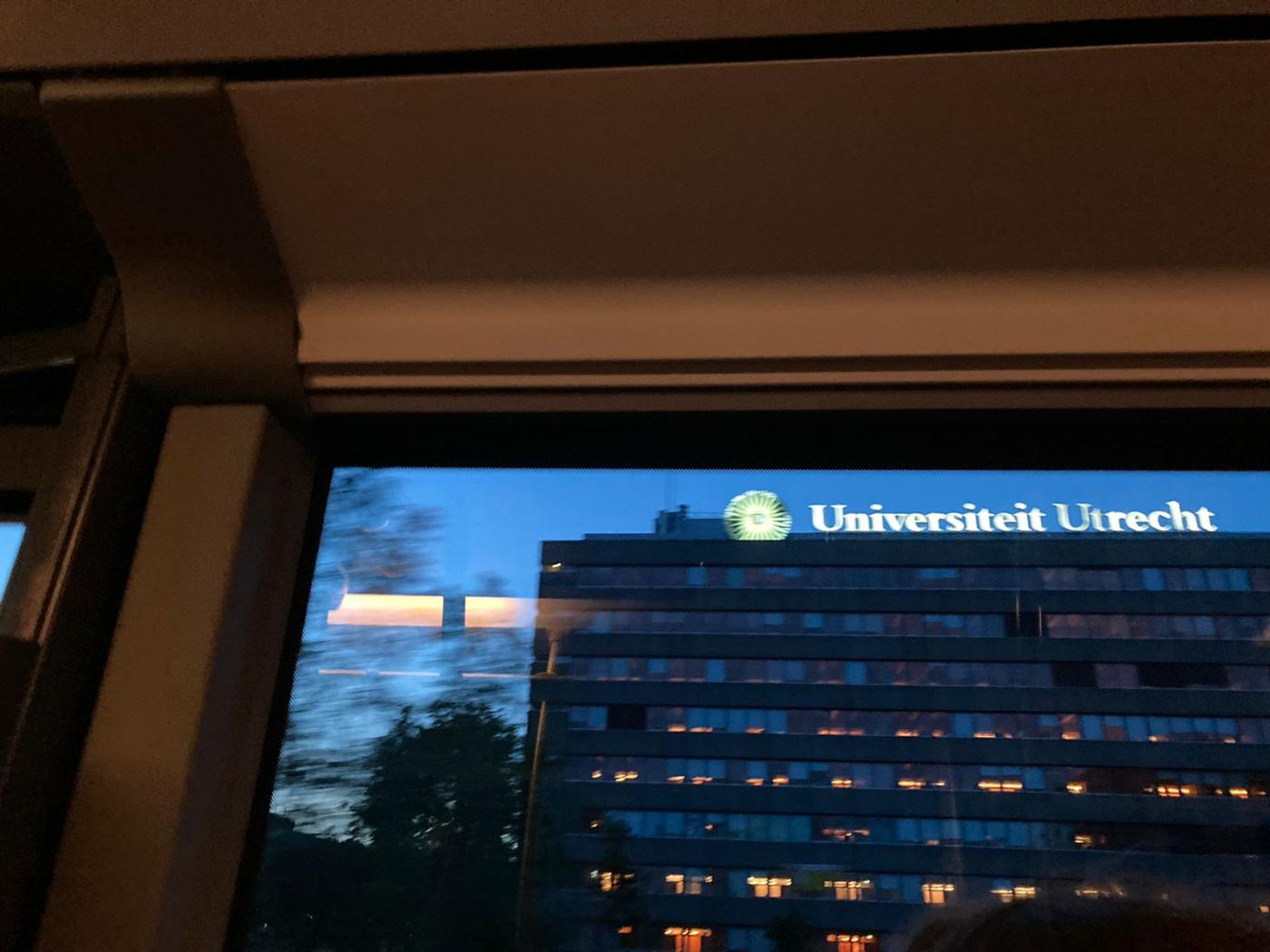 Chandni's first glimpse of the university from a bus. Photo: courtesy of the student.
It is my second week in Utrecht already. So many things have already happened. I got my BSN number and a local SIM card. I am also the proud owner of a pretty old bicycle that I am getting fast attached to. I defended my thesis in front of my peers and faculty in a faculty room at the Laangveld Building. It was the first time in three years that I stood in front of academics in real life. I attended a meeting with the other members of the core team of the student journal SCAJ, in another building that I quite don't know the name of. I attended an anthropology night at a restaurant overlooking a quaint little pond with its own small boat. I also went on a trip to the countryside with my classmates and witnessed the coming alive of the forests I had read about in fairy tales. So many things in such little time and it is only this weekend that I sat down to deal with what all this means.
Utrecht and my dear friends seemed familiar. It was not me meeting new people in a whole new place but rather meeting old friends and places whom you have been seeing through the glass door. I had read so much and heard so much about the canals but they are truly a treat to fathom. I had known about cycling too but that did not prepare me for how much I would have to cycle when I got here. This was still doable. But what really surprised me was how everyone stuck to the right regardless of whether you are cycling or walking. Back home, you were supposed to be on the left. A few confusing hours later I figured this out and rewired myself to stick to the right.
I am also quite surprised by the weather. I had expected it to be a lot warmer and I am new to the art of layering. So all I had was one sweater and a couple of jackets and coats. I am still struggling with this but there is some progress I think. For example, I went last week to chill with friends at the Kade wearing a hoodie and jeans. We were to be sitting in the sun and I quickly had to figure a way to survive the warmth but I still felt cold while cycling back after a few hours. I was also severely underprepared when I went on the trip and had to borrow a jacket from a friend. I now have a few borrowed sweaters and some other non-cotton clothes that I can layer with. I also learned that wearing stockings under your jeans is a game-changer!
Many expat websites warned me against hoping for Dutch friendships. I have been really lucky. I had friends pick me up from Utrecht Central the day I arrived. It was such a relief having them to go to. I was introduced to my neighbourhood and exposed to the vastness of a nearby Albert Heijn before they left. I do not yet have a bank card, so I had to use a friend's card for transactions rather often. Another one gave me a spare OV card so I could take the bus to the Science Park. They check in on me and make sure I have what I need, from sweaters to directions. I was very hesitant to approach strangers for help while getting around in the beginning because no one would meet my eye and it felt intrusive trying to get someone's attention. Over time, I realized that people are really nice and happy to help once you ask. I am looking forward to meeting other people I have seen online and spending the last few days together before our graduation!