Mood forecast – will it be a sunny day?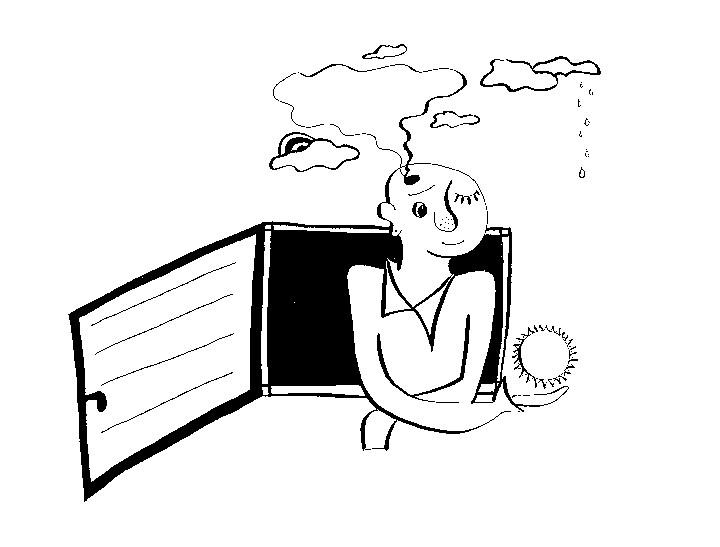 Illustration: Lili Szarvas
Welcome to the weather forecast. Now, let's see what the weather is like today. In the north of the country it's very windy and cold. Obviously, there is a chance of some rain too, so don't leave home without your umbrella! The temperature is around 13 degrees Celsius. The rest of the country is rainy all day too, I'm afraid, and there may be a thunderstorm in the afternoon.
It is Monday. I hear the annoying iPhone alarm go off, open my eyes, either hit snooze (just this once) or arise from under the warm duvet of my bed. I proceed to the sink which is conveniently placed in my room, wash my face, then look into the mirror. Ouch. I don't take it personally: it is Monday morning after all. Then I drag myself to the kitchen, where the sacred coffee machine is, pour myself just enough to kickstart the day, and go back to my room. Every morning, after this dreadful séance, comes my favorite part: I sit by my window half awake and look vacantly outside.
Since, as a true university student, I never really get up before 9 o'clock, by the time I perform these 20 minutes of silent treatment, the face of the given day's weather has already revealed itself and I can already tell if the day will be glorious and sunny or blue and melancholic. It is strange, especially since the pandemic started, how the course of the weather so highly influences my mood, as if one of those pretty weather girls enlightened me each morning what kind of emotions and mood changes I'll go through that day.
So, I look outside and the questions come bursting out of me: will it be a day when I play beach volleyball, and even though the sand gets to places where it should never ever reach, I am content because the sun is shining and we are listening to Dire Straits' Walk of Life? Or will it be another day inside, when I reenact the montage from every teen drama with all the characters facing some major life decision, therefore simultaneously staring at raindrops slide down their windows? Will it be a day for arguments, interventions, laughs, or cries? Will it be one for learning, reflecting, and reaching towards something not present in my life right now? Or will it be the bipolar weather of April, when one second it is hailing with rose petals mixed in the insane storm, then the next one the puppet masters of the weather calm down and you feel the velvety caress of the sun on my cheeks?
Personally, if I see even a little bit of sunshine painted on the sky in the morning, I can relax that there won't be a monsoon of sadness, loneliness, and quarantine haze that day. I just hope the world will welcome more and more sunny days from now on.