'Meditating is like drugs'
Wherever you are, be there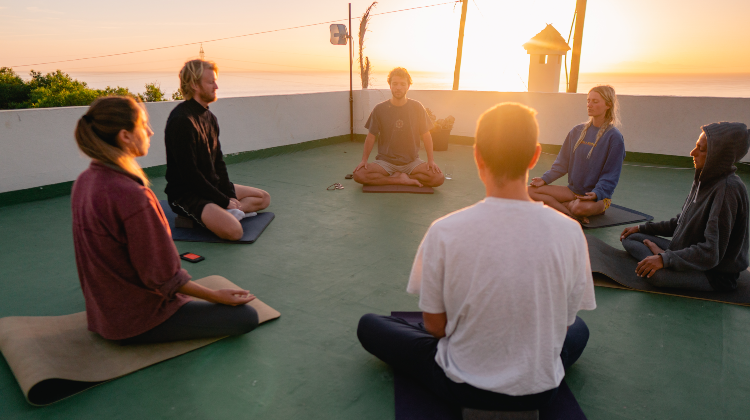 Image: Plek om te zijn
Meditation is like drugs. At least that's what I tell people to try and explain the effect that it can have on me. Six months ago, I was frantically searching the Oudegracht on a rainy Thursday evening, trying to find an address that didn't exist. After a few circles and panicked texts, I found the door I was looking for. Down a flight of stairs, on the water, or aan de werf, there is a place to be — Plek om te zijn.
Nervous and excited, I spent my night with a group of strangers all looking for a deeper connection to themselves and one another. I couldn't help but laugh at some of the instructions I was given. "Walk around and find a part of nature that you connect to". Hello? I'm in the middle of a city, this isn't nature. But I obliged and found a little red flower, drowning in its pot plant. The memories have faded now, but I remember feeling silly, peaceful, and playful. So, I kept going back.
Some nights, we sing. Others, we dance. Blindfolded in the candlelight, I often imagine what the people in the boats going past must think, perhaps we look a bit like a cult. When I tell my housemate about the sessions, I smile with glee and recount meditation journeys of meeting my inner child and holding her in my arms. She usually responds laughing, "You're such hippies". It's true, that some of us wear the flowing skirts and pants traditional to hippie culture, but others come from their corporate jobs and have perfected the art of crossing their legs in tight jeans.
We meet each other where we are. Folks come with pain, others with joy. There's crying, laughter, hugging, and jelly-like stretches of silence. Meditation has taught me a lot. I've built a home of safety and security in my mind and in my body. One I can return to in the middle of a stressful day or when catching my breath at the top of a mountain. I've also let go of my fear of fear. Fear is welcomed now, another emotion that belongs and can be given what one of the facilitators, Joris, calls "loving attention".
Meditation isn't a quick fix or cure, but it is a warm bath for aching muscles. Like anything, it takes practice and time. Repetition and reconnection. I feel incredibly lucky to have found a place to be me in the neap and spring tides of life. That place is inside me every day, and once a week at Plek om te zijn.
Advertisement