5 tips to stay sharp in block 4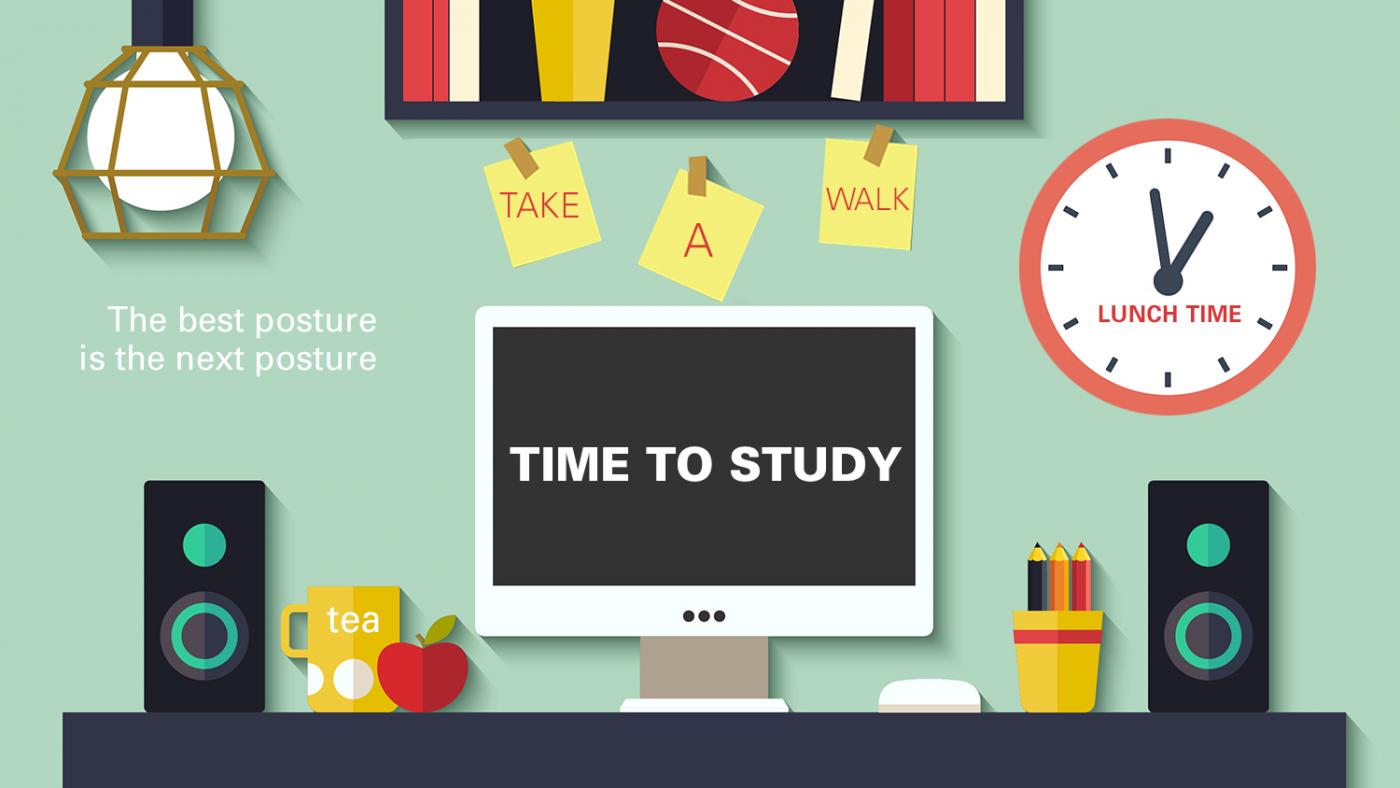 Illustration 123rf
1. Allow yourself some variety in a comfortable workplace
A healthy mind in a healthy body. The place we work has a huge amount of influence on how we perform. Physical therapist Laurens (Fysio-Fit) says that variety is the most important thing in a good workplace. Co-worker Ron adds: "In principle, any posture can be a good one. But where it often goes wrong, is when we spend a workday at home sitting in the same posture for too long. The best posture is the next posture!"
You can, for instance, introduce some variety in where you work. You can attend classes at the dining table, and read a book on your couch. When you're sitting at the table, make sure you have ample support. Put your feet on the ground, and put your laptop up: the top of your screen at eye level. Having a separate mouse and keyboard are no unnecessary luxury.
To ensure a healthy mind, there are a few other things you should be attentive to. Home, to many of us, is mainly a place to relax. Studying is done in libraries, study advisors hear. It's important to have somewhere that functions exclusively as a place to relax, and somewhere that's only meant for working. Student psychologist Jerre Mijnarends explains this: "Your brain has to associate that location with studying, and not with Netflix or other forms of relaxation."
Now, while you're reading this, create a rule for yourself. For instance: no more watching Netflix at your desk, and no more opening your study books in bed.
Another way of introducing variety is simply getting up every now and then, and doing something else for a minute or two. Simply standing up and breathing calmly could work, but you could also use this time for some exercise, such as doing a few squats.
2. Give yourself energy by sticking to a daily structure
The student psychologist, the Utrecht University Skills Lab, and students who are successful at studying from home, all say a good daily structure can help to actively work on your studies. You start the day with setting your alarm clock. Make sure it goes off at the same time from Monday to Friday, even if you don't have classes.
During the day, it can be helpful to always have breakfast and lunch at the same time. This makes it easier to divide your day into blocks. And if you don't have all that much to do? Use the time after your lunch break for relaxing.

Ending your day can also be tricky. "I'm used to do my homework in the evenings. Now that everything feels like homework, I'm sometimes working until deep in the night," says maths student Debbie. This is something where you can use the assistance of your housemates (or, of course, your parents). Agree to Skype for an hour, or clean together, at 5 pm. That way, 5 o'clock becomes your deadline. That also helps you start on time, which in turns helps to ensure you'll finish your tasks. If you write down questions for yourself during the day, you can ask your 5-o'clock-date to quiz you. If you want more help in creating overview, perhaps the Skills Lab webinar, 'Beating infobesitas: studying with overview and insight', on May 14 via Teams, can be interesting for you. You do have to sign up in advance.
3. Prevent distractions
A quick round of questions amongst students shows that many deal with headaches, let themselves get distracted while studying for all types of outings that have nothing to do with their studies, or are unable to quit the videogames they never should've started playing to begin with.
Headaches
After a day spent staring at your computer, it's common to feel it start up: a headache. One thing you can do immediately is lower the brightness of your screen, filter the blue light, and avoid direct light.
Drinking enough helps too, of course. Many people forget that this doesn't mean you should down a full litre of water in one go. Drink small glasses of water throughout the day, add a bit of juice at times. Eating fruit helps as well. You take up water more easily when there's a bit of sugar in it.
Don't drink too much coffee, by the way. A cup or two to start your day with is fine, if you're already used to it, but coffee dehydrates, and makes you forget that you're tired. That will just make things harder for you tomorrow. Switch it up by drinking a cup of (decaf) tea sometimes.

Computers
Did you know that software exists that can block tempting distractions on your computer? The free programme that works for Firefox is called LeechBlock. For Chrome and Safari, you can use WasteNoTime (also free). And one programme that blocks other programmes, not just websites, is called Freedom.
Smartphone
To use your phone less, you can try Forest. That's an app that makes you plant trees before you use it.
Transforming distractions into something useful
Housemates can be practical, too. Making a schedule together is useful, but you can also let your housemate guard that oh-so-distracting game console, and you're tackling two issues at the same time. Take a good look at each distraction – most distractions work very well as rewards after a job well done.
4. Take some distance from your workplace
When you get frustrated because you're getting stuck, or you just can't concentrate any longer, allow yourself to do something different, such as walking around the block. Student psychologist Mijnarends: "That way, you can look at your work with fresh eyes, and get away from the negative emotions for a bit."
5. Do it together
Fleur says she's just moved into a studio in De Uithof. She doesn't have any housemates, and doesn't know any of her neighbours yet. Even if you're excellent at being alone, it still gets very lonely after a while, she says. During the online Wellbeing Week, from May 11 to May 15, one of the scheduled activities is the #UUgotThoughts on solitude. You can have a meaningful conversation each day at 11am, until Thursday.
Microsoft Teams doesn't have to be exclusively reserved for online classes. Dr. Sterre Leufkens on Twitter: "Some students meet up online […]. This provides structure, encourages, and it gives you a reward when other people see you've done some work." If you don't have any friends who want to join you, strangers might be a great alternative. There are, for instance, special groups on several social media platforms, including Facebook and Tumblr. The latter offers the option of joining several group chats, through the app. Group chats for various study disciplines have already been created by well-known studyblrs.
One thing that works well for me personally is a study group. I made a post on the Facebook page of my study association (the Utrecht Biologists Association), asking who else was having trouble studying for a certain resit opportunity. Now, we regularly work on assignments we give each other, together. And because we don't know each other as friends, we only talk about the coursework.
---
More tips?
Tips in Times of Corona, from Utrecht University
The full programme of the UU Wellbeing Week, from May 11 to May 15, 2020