Read in Dutch
The jury for the competition of Campus Columnist 2020 had a really hard time making a decision this year, said editor-in-chief Ries Agterberg during DUB's New Year's drinks on Wednesday afternoon. The three nominees were all very good. As one of the nominees wrote in English, the decision was made to choose winners: one for DUB's Dutch pages, and one for the English pages. Then all was left was to choose one runner-up.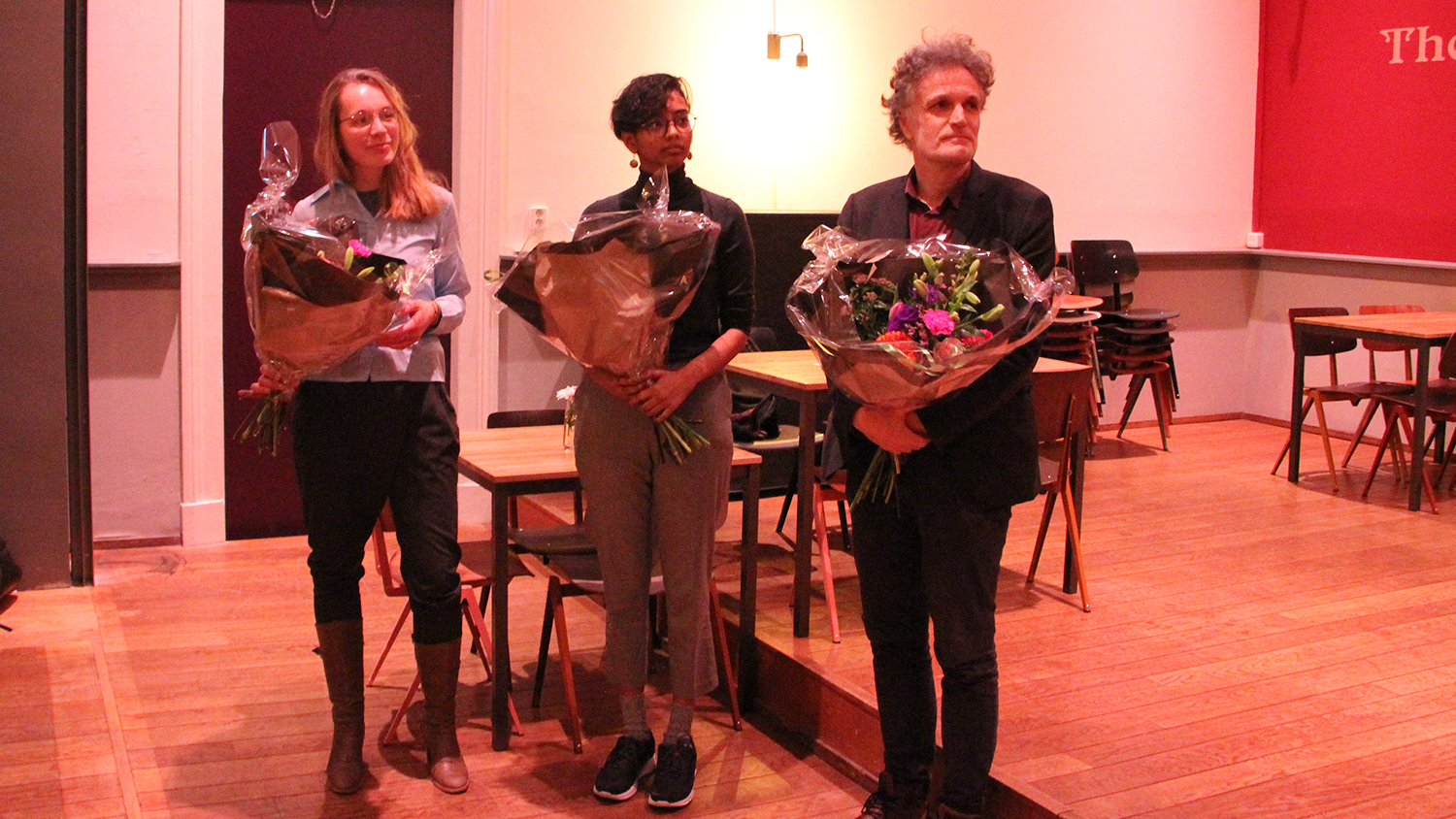 Aside from Indian student Keerthi Sridhanan, who's a third-year student at University College, the jury ended up naming Francis van den Brink, second-year student of Language and Culture, the other winner. Both student will receive the Erik Hardeman stipend worth 1,000 euros. The runner-up is senior lecturer Jaap Bos. Keerthi and Francis will succeed last year's Campus Columnist, Mathijs Geurts.
The two students were pleasantly surprised to hear about their joint win. Francis: "In my studies, I've got the chance of looking around the entire faculty of Humanities. My preference is in literature, because with literature, one can learn about the world in all its truth. One day, I want to contribute to that truth, with my own literary work, but the dream of being able to speak that way in the adult world is, I think, something for the future, beyond my student days. I think I can use my columns to gain experience."
The two columns Francis had sent in had caught the eye of the jury for their excellent style and beautiful wording. She presented herself as a writer-to-be without drowning in an excess of imagery. In her column Escalation, she describes her love-hate relationship with her laptop in an expressive, creative way.
Keerthi Sridhanan originally hails from India. Because her father was a diplomat, she'd previously lived in six countries on three continents. She's spent time, for instance, in Beijing, Hong Kong, Fiji, New Delhi, Washington D.C., and Taipei. "This gave me a globalised worldview," she says. "And that also influences the way I write, on topics like identity, migration, and what it's like to live in the digital age as a member of the LGBT+ community. As campus columnist, I want to see what these themes are like at a renowned institution like the UU." As a journalist, she's already published a lot, including in The Oberlin Grape, an American campus magazine about social justice and student culture. She also worked as a columnist for the Commonwealth Magazine in Taiwan.
Her column Room and Board caught the eye of the jury for its pleasant, convincing style, and for beautifully portraying what it's like to be a foreign student staying behind on campus in the weekends, not having the option of going home for a little while. But isn't student life, to an extent, leaving one's nest and becoming independent?
With fourteen submissions, the number of entries was the same as last year. This year, twelve students and two employees participated in the competition.
More creativity
The jury had called for more creativity, and was very content with the way the participants had responded to this call. There were, for examples, columns that were adorned with photos. One hilarious example was called For Sale: Kromme Nieuwegracht 80, any reasonable offer, in which the UU building was described in a familiar style like on real estate websites, including photos. Another column was a poem with the title Growing up be like. The column The Uithof Murder was the start of a thrilling saga, and thus highly original.
Just like last year, the jury remarked that for many participants, writing a column was a way to brood and criticise. A critical column is fine, but it should go beyond simply remarking that student debt is becoming too high for many students, the University Library is always full, and digital dating is nothing more than a meat market.
Clear point
A column has to be well-written, surprising, and it should have a clear point. That was definitely the case in the third nominee's column, Opportunist Minas by Jaap Bos, senior lecturer of Psychology. His critical column about internationalisation voices a complaint, but he manages to word it in a humorous manner.
This year, the jury consisted of poet and assistant professor of European Law, Hanneke van Eijken; press officer Roos Wijnants; former campus columnist and Bachelor's student of Philosophy, Michiel Hekkens; and DUB editor-in-chief Ries Agterberg.