International students can vote on March 21st: how does that work?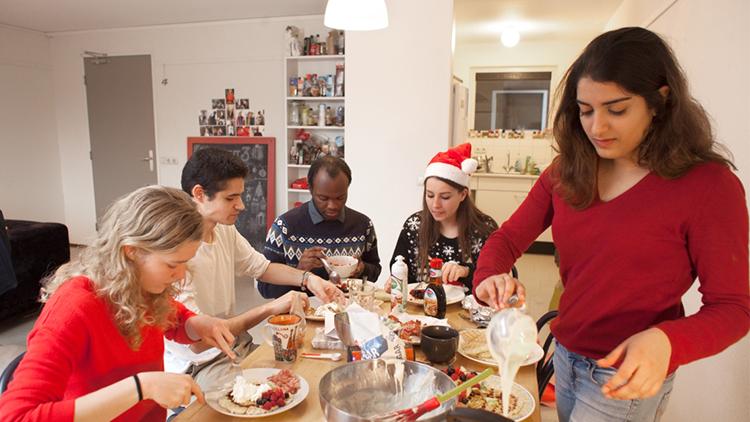 Since 1996, people from an EU member state are eligible to vote in other member states, provided they're registered there. In Utrecht, that means an annual 1600 students, a spokesperson for the city explains. Not everyone is aware of this. In a letter, political party D66 calls attention to this fact, and urges all of them to go vote on March 21st. 
Why do we have this law? UU associate professor Wytze van der Ploeg has specialized in national and decentralized state law, and explains: "The decision was taken at one point at a European level, and is based on the idea that the countries in the EU are more than accidental neighbors. So if an Italian person, for instance, lives in another EU country for work, that makes them a part of that community. It then follows that the municipal elections therefore are an event where he can have a voice in decisions about himself and his environment."
Connection to the city
It's different at a provincial and national level, where the eligibility to vote only applies to people with the Dutch nationality. Van der Ploeg: "Municipal elections, as opposed to provincial and national elections, don't have severe consequences to international policy. It wouldn't be realistic to have people from countries we have international relations with, be able to influence that policy from a different country."
The turnout for young people at municipal elections is generally low. Isn't that going to be even ore the case among international students? They're usually only here for a few semesters. Van der Ploeg thinks the attitude of international students doesn't differ much from that of Dutch students. "Whether you're from Groningen or from Italy: both students can feel a lack of connection to the city because they're only living here temporarily."
No special information provided to EU students
International voters don't get any special information about their right to vote, the city of Utrecht says. They'll get their information the way everyone else does: through nationwide publicity, the billboards around town, and the voting papers they'll receive in the mail. The Kiesraad, a national organization in charge of the elections, does have an English-language website, which the Utrecht city website links to.
Asking around among ten EU students proves additional information would definitely be welcome. Most know they're allowed to vote, but the lack of information about participating candidates is a big reason most of them aren't going to vote. Another much-heard argument is their temporary stay: they don't feel connected to the city enough. Sometimes, not voting has a practical reason: the voting papers haven't arrived, because the student only just registered with the municipality.
Political engagement doesn't end at just casting a vote
Irish student Andriu (21) says it's a fantastic opportunity for international students to influence the policy of the city. "I once read that internationals in Utrecht make up 7 percent of the city's population. All our votes together would make up three seats. That could make or break a coalition."
The student of politics and music technology has lived in Utrecht since September, where he's been organizing student protests against the housing shortage. Still, he won't be voting on March 21st: he's lost his voting papers. "I had to move six times in a very short period of time, and those papers were left somewhere. The housing shortage is something I hope the city council is going to do something about. After slumlords and a friend's couch, I'm finally living in an SSH house, legally. It's a shame that bad luck is preventing me from voting, but political engagement doesn't end at just casting a vote. I hope to let my voice be heard by going into town with protests about the dire housing shortage. The Dutch language isn't a barrier in this case: I talk to Dutch friends about local developments, and I'm a loyal visitor of dutchnews.nl."
Aleksi Hamalainen (25) is from Helsinki, and will live in Utrecht until 2019. He's doing the research master's Religious Studies. He would also like to see the housing market improve. But although he's aware of his right to vote, he says he doesn't know enough about local politics to go vote. "It's odd: I'm an EU citizen, I study here, and I live in the same place as Dutch people, but at the same time, it's not my real home. It feels as though the elections are irrelevant to me, when at the same time, they do: the results will also have an impact on me. But: I don't want to vote just to vote."
Logical consequence of EU membership
To many Dutch people, it comes as news that EU students are allowed to vote. Dutch student Tessa Hagendoorn (27) is doing a master's in English. She thinks it's odd that foreign students who are only here temporarily are allowed to vote. "I mostly wonder whether they'd even want to. As a foreign student, you're lacking the context of these kinds of elections in a country. Plus, these students probably won't even be here to see what the consequences are. But: if you're going to stay in a country for a longer period of time, I do feel like you should be able to have a say in what is or isn't important to you."
Lotte Klaassen (22), board member of the Erasmus Student Network ESN, deals with international students on a daily basis. She didn't know about the voting laws either, but says it's a logical consequence of the EU membership. She thinks chances are small many students will really go vote. "As most students are only here for one semester, they often don't register themselves, and so they're not allowed to vote. The students who will go vote, are probably the ones who are doing a whole bachelor's or master's here. They're living here for a longer period of time, and city policies affect them, too."
Spanish sociology student Lucia Garcia Larrauri (20) is living in Utrecht for a year for her Erasmus exchange. She had no idea she was eligible to vote. Now she's been informed of her right, she states with firm conviction she'll use it, too. "International students often only live here for a year, so it's a good thing we can voice our opinions and our worries." The only thing Lucia needs, is time to get acquainted with the points of view of the Utrecht parties. And voting papers, of course. "Is that that blue envelope with Dutch text? If so, I received it."