To lobby or not for more 'in-person' education: students are in favor, teachers against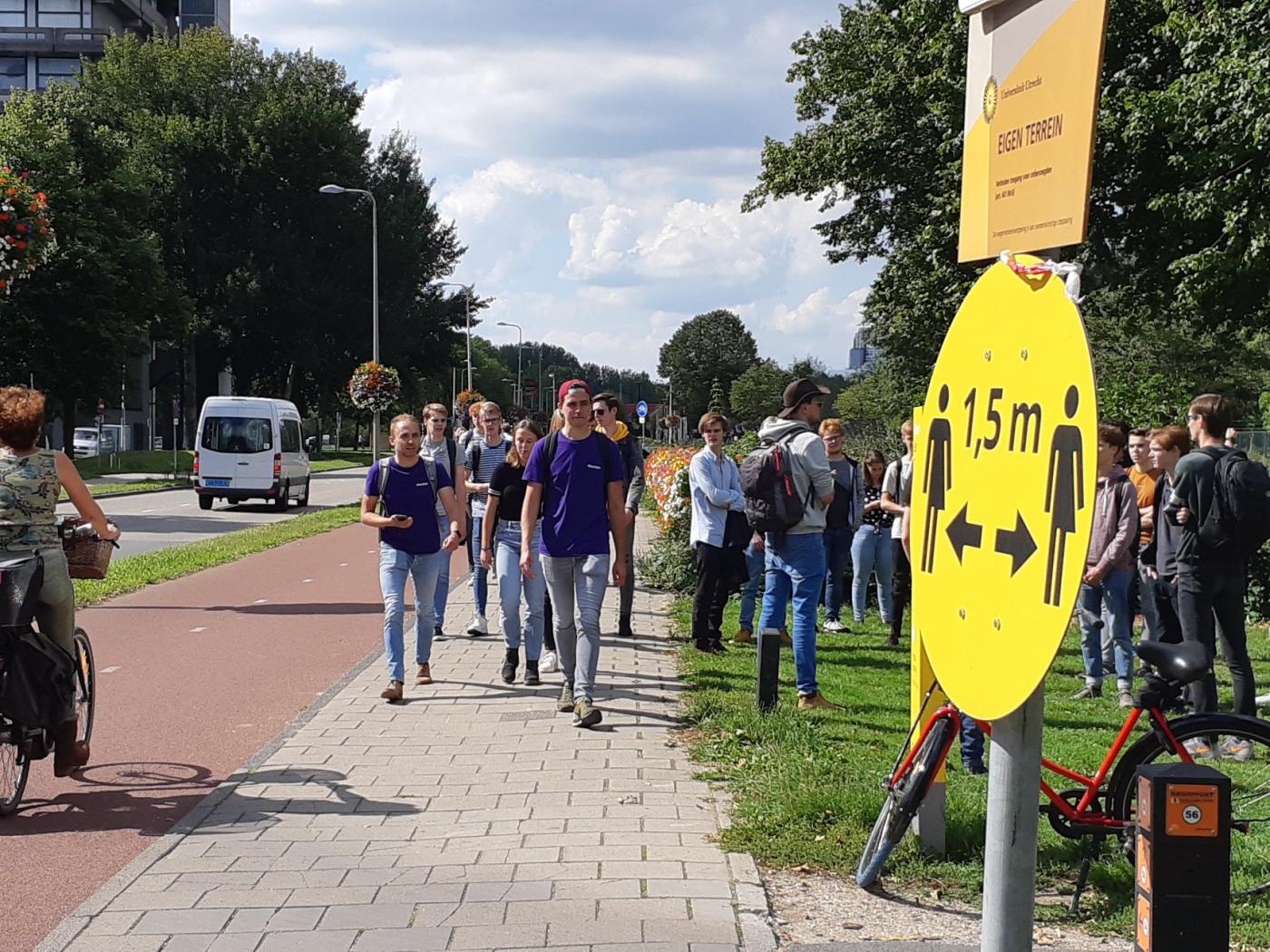 'You can't study at a university programme without seeing your fellow students and your teachers.' The president of the University of Amsterdam, Geert den Dam, was very outspoken for the NOS news cameras last week (in Dutch, ed.). She called for the government to study whether it's possible, one way or another, to let more students return to their campuses.
She received support (in Dutch, ed.) from university association VSNU. Utrecht University also agreed with the call for a study on relaxing the rules, DUB was told. "But of course it has to be safe and justified."
And the latter, of course, is where the issue lies. Throughout the week, the number of infections quickly rose. VSNU president Pieter Duisenberg understood that this wasn't exactly helping the university lobby, even if most of the infections take place in students' private lives. He urged students to follow the rules. 'Better to attend classes than a party,' he said (in Dutch, ed.)
In the latest mail to students and teachers about the corona situation, the UU also expresses worries about the developments.
Last week, we posed the members of our DUB panel the following statement via email:
Despite the rising number of infections among young people, it's good that the universities are lobbying for ways to teach more 'in-person' classes.
The latest developments have not changed their opinions, the members indicated when asked. Striking: students are in favor, teachers are against. This seems to confirm findings (in Dutch, ed.) in secondary education and in other countries.
---
Philosophy teacher Floris van den Berg: NO
'It's odd when universities go against scientific advice'
"As long as the pandemic isn't controlled enough to guarantee the safety of students and employees, no more classes than absolutely necessary should be taught on campus. Only education that can't be done in any other way – like lab practicum sessions – should take place there, as long as there's no lockdown. There are many possibilities to facilitate interaction between students, including informal contact, through online education. I think the university should lead by example in society. For that reason, the university shouldn't be taking unnecessary risks, and secondly, the university can help with innovations in online learning and working. The universities' lobbying with the government sends a weird message: the government is following the advice of scientific institutions, and it's odd when universities want to fight against that."
---
Marte Vroom, student of Social Geography and Planning: YES
'Everything that makes studying fun, is gone'
"Finally, there's attention for the students. For a long time, it seemed as though we were being forgotten in the corona crisis. Intentional or no, that's painful. I think it's unseemly that Bruls, the president of the Security Council, recently spoke so casually in TV show Nieuwsuur about how education can be replaced with 'iPads'. The corona crisis has changed students' lives in a single blow: suddenly, we spent all day every day in our small student rooms behind our computer screens, and everything that made studying fun, was gone.
"I'm grateful that I have in-person classes once a week, sometimes even twice or three times. I see my fellow students again, and we have great discussions like we used to. Politicians shouldn't forget the consequences the corona crisis can have for students: an increase in stress and loneliness and concerns about the future, and lower quality education – despite the teachers' best efforts."
---
Internship coordinator Bart Mijland: NO
'Another chance next academic year, stay strong now'
"It's fine that universities are fighting for the interests of students and employees. But this call should've been sounded in June. Now, we're seeing infections increase again, mainly among young people. And we need to stick to the strategy that was chosen. Rest, clarity, and stability are important too. This call isn't helping that any. And in a wider perspective, it's not really responsible either. Many students and employees have to travel by public transport. Moreover, the call for relaxing the rules can be heard from other areas as well. If all of us are going to demand more leniency, then soon enough we'll all be frustrated that it's not possible, or we'll sit at 1.5-centimetre distance from each other in the tram and bus. There's another chance next academic year. Stay strong now!"
---
Ingrid Weerts, Master's student in Leiden, taking additional courses in Utrecht: YES
'Why is education less important than business?'
"Recently, the CNV concluded that there is no industry in which workloads have increased so much because of the corona crisis as they have in education. Twenty percent of employees are considering switching jobs. That's not surprising: whereas in office jobs, people usually do the same work but from home now, teachers have to completely reinvent the wheel. Regular teaching methods don't always translate to virtual means. It's no one's fault, but I would dare to say that my education is of lower quality than it had been before the crisis. Why is education less important than business? Office jobs don't sacrifice as much quality when working from home, compared to an interactive lecture, and it has the same or even less societal value. I cannot accept that the education of a full generation is becoming worse, because a small subgroup is ignoring the rules outside of the academic world."
---
Fiona van 't Hullenaar, director of Corporate Real Estate & Campus: NO
'Only when it's safe for everyone'
"The chain is only as strong as its weakest link. In this case, the weakest link are elderly teachers, or students in the at-risk group. As a society and as a university, we're committed to providing safe education to everyone. If that means that we need to take temporary measures to ensure that safety, then I'd say the group comes before the individual, and that means we'll only make in-person education possible when and if it's safe for everyone."
---
Mario Parolari, student of Politics, Philosophy, and Economics: YES
'Don't just dismiss it as madness'
"When looking at the universities vs government debate around physical education, arguments on both sides are multiple, relevant and justified. In my opinion, practical matters are crucial. Overall positive cases are rising, (certainly not only among young people). In this situation, lobbying for more meeting occasions may seem reckless. However, universities could have found solutions which would guarantee further safe in-presence education in line with the government rules, but collateral reasons (sometimes government responsibilities) stop them. Take last June's return to instruction at Utrecht University. Only a limited number of students were allowed to come to the university. That was not mainly caused by a lack of space in the university buildings. The government limit was due to the burden on public transports that the movement of students would have caused. While this may not be the case anymore, it shows that judging universities' requests for permission to give more lectures on campus as pure madness, involves the risk of addressing responsibilities unevenly. One should also consider the logistical difficulties outside the university."
---
Social geographer Fred Toppen: NO
'I'd love more education on campus, but not yet'
"The biggest problem is the limited capacity of lecture halls. As long as we're only allowed to be in a room with a limited number of students, the options for more in-person education are also limited. That restriction is the consequence of the still very necessary 1.5-metre rule. It turns out it's already difficult enough to make students follow that rule outside of campus; let's at least lead by example on campus. That means that for now, we'll have to keep living with the uncomfortable situation in which working together in a class has become a very distant activity. I have no idea how the government would be able to contribute to a solution as long as the 1.5-metre rule is still in effect. So, more education on campus, yes please, but not quite yet."
---
Leonie Schiphorst, Master student Youth Studies: NO / YES
'Does physical health trump mental health?'
"We all want more in-person education, but we have to wonder how sensible that is, now that the number of infections among students is rising. Teachers and students alike should feel safe enough to attend in-person classes. For students who don't want to take the risk, and of course for students with Covid-like symptoms, a livestream should still be included.
"It also has to be feasible to realise more in-person education in which the 1.5-metre rule is still followed. You can't fit as many students into a single room now, which means that there aren't enough teachers to teach all work groups. Unless teachers are going to teach their classes multiple times, but that seems unlikely to me. "Online education sounds like the only solution, but it's one with a downside. Forty percent of students say they struggle to study from home. Contact with fellow students is tricky, and motivation issues come into play. Moreover, distance learning can lead to mental health issues like loneliness, gloominess, worrying, and anxiety. It's an interesting issue, because: does physical health trump mental health?"
Advertisement