More and better teachers have to compensate for loss of student finance's basic grant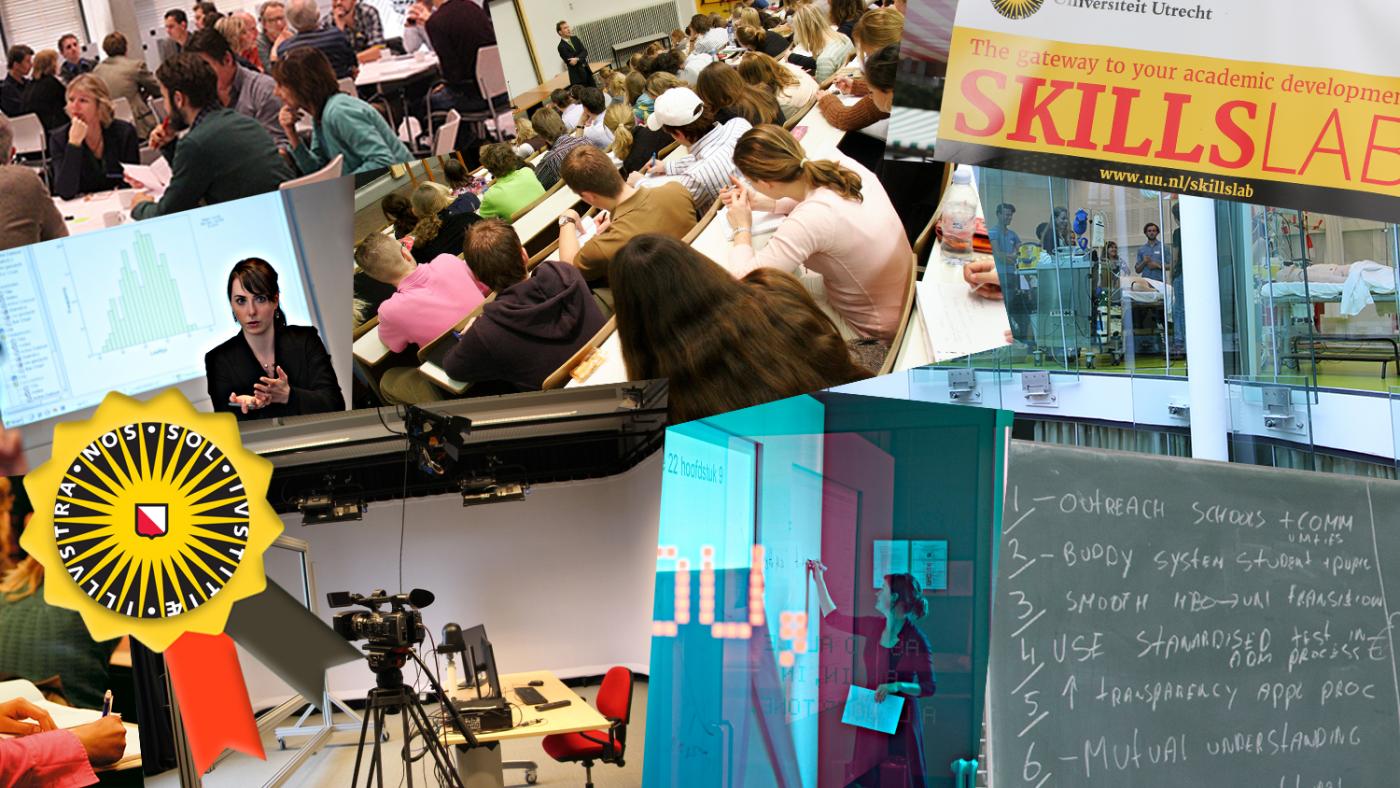 Plans for better education; more teachers, educational innovation and attention to skills. Illustration: DUB
Twelve new Super Teaching Assistants; with this, the faculty of Sciences wants to ease the workload within the faculty in the coming years. These are selected PhD candidates and postdocs who are given an extension of their appointment to teach.
Other faculties are also aiming to expand the formation in the coming years so that teachers have more time to 'professionalize' and to better guide students. Broadly speaking, this should be the result of the so-called 'quality agreements' that UU wants to make with the Ministry of Education.
This is evident from the plans submitted by the faculties of the University for the use of the 'student advance funds'. This means extra money that universities receive as a result of the abolishment of student finance's basic grant.
About 6 million to distribute
Between 2019 and 2024, the contributions from The Hague for the UU increase from 9 million to 27 million. Per student this will come down to about 300 euros in 2019 and 900 euros in 2024. The University emphasizes that these are relatively modest amounts, they talk about "a croissant per day". This spring, UU decided to dedicate another 5 million per year for improving education in the next two years.
A substantial part of the available funds has already been spent. In recent years, for example, some 250 new teachers have been appointed at the UU in anticipation of the extra funds from The Hague. As the students who lost their basic grant immediately had to notice something of the promised higher education quality.
In total, the faculties in Utrecht are able to spend €6.1 million a year on new plans in the coming two years. Half a million of this is intended for the faculty of Humanities, which has specific problems because of the many small study programmes. From the plans that had to be handed in this week, it now appears that the faculties might be spending a little more (see table).
Expenses faculties:
| | | |
| --- | --- | --- |
|   | 2019 | 2020 |
| Humanities | 2,000,000 | 2,000,000 |
| Law, Economics and Governance | 875,000 | 1,025,000 |
| Sciences | 1,090,000 | 1,090,000 |
| Social and Behavioural Sciences | 904,589 | 913,635 |
| Geosciences | 636,800 | 711,440 |
| Veterinary Medicine | 265,000 | 472,000 |
| Medicine | 445,000 | 445,000 |
| University College Utrecht | 119,000 | 140,000 |
| Total | 6,356,389 | 6,797,075 |
The submitted plans were drawn up by faculty boards and councils together. The Executive Board wanted the ideas to come from the students and teachers as much as possible. The only condition for this was that the proposals had to fit within a policy framework that was established at central level.
In concrete terms, this meant that money could be spent on three things: more intensive and small-scale education, professionalization of teachers and supervision of students. For example, a wish that was high on the list of priorities among many Social Sciences students disappeared. Unfortunately, 'more electrical outlets' did not fit into the university framework.
Most faculties want to hire new teachers and teaching assistants. This means that all teachers get more space to work on new education and on themselves. The hope is that they will expand their didactic skills and coach each other more often, for example during intervision sessions.
In addition, lecturers must be given more time for the supervision of students, for example, for graduation researches for theses. There is also a lot of attention for the expansion of skills education for students. The faculties of Veterinary Medicine and the faculty of Law, Economics and Governance have included the creation of a 'skills lab' in their plans.
A wish from the Executive Board was also to pay attention to the accessibility of the University for students with a disability as well as equal opportunities for all students. That aspect is not discussed exuberantly. At the faculty of Medicine, they do pay attention to this. There the selection procedure will be reviewed. The Sciences faculty donates some extra money themselves - in addition to the given funds - for more cooperation with secondary schools with a 'diverse profile' within the framework of the U-talent programme.
Consulting all students is not realistic
Early this spring, education inspector NVAO will come to Utrecht to assess whether the plans can lead to higher educational quality. Approval of the NVAO is a prerequisite for being eligible for the student advance funds. NVAO will also consider whether Utrecht students and lecturers actually had an influence on how UU wants to improve the education.
There have been many complaints in the last few months about the time pressure under which the participation of students and lecturers had to come into being. Sometimes this meant that everyone seemed to point to each other. Faculty boards were accused of being too cautious. But they argued that they could do little as long as the Executive Board had not decided how much money could be distributed and what the policy framework was. Employee and student participation were, in turn, occasionally told that they should have consulted their supporters at an earlier stage and more actively as well.
In a memorandum, the Executive Board writes that disappointments in the design of the process were difficult to prevent. In practice, it often appears "not realistic" to involve all students in the quality of education: "A downside of broad consultation is that it requires a relatively large amount of time, more than available, and that the expectations can't always be realized."
The consent of the faculty councils to the plans ultimately did not cause many problems. Not surprising, given that in most cases council members were part of the working groups and committees that had drawn up the proposals themselves. Only in the Law, Economics and Governance faculty something else happened. 
Students and staff of the Economics department initially voted against. They were not satisfied with the participation of students and teachers in the plans their directors of education had proposed. The programme committees were not consulted, for example. Meanwhile the economics students and staff after further discussion have decided to agree with the plan.
---
The most important plans of the faculties at a glance:
Faculty of Sciences
Innovation of education
The faculty focuses on designing new courses with innovative didactic concepts. This should also stimulate the professionalization of teachers.

More support
Twelve selected PhD candidates and postdocs will receive an extended appointment to perform teaching duties as a super teaching assistant (STA). All departments are asked to appoint two STA's.

New study advisors
The faculty wants to appoint additional study advisers for 3 fte.

Expansion of U-talent: (from our own faculty resources)
The partnership between UU and regional schools U-talent is extended to schools with a "more diverse profile".
---
Faculty of Social Sciences
Additional teachers in training
The faculty appoints six additional teachers in training for small-scale and more intensive education. They receive a four-year contract with an appointment of 0.7 fte.

Extra teaching assistants
By making room for 5.2 fte teaching assistants with an appointment size of 0.2 fte or 0.3 fte, more variation in working methods should be possible.

More (time for) English language and intercultural training for teachers
The faculty wants to appoint additional teachers for 2.2 fte to give all current teachers time to follow training courses.

More (time for and support with digital) didactic training for teachers and recording all lectures
By hiring 2.2 fte teachers in training, all permanent teachers have time to follow skills training. There will also be a student assistant who supports teachers in the use of new ICT applications and the recording of lectures.

More individual contact with tutors
The faculty invests in 2.5 fte for teachers in training to give tutors more time with students in their second and third year and in their master.
Expansion of selection at Career Service
A student assistant will help expand the range of skills training such as presenting, networking and entrepreneurship.
---
Faculty of Geosciences
Extra hours for teachers
Additional teachers are deployed on courses that are compulsory in the geo programs so that all students benefit. This will be 5 fte for junior teachers, 2 fte for postdocs and 1 fte for a university lecturer.

More support
Expansion of the support staff with 1 fte to guide students and teachers in the field of professionalization. Teachers should be helped with their personal development and the development of their education. Students must be supported with improved tutoring and mentorship.

Strengthening excursions and training
Students geosciences should have the opportunity to participate in labour market related training and excursions during their educational program. With this they can prepare for their future job.
---
Faculty of Humanities
More guidance master theses
The number of hours that a teacher may spend on the supervision of a master's thesis is increased to 26 hours. At this moment, teachers are given as many hours for supervising a one-year master's thesis as for supervising a bachelor's thesis (17.4 hours). For the supervision of a thesis from a two-year research master, a teacher currently receives 21.7 hours.
More time for seminar group teachers
The preparation time for giving a bachelor seminar is increased from 87 hours to 109 hours. For lecturers of interdisciplinary minors and individual courses, this involves an increase from 54 to 65 hours.

Appointment of extra study advisors
The number of study advisors is expanded by 2 fte to shorten waiting times for study advisors and to help students faster.
---
Faculty of Medicine
More intensive and small-scale education
The faculty wants to adapt courses to offer students more challenges and more depth.

Professionalization of teachers
There are three ways of investing in teachers: by giving them more time to professionalize in the field of education, by developing tailor-made professional development tracks and by setting up intervision, feedback and mentoring.

Inclusive accessibility and equal opportunities
The Faculty of Medicine wants to realize a 'better reflection of the population of society'. It is being investigated how the selection procedure can contribute to this. A more inclusive introduction is also being considered. Better guidance and workshops in the field of resilience and well-being should lead to a more pleasant study climate.
---
Faculty of Veterinary Medicine
Investment in e-learning
The faculty wants to focus on the development of digital modules in both the bachelor and the master programmes.

Setting up skills lab
The appointment and training of student assistants, the purchase of exercise and instruction materials and the appointment of an extra teacher must lead to a new skills lab where students can practice skills.

More teachers for supervision thesis
The number of supervision hours for the bachelor's thesis should expand from 12 to 17 hours.
Extra time for peer coaching
The faculty will invest in peer coaching. This means that 1000 teaching hours are made available every year to give colleagues feedback.

More hours for tutors
In Veterinary Medicine, the tutoring in both the bachelor and the master will also be intensified. New students will have an appointment at least four times a year, instead of the two times that are common now. The training of tutors is also improved.
---
Faculty of Law, Economics and Governance
More teachers for individual guidance skills
The faculty wants to increase guiding students in the bachelor individually, especially when it comes to writing skills or negotiation techniques. There will be more teachers for this. There will also be a Legal Skills Academy where skills can be trained. To set this up, a project manager is needed and external help is needed when setting up training courses.

More teachers for guidance of graduating
The economists want to organize the task distribution of teachers differently (teaching load model) so that there is more room for the supervision of the master's thesis and for smaller groups in the graduation phase of the bachelor.
Expansion of job responsibilities for tutors
The bachelor of Management and Organization Science will provide money to give tutors a greater role in coaching students.

Purchase of simulations for education
In Management and Organizational Science, educational simulations are purchased that can be used to train teachers' skills.

Faculty innovation fund
For all programs, a faculty innovation fund will be available to individual lecturers and teams if they want to start a relevant innovation project.
---
University College Utrecht
More research time for teachers
The UCU increases the research time of teachers from 10 to 15 percent in 2019 to 20 percent starting 2020. The starting point is that the quality of education improves if teachers can refer to their research. The measure is also supposed to make the UCU more attractive for good teachers / researchers.

More money for scholarships
Students pay more tuition fees at the UCU. To keep the student intake diverse, UCU has a scholarship program. In the past, this programme had been cut. That cut is now being undone.

Renewal of the curriculum
The semester system of the UCU of 15 weeks twice is experienced as heavy. In a new curriculum, the possibility of receiving credit during summer and winter could be implemented. There must also be more structural education in the field of social relevance and diversity.