Protest group 0.7 wants to put a stop to unpaid overtime at universities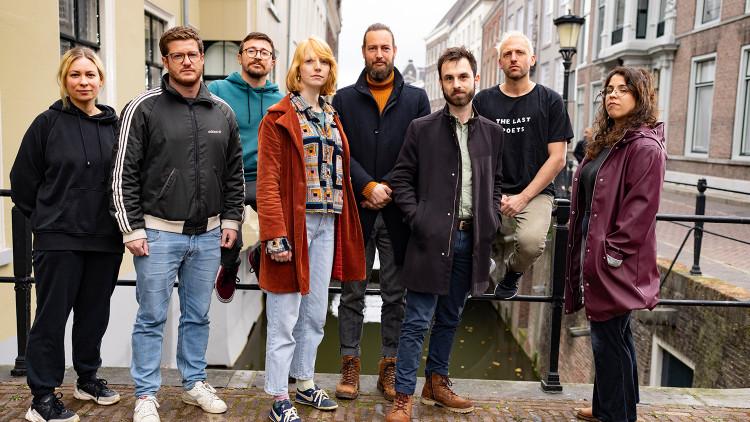 Tim de Winkel (in the middle). Photo: Ivar Pel
National protest group 0.7 was founded by PhD candidates and temporary lecturers to advocate a fair working environment for flex employees at universities. The idea came up amidst the Covid-19 pandemic because there was a need for more clarity on PhD tracks and the extension of temporary contracts. Under the name Vakbond ("Union" in Dutch), De Winkel raised the alarm alongside 24 like-minded people.
But the actual trigger for De Winkel to establish the protest group was when the Vakbond was asked to help with a #MeToo affair. As a result, he saw that something was systematically wrong at Dutch universities. "If you report misbehaviour, they always want to solve it informally. That might seem like a good way, but you have to make arrangements with people you depend on. That is not an equal position, which is precisely the problem. Not only with #MeToo affairs, but also with issues about PhD tracks and contract extensions of temporary lecturers."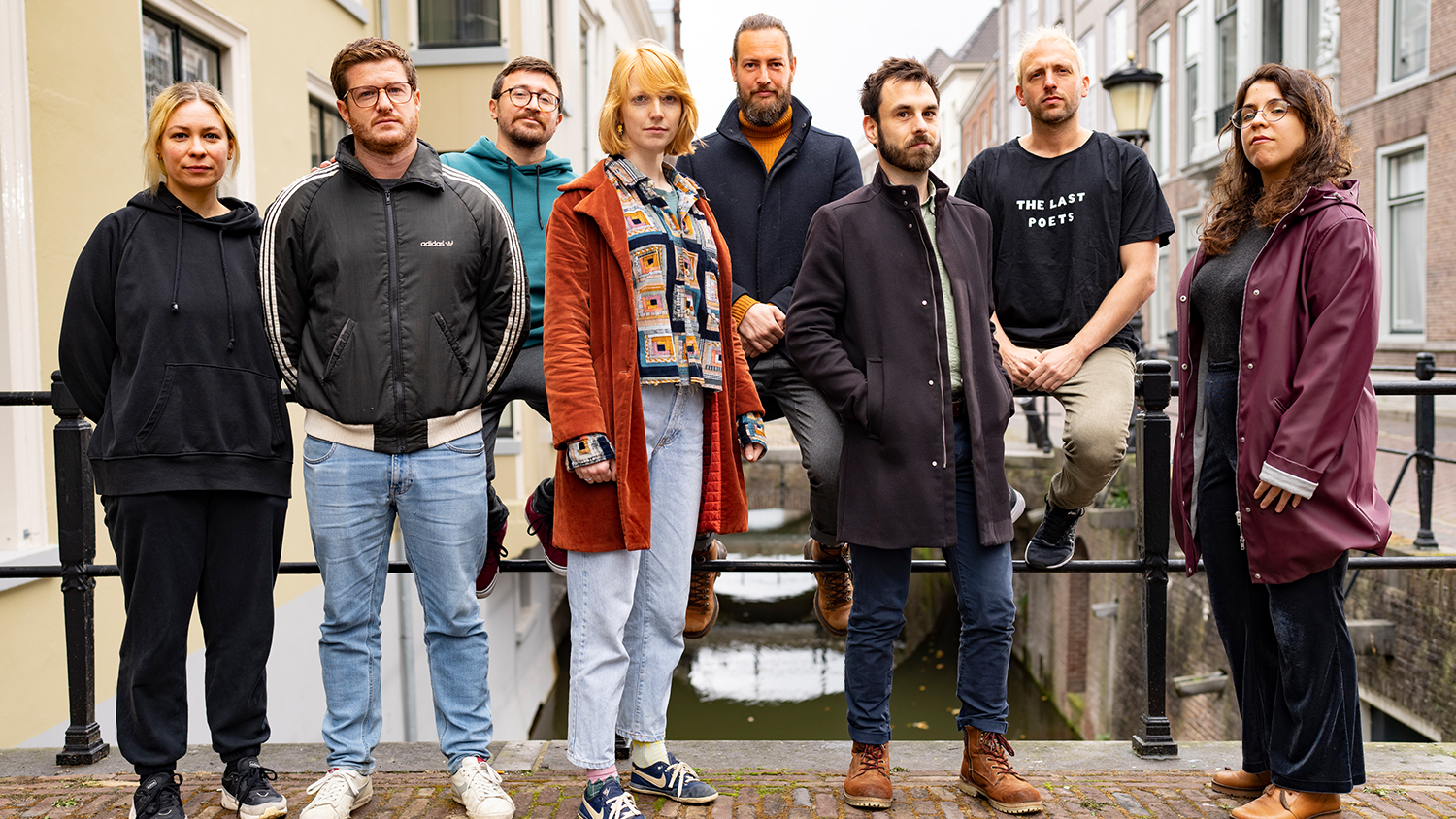 Tim De Winkel (in the middle). Photo: Ivar Pel
Social insecurity, overtime, temporary contracts
Today, 0.7 counts approximately two hundred active members who are employed at various universities across the Netherlands. They are primarily PhD candidates and young lecturers with temporary contracts focusing on what they perceive as the four biggest problems right now: the amount of overtime, the temporary contracts for structural work, the lack of future prospects, and social insecurity.
"One of the largest problems within the university is the hierarchy. For example, to build a career, you are dependent on your promotor or your supervisor. Every dependency relationship can lead to intimidation and exploitation, sometimes of sexual nature. The cause can partly be attributed to the structural underfunding of higher education that has been going on for years in the Netherlands. Universities have an annual deficit of 1.1 billion euros, according to research from consultancy firm PriceWaterhouseCoopers. "That generates a lot of competition for that money, which can obstruct a normal working relationship."
According to De Winkel, the massive financial deficits, combined with the demands for high achievements and a high amount of publications, are terrible. "There is now a trickle-down effect which ends at PhD candidates and lecturers with temporary contracts. Problems like lecturer shortages are passed on downwards. Complaining about it is virtually impossible. How could you say 'no' to your supervisor when the same supervisor also determines whether you receive a new contract?"
To normalise the employment relations, De Winkel believes the extra funding has to come from the government, although he has no confidence anymore that the new cabinet is going to open its wallet. "I really don't expect that political parties VVD and D66 are going to establish quality education." Additionally, 0.7 wants to change how responsibility and accountability are arranged in higher education. "For example, by ensuring that your direct supervisor will not be the person whom you are dependent on for your future. But also through independent supervision from outside the university and the possibility of complaining anonymously."
Improper contracts
De Winkel says that tverything 0.7 is fighting for has actually been a problem for years. He also finds it striking that so many people accept the overtime and the insecurity. According to De Winkel, a lot of PhD candidates and lecturers are unaware of the problem. "If you receive the opportunity to work at a university, you feel special. Young people in particular are enthusiastic go-getters. They work incredibly hard and hope to find a PhD position through a job as a temporary lecturer. However, after an average of two years, people begin to find out that it does not work that way, which is why an honest story should be told from the start."
Whenever possible, 0.7 supports starters through their first negotiations with their employers and reports improper contracts to the HR department or education director. This concerns, for example, unfair salary scaling or an unreasonable distribution of hours over an entire year. "We work bottom-up to achieve change. We want to ensure that the employer's problem is no longer our problem. So, we are constantly trying to push an issue higher on the ladder. Not to be pointing fingers, but to make people aware that we have to tackle this together. Just because we find the quality of education and research essential."
Structurally unpaid overtime
What 0.7 wants more than anything else is that universities stick to the Collective Labour Agreement (CAO in the Dutch acronym). "Universities claim to be working on better contracts, but what I see the most is them trying to find a way around CAO agreements. A temporary lecturer will be sent away after three contracts, only to be replaced by a new temporary lecturer who teaches the exact same course. In short, structural work is done by temporary employees, which is not even allowed." De Winkel calls it nonsense that universities take the uncertain number of students into account. "The number of students has been growing for years. Of course we understand that it is necessary to be flexible to cope with periods of high and low demand. We don't oppose that at all. But the fact that Utrecht University has a flexible shell of 90 per cent for lecturers without research time, according to the Rathenau Institute? That is not a shell, that is policy."
The UU claims that employees don't always want an appointment of 0.7 fte (full-time equivalent), which is a pertinent lie, according to De Winkel. "Universities don't hand out solid contracts because it doesn't suit them. They know very well that someone is at home with a burn-out within a year." According to De Winkel, a 0.7 fte contract is, in fact, a full-time contract. "Our network is called 0.7 because this equals a full-time job. If you have a contract of 0.5 or 0.7 fte, there aren't any hours left to have another job next to it. Your tasks don't fit the prescribed hours, meaning you're constantly overworking for free. As a result, you have no room to apply for jobs or scholarships. And you need those to grow in science. Make no mistake, even PhD graduates are regularly fobbed off with temporary part-time contracts."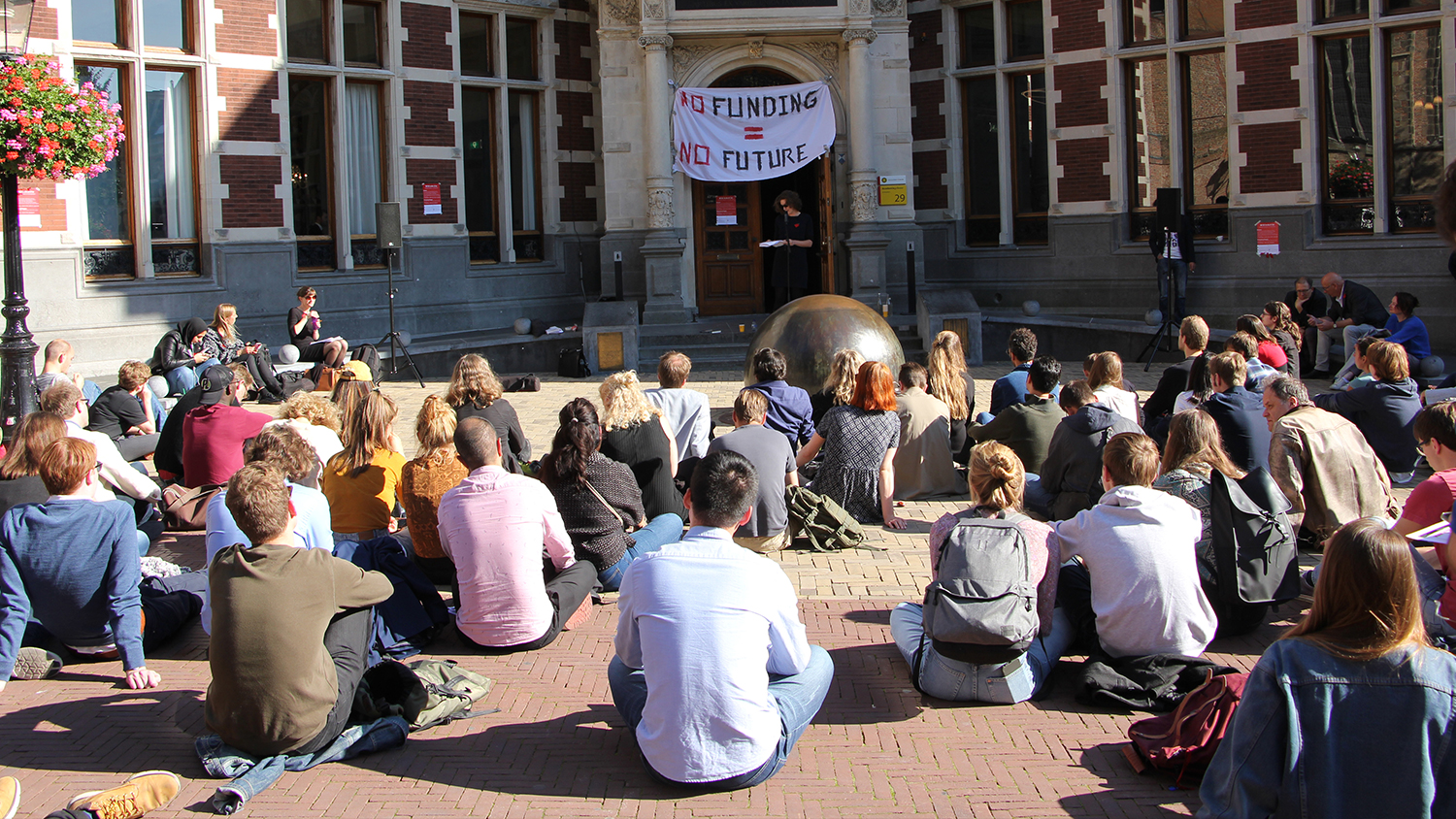 Protest by WOinActie. Photo: DUB
Radical choices
Meanwhile, 0.7 is working alongside unions and the protest groups WOinActie and Casual Academy to tackle these problems. At the same time, 0.7 calls on everyone to resist when something is not right. "Whether you are an employee or a supervisor, if you see unlawful situations such as exploitation and discrimination, do something. Shed light onto it, refuse to cooperate with it. You can't support WOinActie while still giving out improper contracts at the same time."
0.7 expects the Association of Dutch Universities (VSNU in the Dutch acronym) to defend universities and employees' interests. "If that's not possible, then make choices according to reality. Set up a fixed number of students for a given study programme, for example. Limit the number of students that can join a certain programme so that the quality of education can be improved, otherwise make the semesters shorter."
In October, the Executive Boards of several Dutch universities received an ultimatum from 0.7 and Casual Academy. The countdown clock, which started at the opening of the Academic Year, will end on December 20. That's when the Executive Boards must come up with a serious and concrete plan to "prevent the exploitation of workers at the university", in the words of 0.7. If there is no plan, then protests will follow on Valentine's day. "Don't expect playful actions", assures De Winkel, "we will really start throwing sand in the wheels." He hopes things will not come this far, but occupying university buildings or refusing to grade tests are two of the possibilities being considered by the group.
De Winkel acknowledges that being a member of 0.7 is risky. "Of course I worry about my career. There are colleagues who no longer work at Utrecht University because they were considered unpleasant. So I know I'm taking a risk, but I am a man and I am white, so I'm in a better position to be doing something about this. I really don't understand why universities treat talented staff this way. It is pure waste at the expense of people and the quality of research and education. Things must and can be done differently and that's what I'm fighting for."
Executive Board reacts to 0.7's criticism
Tim de Winkel, from protest group 0.7, calls for a joint approach to the workload and social safety issues taking place in academia. We totally agree with that and, as members of the Executive Board, we take special responsibility for it, of course. People should be able to express their criticism without fear of repercussions. We would like to have a culture in which things can be openly discussed. If we don't manage to find a solution together, either because we weren't able to or because it isn't possible to, then there are formal procedures that can be used. To guarantee safety, we're working on a social safety plan, of which the theatrical performance 
Mindlab 
is an example, as is the 
reassessing
of the entire complaint and reporting procedures, which is being monitored by a sounding board group within the University Council.
The second major topic addressed by Tim is workload and the remarkable position of temporary teachers. Tim himself acknowledges that the high workload can be partially attributed to the structural underfinancing coming from the Dutch government. We hope that the new cabinet is going to step in. That is crucial.
But, in addition to that, the university itself wants and will tackle things in a different way. We want to give permanent contracts to as many people as possible. Temporary teachers should get a contract of 
at least
0.7 fte (with 10 percent of that time being allocated to the teacher's development) and a four-year contract. We blame ourselves for not having been able to do this enough.
However, we would like to keep ourselves to a few principles when making commitments. The university stands for the intertwining of education and research, which is why someone can only be hired on a permanent basis if both elements are combined (therefore, we cannot do that with postdocs and PhD candidates who only conduct research, or temporary teachers who only teach). Due to the nature of research financing, as well as fluctuations in the number of students, a university shall always keep a flexible contingent of people working on temporary contracts. Every organisation organisation needs that to some extent. For some people, it is a good choice to work at a university for a while, aware that their careers will take another direction later on.
How big this contingent must be is something we plan on discussing soon – alongside the faculties, co-determination bodies, and people like Tim, who is part of the Local Consultation. What are the options to appoint more people to the position of assistant professor? It is also important to discuss in teams how the task load is and how we can do it differently. It is key for people to know where they stand, that they are treated well, and that the university will be giving permanent contracts as much as possible.
In addition, we are of course open to hear other suggestions on how to alleviate work pressure. We don't have much say in how many students join the university (the accessibility of higher education is a great asset), but we do control how we carry out the work. Therefore, all suggestions on how to change the year schedule, or how to deal with unnecessary rules and bureaucracy, are welcome.
Advertisement