Student associations cautiously reopen: 'The beer really tastes better here'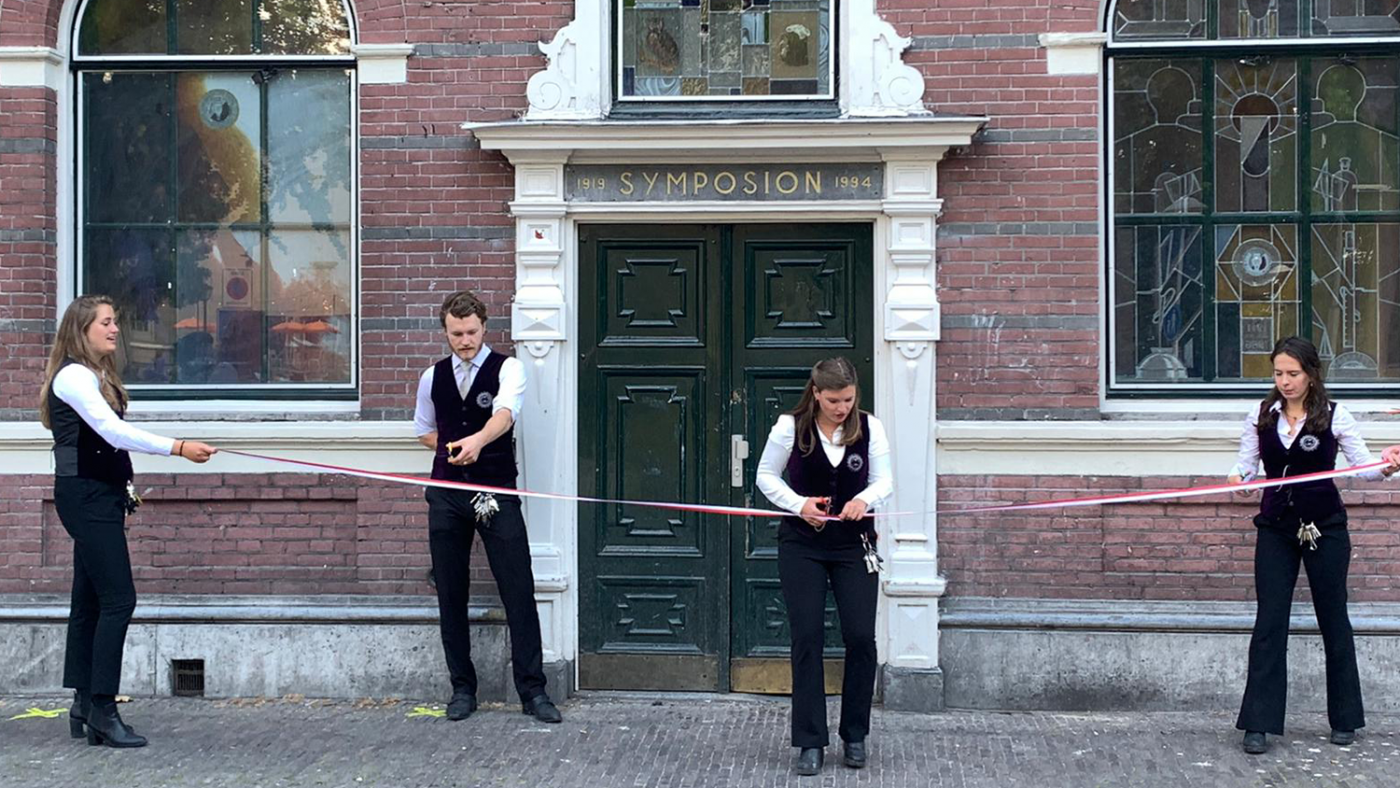 Photo: Unitas
It's usually out of the question at the frat houses: sticking out your hand across the bar goes against tradition, and is simply not done. Now, things are different, says Maud ten Pas: "This is an exception: members will have no choice but to stick out their hands across the bar, so they can put their cards on the card reader, so the bar staff don't have to touch the cards." She's the secretary for student association Unitas S.R., housed at the Lucasbolwerk. On Monday, June 8, the association reopened, to the great joy of members and board alike.
Putting your own card on the card reader is one of the consequences of the strict rules associations have to abide by in order to reopen. The associations keep a similar policy to many restaurants, bars, and cafés: members have to make a reservation to be allowed to stop by, everyone has to stay at 1.5-metre distance from each other, and before entering, someone will check whether you've got any corona symptoms. Ten Pas: "After topping up their beer card, members also have to disinfect the machine in the hallway. And playing games is allowed again, but only if people bring their own decks of cards or dice. And sadly, there will be no singing."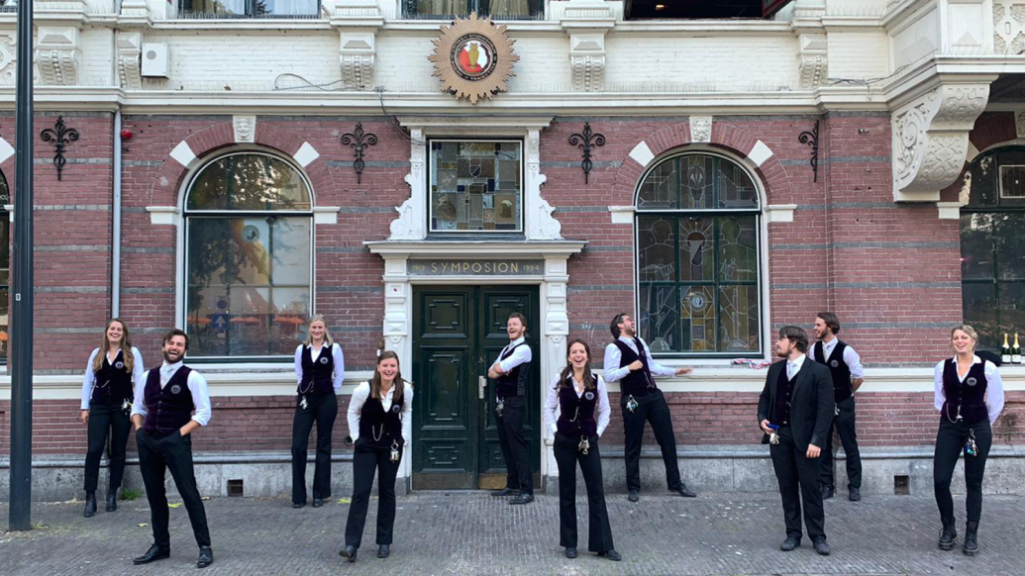 De senaat van Unitas is net zo blij met de heropening als de leden. Foto: Unitas S.R.
On May 6, when prime minister Rutte announced relaxations of the regulations for bars, restaurants, and cafés, that didn't include the student associations. "The government first announced that associations would remain closed until September 1," says Francois de Gier, vice president of student association S.S.R.-N.U. "Student board members saw their entire year go up in smoke, and associations would face financial issues as well."
The policy was later adjusted: on May 28, the Utrecht Safety Region announced that associations would also be allowed to reopen – under strict conditions – per June 1. A maximum of thirty students would be able to gather at their association. This was announced by the municipality of Utrecht on May 31, sealing the deal. "It feels a little as though Utrecht is acting as a trial run for the rest of the Netherlands. The associations here are allowed to reopen, but that isn't the case in many other cities, where they're not classifying associations as 'horeca' (hotels, restaurants, cafés)", says De Gier.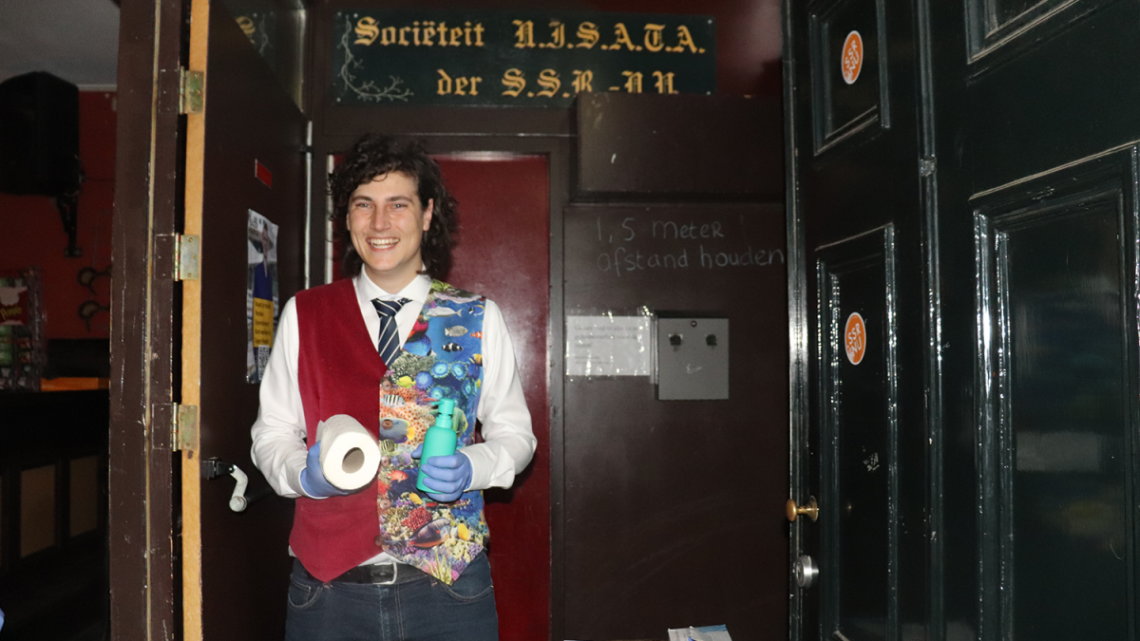 Derk van Bergen, voorzitter van S.S.R.-N.U., zorgt er met zijn medebestuurders voor dat sociëteit N.I.S.A.T.A. netjes schoon blijft. Foto: S.S.R.-N.U.
S.S.R.-N.U. wasted no time, and immediately organised their first 'post-corona' drinks on June 2. "We divided our building as efficiently as we could, and we really went through the room with tape measures to ensure the 1.5-metre distance rule. We've taped directions on the floor. There are walking routes, and everyone's got a fixed seat. There's disinfectant at the door, and only one person is allowed to go to the bathroom at a time," De Gier says.
He thinks it's extraordinary that all these extra rules don't dampen the atmosphere during the drinks. Member Alma Liezenga agrees: "Although it took some getting used to to sit at a distance, it immediately felt like it used to." Another member adds: "I've really missed that bar atmosphere. There've been virtual drinks, but the beer definitely tastes better at the association."
Currently, people in a relationship and housemates are not allowed to sit together; they, too, have to sit at 1.5 metres distance from each other within the S.S.R.-N.U. building. De Gier: "That helps us maintain an overview. It's all very new for us. At a later stage, we might facilitate seating couples and housemates together when they make a reservation. But that would only be possible under the condition that they sit together the entire evening."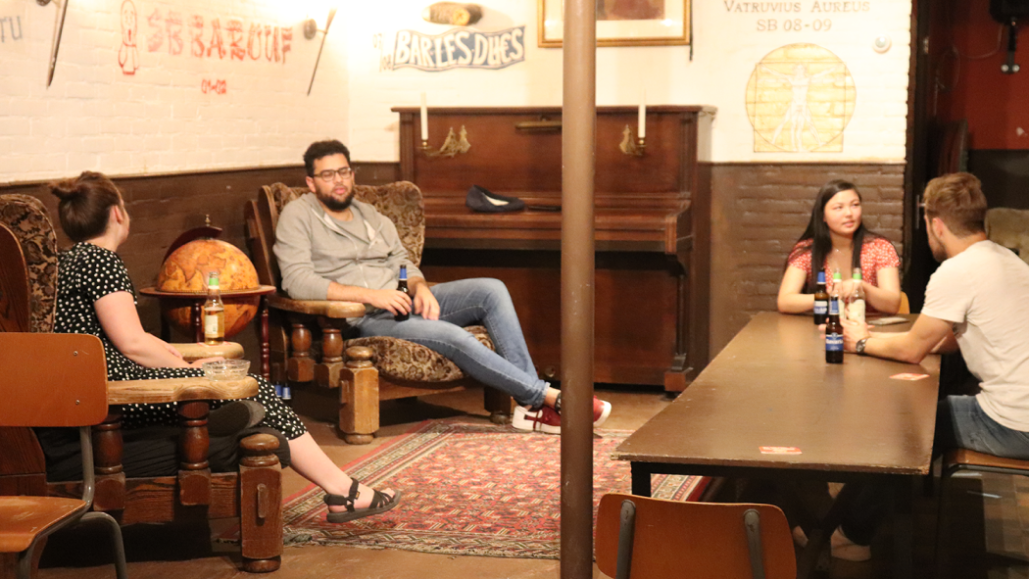 Koppels en huisgenoten mogen vooralsnog niet dicht bij elkaar zitten, maar daar komt later wellicht verandering in. Foto: S.S.R.-N.U.
And what if members don't follow the rules? "They will initially get a warning message, and if that doesn't help, they will have to leave the building. Thankfully, that hasn't had to happen yet. The rules are explained again when people enter, and so far, everyone's following them, so that's nice," says Unitas secretary Ten Pas.
The real impact of the corona crisis, she says, won't be felt until next year. If there's a smaller number of new members coming in, the association's continuity will be at risk. It might be harder to find people for committees and boards, and with fewer members, there'll be a lower revenue from the bar. "Those consequences will be felt for a long time: if you've got a small batch of new members, you'll notice that for at least five years," Ten Pas says.
Julia Knol, president of student association Biton, agrees: "On the one hand, the association is saving money because there aren't any activities, so we're spending less than budgeted, but on the other hand, we haven't had any revenue from the bar for the past three months. That will have consequences for next year, and possibly the years after. And we can't run the bar at its regular capacity now or in the near future either. It's nice to be able to reopen and to see familiar faces, but all the spontaneity is gone, of course. Letting someone in and giving them a hug is not going to happen any time soon, and that's a shame."
Unitas has made the best of a bad situation: the closure was a great time for maintenance to the building. "We've had a new concrete floor installed in the party room, and fixed up some other things, so everything looks just that bit better." The Woolloomooloo, the student bar of the Utrechtsch Studenten Corps fraternity, also had a new floor installed during its closure.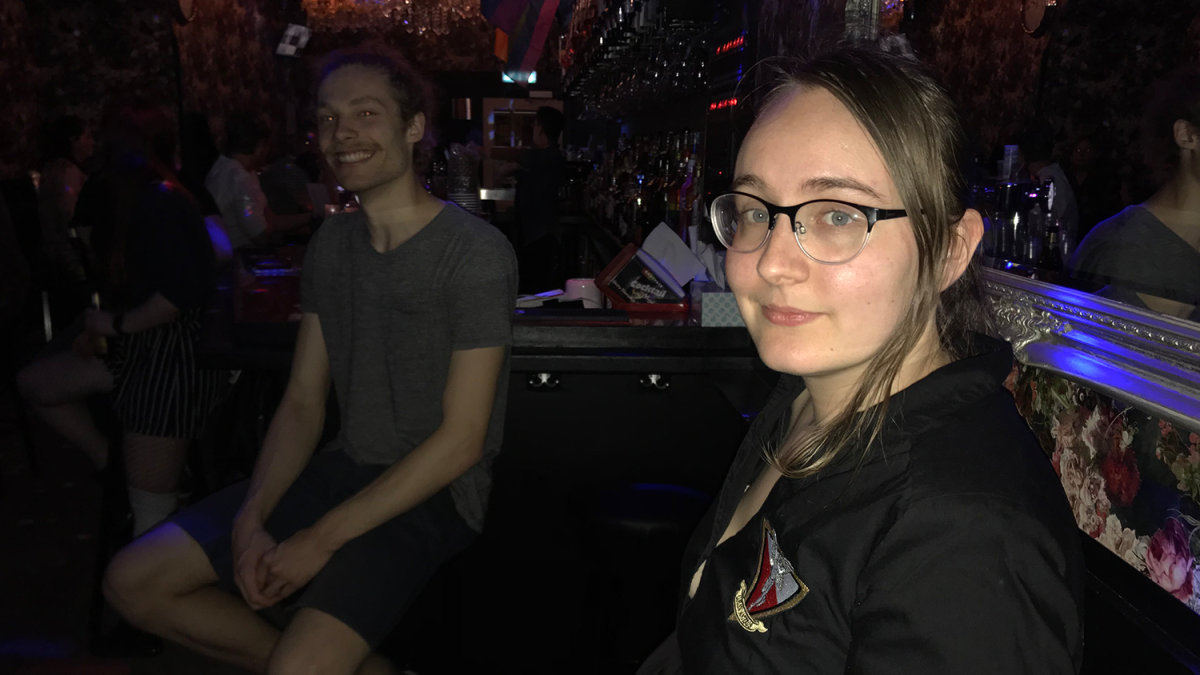 U.H.S.V. Anteros kan weer borrelen in hun stamkroeg de Bodytalk. Foto: Anteros
The Woo is celebrating its fiftieth birthday this year, but it's uncertain when 'Her Majesty's First Disco Bar' will be allowed to reopen. The USC was the first association in Utrecht to close its doors because of the coronavirus, even before the national guidelines required it. They've since reopened the USC fraternity house – or, at least, members are allowed to sit outside at the Janskerkhof terrace. "We haven't started up our activities yet," says Bouwe van Neerbos, assessor of the USC. The fraternity will soon provide more information about its plans to reopen on its website.
Associations that don't have their own association building are, in some cases, welcome in their regular pubs again. LGBT+ association Anteros, for instance, was welcomed back to their regular bar BodyTalk at the Oudegracht. Secretary Christy Brouwer was present at the first post-corona drinks, and can't wait until she's allowed to go again: "It was strange, but great to be together again. BodyTalk had established the corona guidelines and had discussed them with our board, so we knew what we were getting into. It was a little weird to sit in duos without being allowed to leave your stool, but it was totally worth it to be able to see (and half-shout at) each other again! It quickly felt like before, and a lot of people stayed from start to finish, just like they normally do."