'Universities approving their own study programmes? That's risky'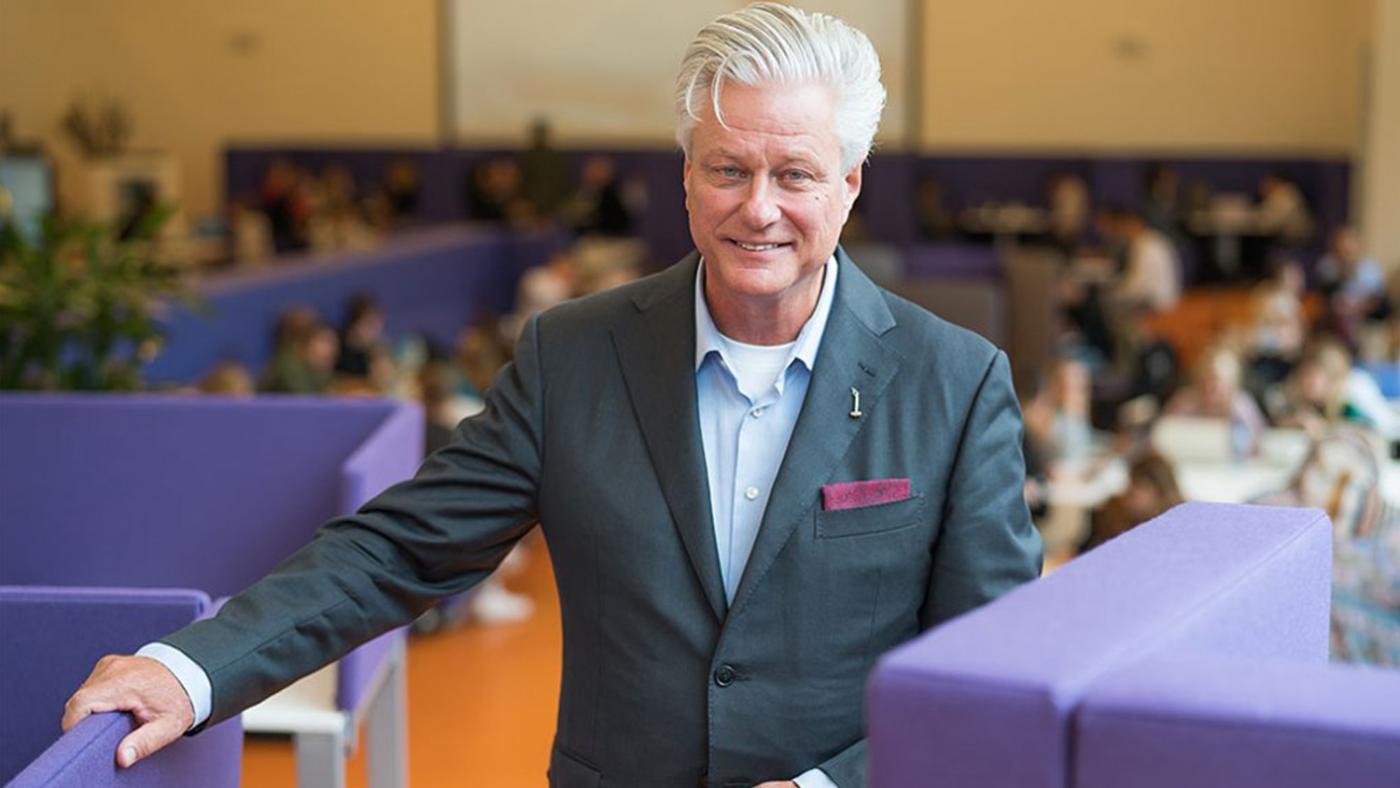 New NVAO chair Sander van den Eijnden: "We're looking for a balance between decisiveness and restraint". Photo: Hogeschool Leiden
A board member of a university or university of applied sciences can spend weeks without thinking about NVAO, says the new chair of the accreditation body, Sander van den Eijnden. And he knows it from experience.
Van den Eijnden used to be the chair of the Leiden University of Applied Sciences and head of the Open University. Since last autumn, he has been leading the body that approves the courses offered by universities and universities of applied sciences every six years. Without that accreditation, they receive no funding and are not allowed to issue recognised diplomas.
Sounds important, and it is, but Van den Eijnden likes to put this work into perspective. "For most people, NVAO is only important when they come to visit - to assess the quality assurance, for example".
Other than that, the organisation is forgotten. "Most people think "when will I have to deal with it and how will I deal with it?" without giving it any deep thought. I myself often looked at NVAO in an instrumental way."
But now it's his day job. His experience, which includes roles at the Ministry of Education, Culture and Science and internationalisation organization Nuffic, comes in handy. "NVAO is not that big, but it is complex", he says. It is a bi-national organization, as it works for both the Netherlands and Flanders, with a board of three and approximately fifty employees.
We do not have our own definitions of educational quality
"If you have a lot of ideas or you're management-driven, then you don't come into your own as NVAO chairman", ponders Van den Eijnden. "You are looking for a balance here between decisiveness where necessary and restraint where appropriate. I am in that phase of my life. I have worked full-time for forty years, running a higher education institution is a chore every day. This gives me more space for my personal life."
On the one hand, NVAO is powerful ("Programmes can only be accredited by this one organisation"), but on the other, its scope is limited, thinks Van den Eijnden. "We do not have our own definitions of educational quality."
Study programmes must in any case meet the legal requirements. "The law on higher education is quite extensive. A Bachelor's program has 180 or 240 credits, you must have certain diplomas to enter, the examination board must meet certain requirements, and so on. It sometimes surprises me how many formal requirements there are."
Within these limits, programmes are free to define what they consider quality. "This requires that courses are accountable, that there is a sound quality assurance system in place, and that external parties are involved. NVAO is not responsible for organising quality assurance, we only assess whether it is done properly."
Expert panels visit the study programmes every six years. The institutions nominate the members and NVAO has the last word. They make sure that there are always psychologists visiting a psychology course, lawyers visiting a legal course, and mathematicians visiting a mathematics course. They check whether the programs do what they promise: is the final level in order, is the assessment good, is there a vision on quality?
"But we are not those substantive experts", says Van den Eijnden. "Most of all, we want to know: did that panel hit all corners of the playing field? We use a number of 'standards' in every procedure, have they been handled well? Do we understand the verdict? The latter is essential: is it all traceable?"
'It should be up to the field to decide what quality is: teachers, students and external experts'
That is not self-evident, by the way. "It happens quite often that we request to talk to the panel. In a few cases, we judge that things cannot be followed. Then, we will not accredit the program or the institution will withdraw the application."
In his view, it's a good thing that the organisation has such a restrained role. In fact, he thinks it cannot be otherwise. "Ultimately, you have to leave the question of what quality is to the field: teachers, students and external experts. If they do it convincingly, we accredit the programme."
NVAO will also adopt the same restrained approach when judging the language of instruction, Van den Eijnden warns. A draft bill is pending in the Dutch Senate to combat the Anglicisation of higher education. If passed, the bill will soon force programmes to demonstrate the "added value" of using a language of instruction other than Dutch.
Van den Eijnden: "Representing NVAO, I say: 'we do not have our own opinion about the added value of the English language'. Together with the institutions, the minister must consider how one can demonstrate the added value. If that is described in a good way, then we can get to work."
Demonstrating the added value of the English language probably will not be that difficult for a Master's degree in International Business, for example, but the same cannot be said for the training programmes for future teachers in the Dutch school system. "English-language education is also about the role of internationalisation, and NVAO is not about that. All I can do is say to the minister: 'if you want to, you must define the following parameters well'. The programmes will soon also have to promote the 'expression skills' of their students in Dutch. The same goes for that idea: what does that mean?"
In the past two years, higher education in the Netherlands has been struggling with the consequences of the pandemic. Students sometimes have to spend weeks at home, being taught through a screen, internships are cancelled… The crisis definitely affects the quality of education. How does NVAO deal with this situation?
"The main thing we look at is whether the basis of these study programmes are functioning well, not whether they are having a hard time because of Covid", he answers. "We do not inspect that and we do not take snapshots. Together with the Education Inspectorate, we are currently working on a general investigation into the quality of education during Covid, which will probably be completed in March, but that is independent of the accreditation of individual programmes."
The researchers use data provided by the institutions themselves. "Everyone is busy enough already, we are not going to request additional data. They also monitor their education extensively." He has to be careful, but his impression ("And I am also speaking from my previous experience as a college administrator") is that education has managed to carry on just fine. "The quality standards have been maintained, study progress has generally remained at the same level." He calls that a "great achievement".
Students' learning experience has deteriorated because of the coronavirus
From this point of view, one could say there is little going on. But Van den Eijnden stresses that "students' learning experience has deteriorated, of course. We look at assessment, final level and so on, and that is all still in order, but still: there is more in the world than NVAO's standards. I spoke to a social work student who was doing a minor in conflict management. Normally this includes an exam with actors: they act out conflict situations and the students show how they deal with them. Now that exam has been replaced by an assignment on paper, asking them how they would deal with certain conflict situations. That may be adequate, but I can imagine students feel like they're missing out on the real thing".
So were there no programmes at all that used to obtain their accreditation without a problem before the pandemic, and now are struggling? "For the sake of clarity, we don't work with 'just made it'. Either the programme has met enough criteria or it hasn't, and sometimes a programme is accredited under certain conditions. But, apart from that, we do not think programmes would no longer meet the standards a result of Covid-19"
But there are also highly practical training courses, such as medicine and physiotherapy. At universities of applied sciences, the internship plays a greater role than in academic education. Wouldn't that practice be jeopardized more quickly? "The good news," says Van den Eijnden, "is that universities of applied sciences and universities for practical education have been given more room in this pandemic. Physiotherapy programmes have often provided more lessons on location than, say, commercial economics."
But internships are a different story, he notes. "There's a mixed picture there. When the schools are closed, you can't do an internship there either. Other internships can go on, but they are sometimes meagre. You can achieve all the learning objectives, but part of doing an internship is also the chit chat with your colleagues by the water cooler, which is missing in these times. But that's going on  everywhere: you can't just say that is more annoying in speech therapy than in economics." But NVAO does not interfere in that.
In this way, he also approaches the much-discussed "quality agreements" that universities and universities of applied sciences have made with students and employees regarding how to spend the millions saved thanks to the introduction of the loan system, which happened in 2015 but is soon to come to an end. At the time, the idea was that students would no longer receive a basic grant, but they would get a better education in return.
The agreements were not even all approved when the pandemic broke out. The plans had to be thrown away almost immediately, or at least things didn't go as planned. What will Van den Eijnden do about that, if he has to assess what has become of it?
Adjusting quality agreements due to the corona crisis? That is understandable
Once again he emphasises administrative relations. "We do not monitor and we cannot impose sanctions. The minister, the institutions and the student organisations have asked us to assess the agreements and report on progress. We will do the latter this year on the basis of the annual reports produced by the institutions."
But he can't pretend he has little to do with it, can he? Van den Eijnden: "I don't do that either. I'm not telling them to just figure it out. In recent years, we have considered the feasibility of the agreements: is it all possible? If an institution subsequently had to adjust the agreements due to the corona crisis, that is understandable. That's okay too. It must then be properly discussed with the employee representation and accounted for, so we will look at that. But we're not the police. If we say that an institution does not provide proper accountability, then it is up to the minister to establish the consequences. Not to us."
There may be a major change in the accreditation system in the near future. The previous cabinet advocated the possibility of having "institutional accreditation" instead of "programme accreditation". NVAO would then give its stamp of approval to an entire educational institution, which in turn would assess its own study programs itself.
Van den Eijnden says such a system would be different, but a lot would stay the same. Ultimately, every study programme still would have to report to a panel of external experts once every six years. "And you still have evaluations, reflections and conversations, that will certainly take as much time as it does now."
'If you do the same thing over and over, the system loses its sharpness'
"The advantage of institutional accreditation, in which the institutions themselves assess the quality of their study programmes, is that they can broaden the concept of 'quality' as they see fit: they can emphasise what they themselves consider important", he ponders. "Make sure you don't take in too much. Education has all those diligent, socially involved people, and the outside world also expects a lot from higher education. Before you know it, we overload the programs with all kinds of big issues they also have to pay attention to. That is the major risk of institutional accreditation."
But he admits there are advantages to a system change. "If you do the same thing over and over, the system loses its sharpness. It can't hurt to shake things up a bit. Conversely, you can also opt for predictability: you know where you stand and the system works well."
In any case, it will take some time before the new system is available. "There has been an experiment, but the minister still has to consult with universities and universities of applied sciences, the House of Representatives has to debate the new legislation and regulations, institutions have to adapt their own systems to it… Before you know it, it will be 2025." The House of Representatives was quite critical of a system change in the past. This time, too, the members are asking a lot of questions.
In Flanders, institutional accreditation already exists, so we can learn from their experience. Speaking of which, Van den Eijnden would like to stress that the Dutch-Flemish Accreditation Organisation is not going to split up.
It didn't look like it last year. In a letter to the House of Representatives, then Minister of Education Ingrid van Engelshoven announced that the two departments, the one taking care of the Netherlands and the one taking care of Flanders, would be given "greater independence". So, what happened?
In 2005, according to Van den Eijnden, the Netherlands had good reasons to set up an accreditation organisation in collaboration with Flanders, and those reasons still exist. "There are advantages to it. There are about 18 million Dutch and 6.5 million Flemish. If you're looking for experts to join the panels, then you have more options to choose from. By joining forces, we also exert a little more influence in Europe. Not to mention we can learn a lot from each other."
The Dutch-Flemish Accreditation Organisation is not going to split up
But joining forces is also "delightfully complicated because we operate in the Netherlands on the basis of Dutch legislation and in Flanders on the basis of Flemish legislation. That is why, last Spring, we wondered whether we shouldn't organise things differently in administrative terms. We did our research on that and the conclusion was that it would solve some problems, but create others. If you want to change it all, it's going to take years." 
The organisation would rather use that energy for their actual work. "We will solve the current problems, which sometimes involves minor details such as archive legislation. We decided that last summer, but it got little attention."
Van den Eijnden: "When you cut ties, you have to connect again. If you keep everything together, you have to distinguish between the processes. Well, that's what we're going to do."
HOP / Bas Belleman
Advertisement