A walk through De Uithof in times of corona: 'It's like a ghost town'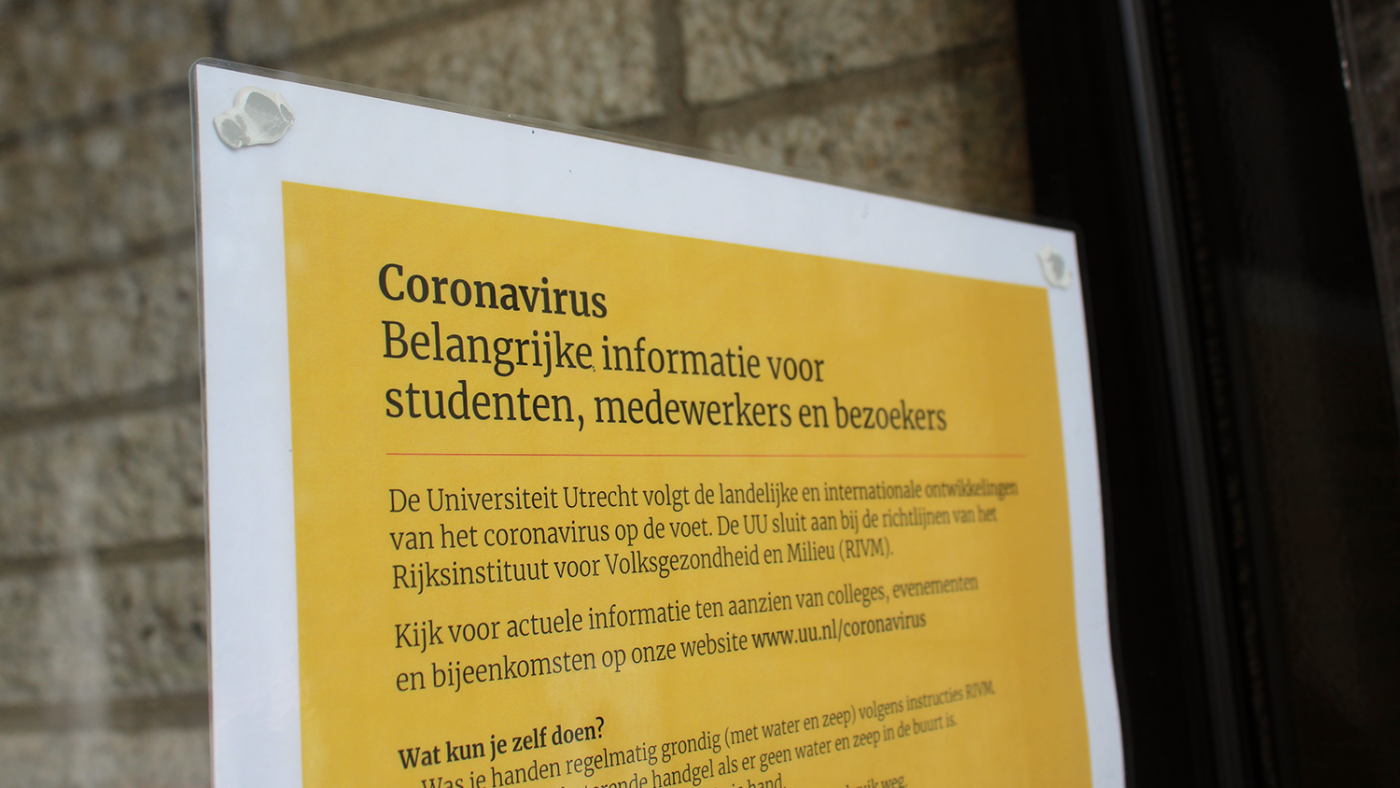 Photos: Eva de Koeijer
Although all educational activities have been cancelled for today, the university buildings remain open. The halls of the Ruppert building are so quiet, you could hear a pin drop. In one of the study rooms, Flore (23) is studying. She's pretty much the only one there. She's doing a Master's in earth sciences, and lives in De Uithof. "I prefer working here rather than in the twenty square metres of my room. It's crazy how quiet it is now, though; it's like a ghost town." She's not afraid of study delays: so much can be done online these days. "I'll just do my assignments and see what happens."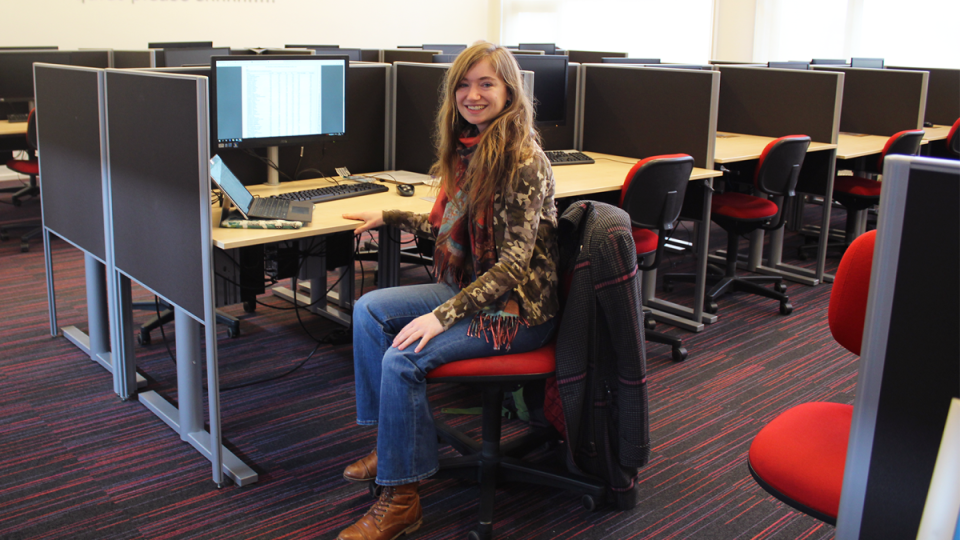 Flore, studying in an empty Ruppertbuilding.
A little further on, in the canteen of the Educatorium, a large section of the room is fenced off with a ribbon. "A security guard did that this morning, so there can't be more than 100 people in the room at once," says Sodexo worker Richel. He's lonely at his snacks station. The canteen has never been this desolate. "It's a huge difference compared to yesterday. We've sold a few cups of coffee and a sandwich, but that was it."
This afternoon, the university board is likely to announce definitive information about the opening hours of buildings and canteens. "There are financial consequences as well, of course. We still have food in the refrigerators, and what about the staff? Should we use our vacation days?" All in all, though, Richel thinks the measures are justified: the virus, after all, needs to be vanquished.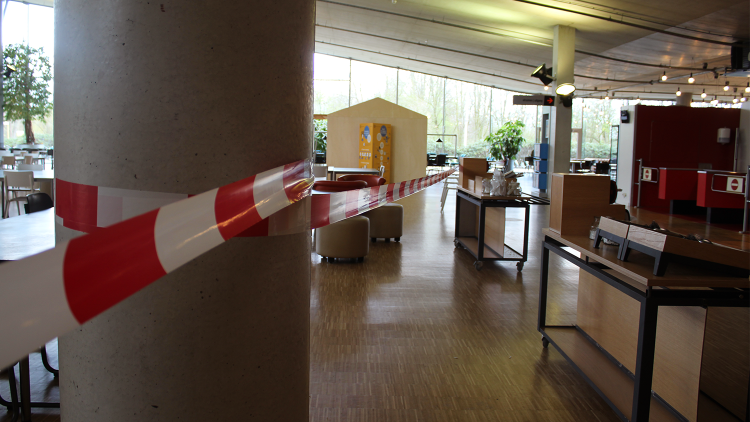 The ribbon that seperates the canteen of the Educatorium.
Hoarding
Throughout the country, people have massively started hoarding resources, but things aren't as bad in the Spar supermarket in De Uithof. "Internationals did buy a lot of toilet paper and medicine yesterday," says Fabian, who works in the store. The pasta shelves are also eerily empty. Baked goods are still in the shelves aplenty. While there's usually a long line in the store at lunch time, everyone can instantly walk up to the register now.
Broodje Ben has a food truck near Casa Confetti, but whether it'll be there next week remains to be seen. "We were supposed to be here tomorrow as well, but as the open day of the university of applied sciences is cancelled, that'll change as well." Sandwich shop Eat Out, opposite the Spar, is nearly desolate. Mert, co-owner of the shop, sits at a table and watches the news. He's not really worried, he says. "I think all the media attention is a little excessive. It just breeds panic. They should really only let researchers say anything; people who know their stuff, not just anyone shouting loudly."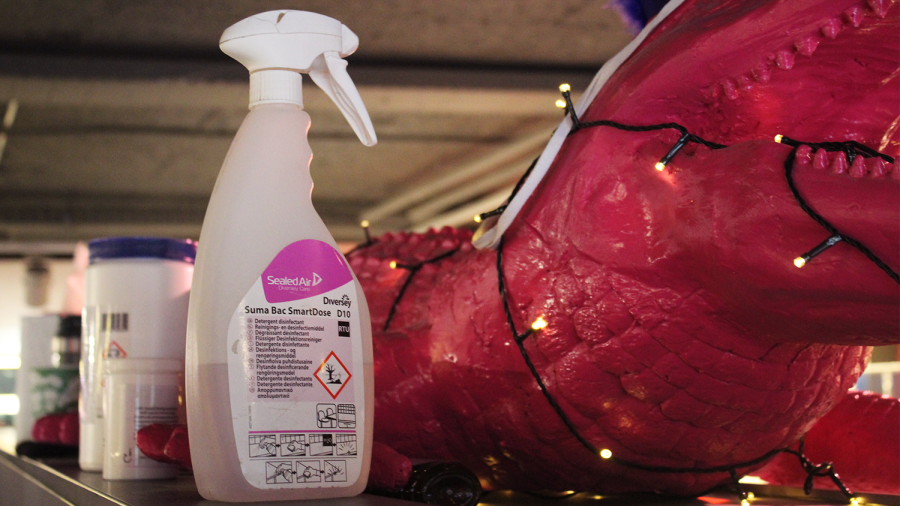 Disinfection spray in the University Spar.
He does agree with the new measures that were taken to fight the spread of the corona virus. "It's sensible. But it has to be over by April." If it takes any longer, that would be a massive blow to the company. For now, the shop remains open, even if there are very few customers. "I don't have a lot to do. And it really doesn't matter whether I watch TV at home, or here."
The bills keep coming
As we enter pizzeria Tricolore, there are six customers inside. Still, it's a lot quieter than usual. Leandro says that the pizzeria has already taken the lower number of customers into account. They prepared fewer sandwiches, for instance. They will decide whether or not to stay open next week based on the number of customers today.
The Primera, next to the pizzeria, will remain open. "We don't have a choice," says owner Jacqueline. "We can't just close for two weeks. There are also four thousand students who live in De Uithof, and we're a PostNL point, so people need to be able to pick up their packages. And the bills keep coming in regardless: the rent and the staff need to be paid." At 11.15 in the morning, they've counted 43 customers, whereas on normal days, they'd be past 100 by then. "In effect, it's kind of safe to be here. There's no one here anyway, so there's little chance of getting infected," she laughs.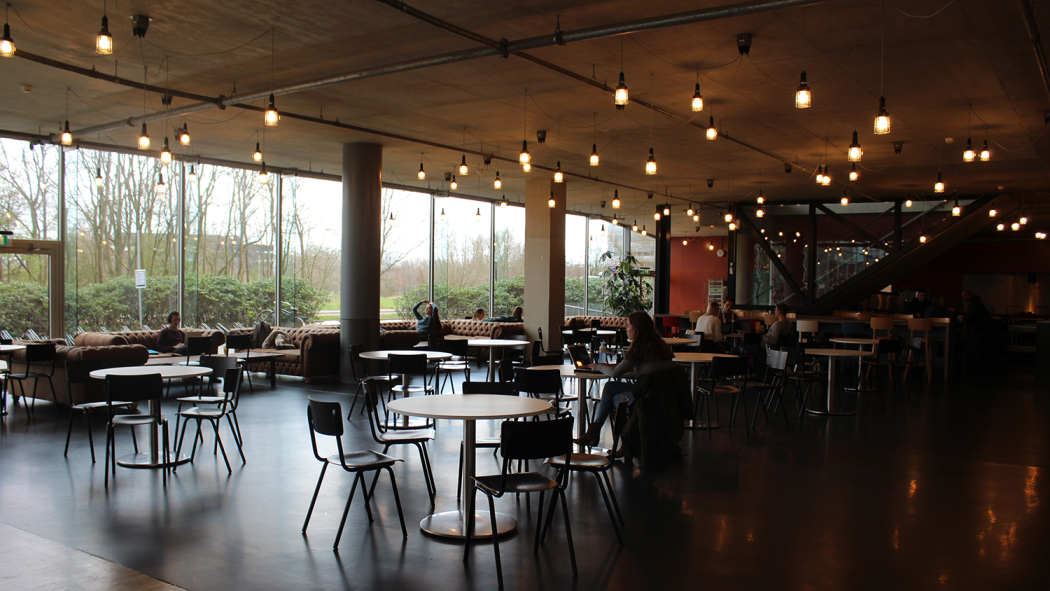 It's still possible to sit and eat in a part of the canteen of the Educatorium.
Aside from shop managers, most of the people in De Uithof are the ones who live there. One of them is Laurens (25). He walks out of the Spar holding a cup of coffee. He's not stocking up on anything. "If everyone starts to hoard stuff, that leads to panic, and there's no need for that." If it were up to him, the government would've taken these drastic measures much earlier. Later this month, he'll travel to the United States, because his sister gave birth there. "For now, it looks like I'll be able to travel there, because I'm immediate family. But everything's changing so fast, so it's a waiting game now."
Becky (25) also lives in De Uithof. She's struggling to get a huge pack of toilet paper onto her bicycle. When asked whether she bought it as a preventative measure or the urge to stock up, she denies. She doesn't think the measures are excessive, but still disappointing. "The gym is also closed, which sucks. But I do understand," she decides.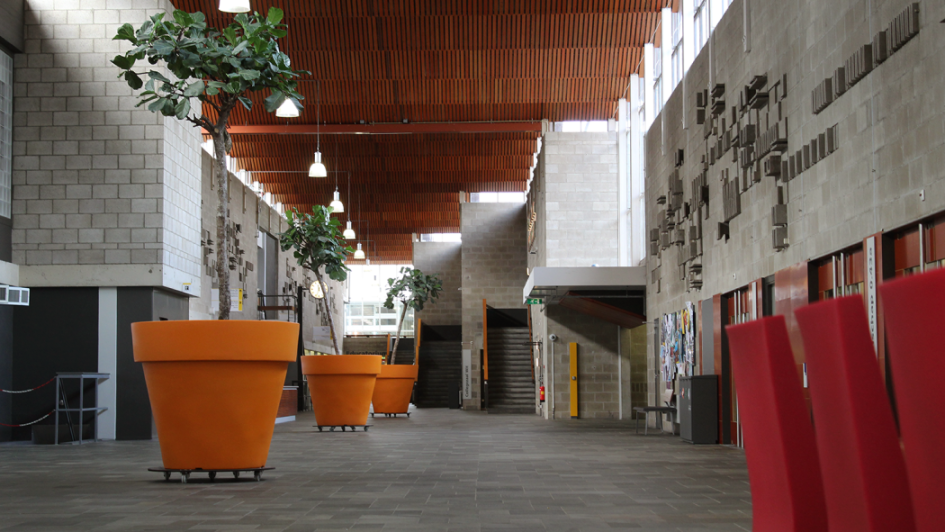 A desolate hall in the Ruppertbuilding.