From 2019 on, temporary teachers will be given four-year contracts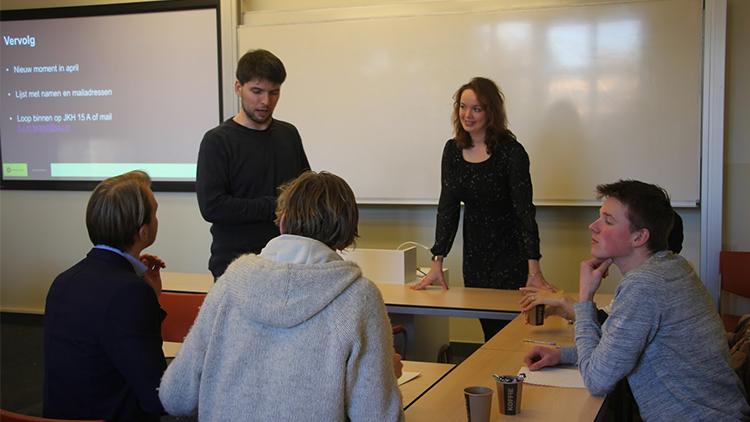 Temporary teachers are generally younger teachers who only teach classes and don't do research. There are currently around 350 of these teachers. They have short work weeks and short-term contracts that provide no certainty of being renewed. Many students regret the fact that their enthusiastic young teachers are forced to leave after only a year, even if course evaluations are good.
"It's unfortunate for these motivated young teachers, because it causes so much uncertainty. But it's also bad for the current, experienced teachers, who have to constantly train new colleagues," says executive board member Annetje Ottow. "The employee monitors show temporary contracts cause high workloads. The topic recurred quite often during our lunches with UU staff about workloads."
Transitional year
By way of responding to this, the Executive Board has decided to change the contracts given to temporary teachers. This fits in with the agreements in the collective labour agreement, which state universities are to work less with short-term contracts. For that reason, the board has worked closely with the faculties. Ottow admits it'll be quite the puzzle in education-heavy faculties, which is why there'll be a one-year transitional period. By 2020, 80 percent of all temporary teachers are to be appointed in line with these new regulations.
In a letter to the deans, the board writes all new temporary teachers will be given contracts of at least 0.7 fte (around 3.5 days a week) for a four-year period. Additionally, they'll be able to spend 10 percent of their time on self-development. The bko, the initial teaching qualification, is a mandatory part of this.
Annetje Ottow says in principle, this new measure shouldn't cost any more money. An additional investment may be needed only for the development time. The idea is that the total number of teaching hours (fte) won't change. A consequence of the new contract agreements is that fewer new teachers will be hired, which also means they'll have to teach more and different courses within their programme or faculty. It's possible some additional financial support may be needed for the transitional period.
Exceptions to the rule will remain. The practical lecturer who teaches one day a week next to his regular job will be able to keep doing so. It's also possible that a teacher will be hired for fewer hours for very specialised areas of expertise. And in case of illness, short-term replacement may also be required.
Annetje Ottow: "The measures are a result of the idea that we wish to handle our temporary teachers differently. We wish to give them more clarity about their appointment, offer more options for development. This way, it can be a great stepping stone to a career outside of the university."
Workload lunches
The Executive Board held workload lunches before the summer, to learn about where the workloads are high. The temporary teaching contracts were among the topics mentioned. Other topics included complaints about the way the academic year is set up, and the methods of teaching load models, in which the proportions of work versus available time amongst teachers aren't always realistic. The Executive Board wants to work with the deans to study how a different set-up of the academic year may offer opportunities. That's why they're currently conducting an inventory on the advantages and disadvantages of a trimester system as compared to a semester structure.
During the lunches, participants stressed how odd it is that the university ends every year with a financial surplus and yet has such a workload problem. In talking with the faculties, the board stressed that in surpluses, they have to look at the possibilities of using funds to combat high workloads. Ottow: "You can think, for example, of certain facilities that may lighten the workloads of teachers, or appointing student-assistants. These are the kinds of themes we discuss with the faculty when discussing the budget."
Cultural change
Discussing workloads with a supervisor or team appeared difficult for many people. The university wants to call more attention to this among supervisors. The board itself is leading by example, by researching consequences for workloads with every new proposal discussed.
"Concrete measures are important in fighting high workloads, but it's not just about the money," says Ottow. "It's also about a cultural change. We need to learn to say no, and learn to discuss working pressure in teams. Some things, such as the focus on scoring with research, can't be fixed at one single university. You'd ought to discuss it at the association of universities (VSNU)."
WOinAction
Ingrid Robeyns of WOinAction says she appreciates the active way the Executive Board is tackling the issue of high workloads. She thinks the longer contracts may help alleviate stress. "Temporary teachers would surely prefer a four-year contract over a one-year contract that comes with uncertainty of what comes after."
For people with permanent contracts, too, it's good that this measure will provide stability and calmness. "It's to be expected that, compared to shorter educational contracts, it'll also be better for education, because a class can be taught by the same teacher for several years."
Risks of further downgrading
Robeyns adds the side note that normalising of education-only positions does pose a risk. "The interconnectedness of education and research is characteristic of the university. The board will have to keep stressing this to the government. If we gave this up, it'd pave the way to further downgrading of universities."
As for the proposed cultural change, Robeyns adds there's a task for teachers, too, to make clear to students how they're dealing with their workloads. "Sometimes, students ask us for more feedback on weekly assignments. There's simply no time for that. At the moment, the financial circumstances and staff shortages, in relation to the job responsibilities, are managed by teachers' strong work ethic, as they don't want to abandon their students and therefore structurally work overtime. Perhaps, teachers should also make students aware that this is how it works. The government wants to have their cake and eat it too, and right now, that's only possible because of the many extra hours teachers put in. I think it's important students are aware of this too."