'Not acting in line with the Paris Agreement'
Activists urge Dutch universities to engage in sustainable banking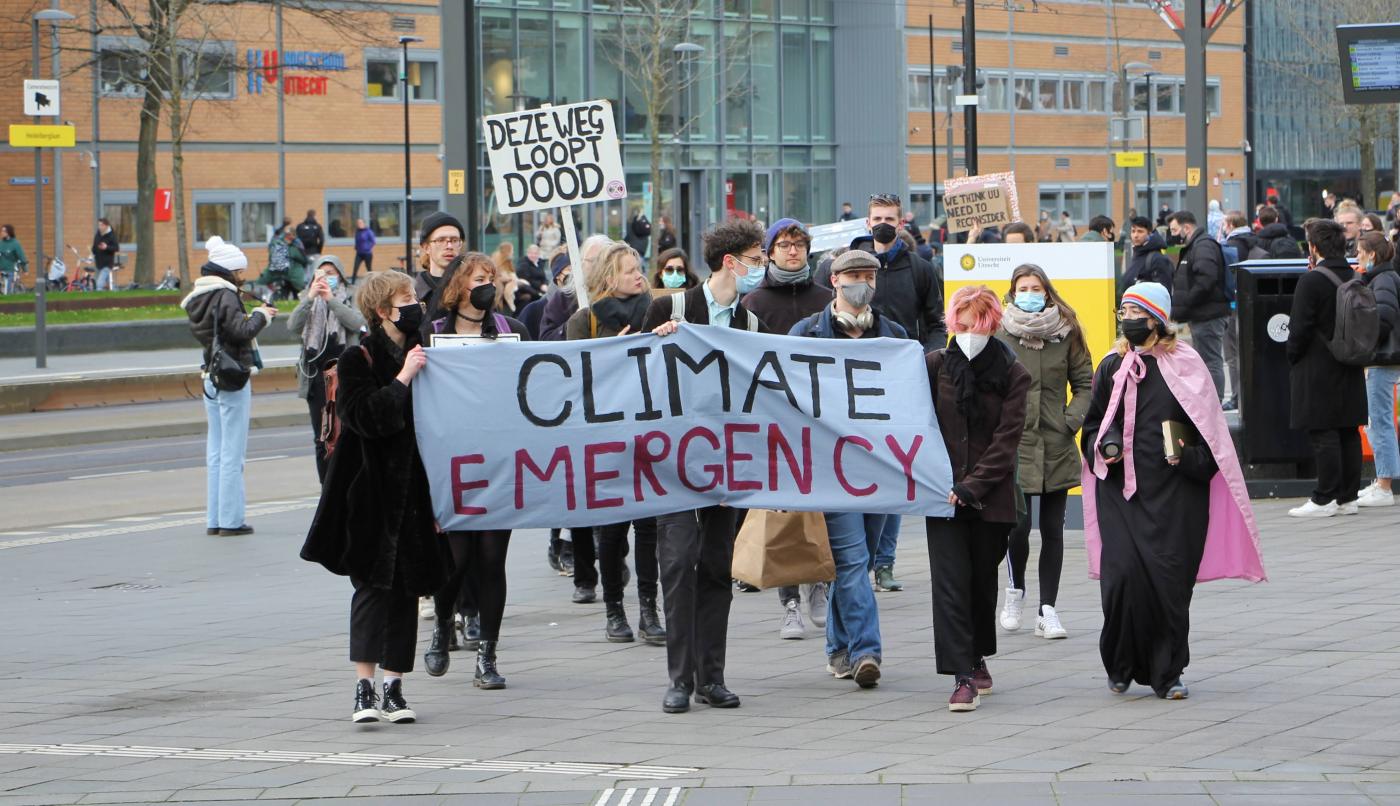 University Rebellion protests in front of UU's Administration Building in 2021. Photo: DUB
Protest groups Scientists for Future, Studenten voor Morgen, Young Academy and local Young Academies are calling on Dutch universities and universities of applied sciences to switch to more climate-conscious financial service providers. This was announced in a letter (available in Dutch only, Ed.) sent to every higher education institution in the Netherlands.
Paris Agreement
The letter argues that the higher education sector needs to take the lead on sustainability, especially in light of the scientific consensus on its importance. "If global warming is limited to 1.5°C, the climate risks to human and natural ecosystems will be substantially less significant", they write. This was the goal countries across the globe agreed to work towards at the 2015 conference in Paris. The universities and universities of applied sciences also committed themselves to this goal and set out the contribution they themselves could make. 
But, seven years on from Paris, the knowledge institutions of the Netherlands are continuing to work with banks and insurers that the activists describe as "major credit providers to the fossil fuel sector, a sector whose plans go against the climate goals."
Fossil energy
For instance, the letter states that the bank ING funded the fossil sector to the tune of 10.7 billion US dollars in 2021. For other banks, these sums are smaller but still substantial. Only Triodos Bank, Volksbank and Bunq invest primarily in renewable energy. Insurance companies also invest in fossil companies, add the groups behind the letter. Of the nine largest insurers operating in the Netherlands, none currently exclude fossil investments.
Pension fund ABP has altered its investment policy following sustained criticism from the higher education sector. The fund decided in 2021 that it would no longer invest in fossil energy. 
Protests
Earlier this week, students occupied a building from the University of Amsterdam to protest the university's alleged links with oil company Shell. Similar protests were staged at TU Eindhoven and Erasmus University Rotterdam last year. 
This led the party GroenLinks (Green Left, Ed.) to pose a number of questions on this issue to the Minister of Education and the Minister of Economic Affairs in Parliament. One of the things GroenLinks inquired the ministers about was the possibility of adopting stricter guidelines on financial support for research by fossil fuel companies.