The controversial piece of art is back
Akwaglot gets a green roof to match its new home: the Botanical Gardens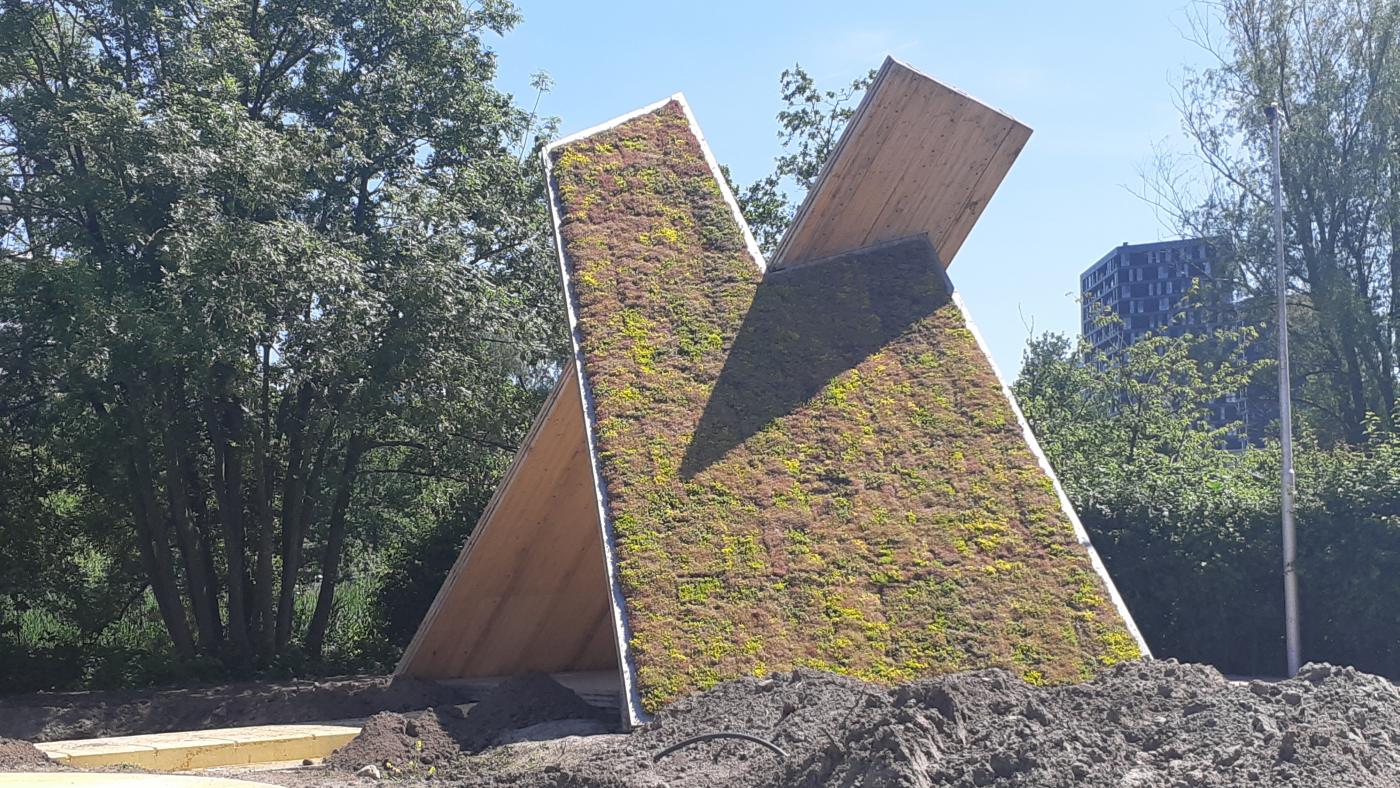 Akwaglot with its new green roof and on its new location, the Botanical Gardens. Photo: DUB
Akwaglot is an art piece commissioned to commemorate the anniversary of Utrecht University and the University Medical Centre in Utrecht. It was designed by the artists Santiago de Wale, from Belgium, and Vibeke Jensen, from Norway. Set to remain on the Catharijne canal until December 2021, the platform was meant to serve as a place where academia and society would come together.
UU and UMCU tried to extend the license to keep Akwaglot in the city centre so that it would also be part of the celebrations of the city's 900th anniversary, but the municipality denied the request. The decision was influenced by the criticisms coming from people living in Utrecht and the argument that the artwork hindered boat traffic.
In January, the university, which owns Akwaglot, decided to move it to the Botanical Gardens one year earlier than originally planned. The artwork has been on display there since the beginning of June, but it now has a green roof which makes it look more natural, in addition to increasing biodiversity on campus and collecting rainwater. The two artists agree with the change.
Akwaglot is now located in a rather remote part of the garden, which will be the starting point for the soon-to-be-set-up Evolution Garden, a space that will tell the evolutionary story of flower plants. The artwork will serve as a portal to the gardens, where visitors will literally walk through flower plants' evolution. However, at some point, Akwaglot will have to be moved elsewhere again as the untreated wood will not resist being kept out in the open for too long.
In addition to being the starting point for the future garden, the artwork is still going to be a prominent feature of the anniversary celebrations of the university and the medical centre, as well as the city and the water board. It may also serve as a space for new activities.