City parks cleaner after clean-up action Veritas freshmen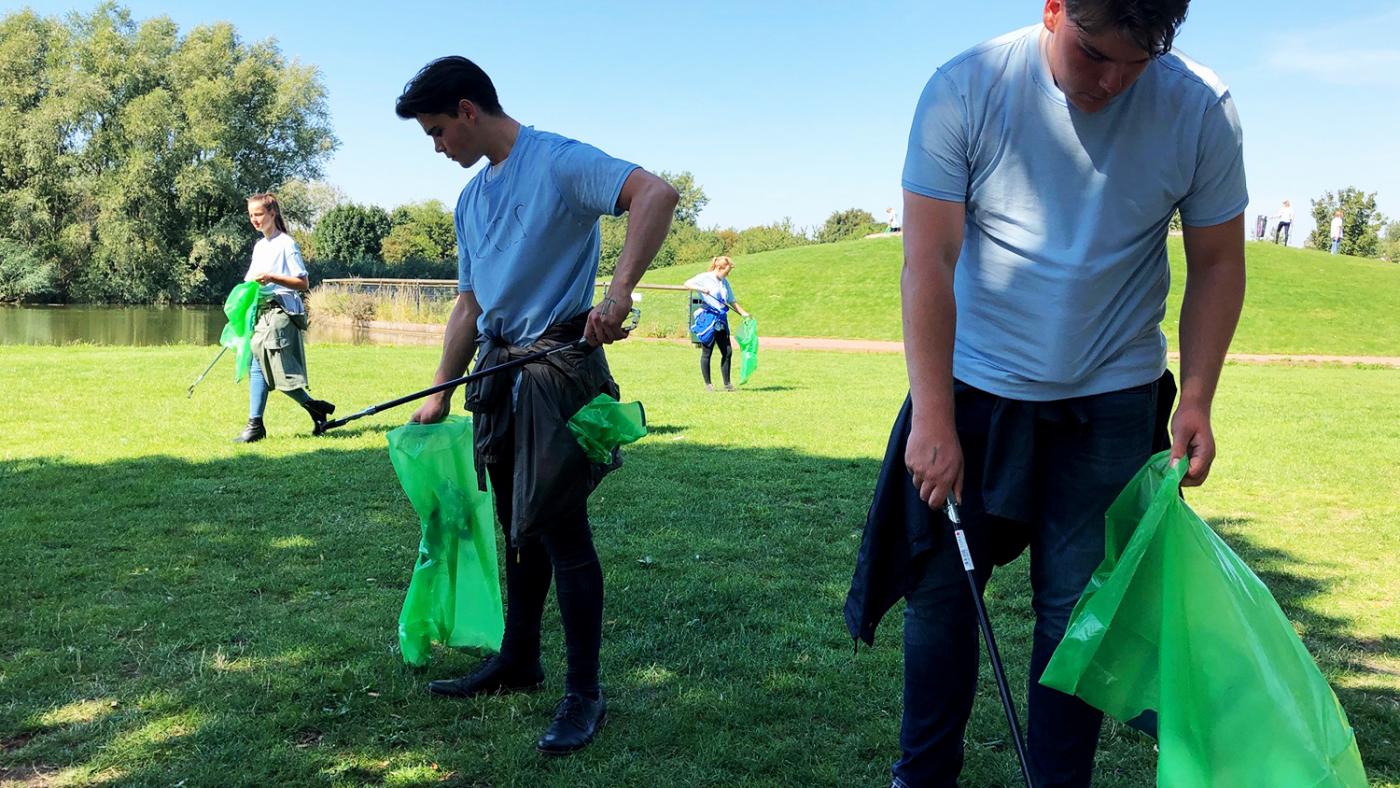 Recognisable by their matching outfits, freshmen Veritas members clean up litter in the Griftpark. Photo: DUB
On Saturday, August 24, Veritas members could be found in the Griftpark, Moreelsepark, Lepelenburgpark, and the Wilhelminapark in Utrecht. The clean-up action is part of the association's two-week introduction time, in which new members get to know the association and the city. "We have the means to quite easily mobilise a large group of people, and do some good for the city that way," says president Brechtje Boerboom.
Around 11.30, the students arrive in the Griftpark in Tuinwijk. One of the older students reminds the freshmen to put on sunblock. The weather is expected to be very warm and sunny. One of the freshmen is Tom, prospective maths student. "I often jog here. You see so much litter in the park. It's nice to clean that up on a sunny day like today."
"It's like a cleaning invasion here," says Paul Schots, communications advisor for the municipality, as he contentedly observes the students. The municipality is happy with the initiative. "There are more than enough rubbish bins around the city, but that won't do anything. It's often said that it's the students causing the litter, but here you see quite the opposite being true."
It's the fifth consecutive year that Veritas has organised a clean-up action at the end of week one of its two-week introduction time. "We want to teach the students to give back to the city. This way, students are also getting to know the city," says Brechtje. It's not the only thing the association 'gives back'. "We also organise an annual vegetarian week, a charity concert, and we're involved with the Wilhelmina Children's Hospital."
Britt (20), who's starting her studies in Law, is enjoying the activity in her introduction week. "It's nice to be able to help out in the city." It's the closing activity of the outdoors week for the students; after that, they'll have another introduction week at Veritas itself.