Coronavirus crisis: young people want the prime minister to take action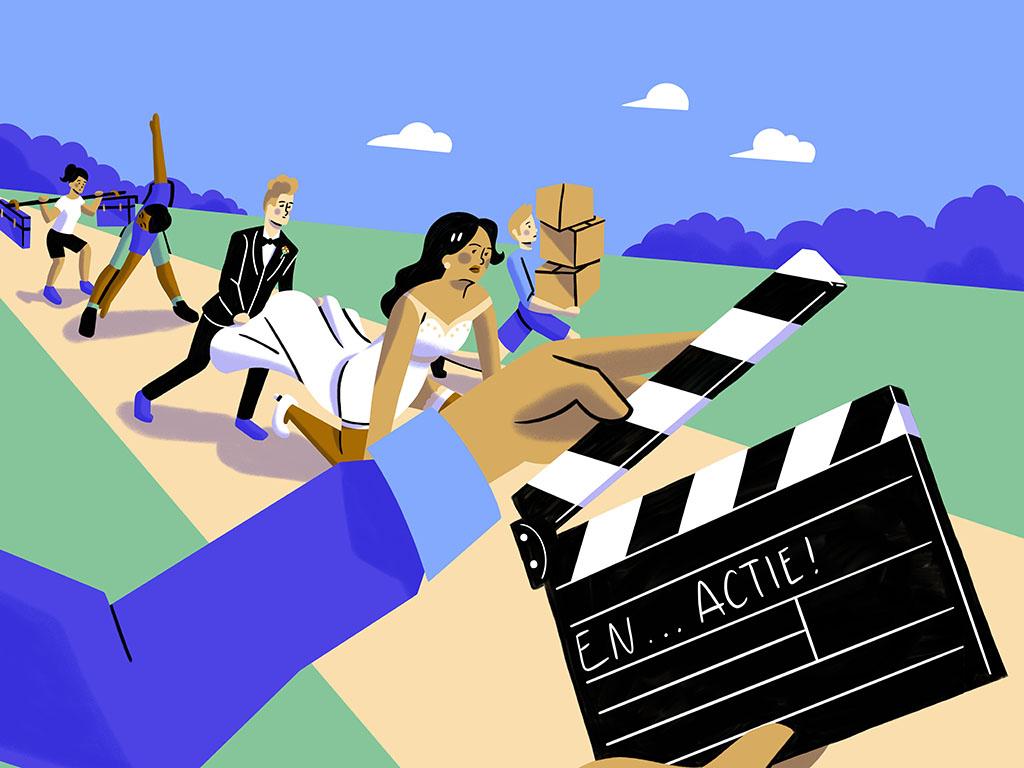 Illustration from the report. By Renée van de Kerkhof
At a press conference in May, Prime Minister Rutte himself encouraged young people to help the government by brainstorming solutions for the crisis. "Come up with ideas", he said. "Your criticism is welcome."
Youth Platform SER and Denktank-Y (link in Dutch) have accepted that invitation by setting up a special coronavirus think tank, which used an app to ask over 2,000 young people to share their ideas on issues like housing, jobs, school, well-being and climate.
The results were published this week in a report (in Dutch) which was as clear as it gets: the coronavirus crisis has only made things worse for this group. Young people feel lonely and depressed more often, not to mention they're worrying more and more about study delays.
Although the problems they mentioned (such as the prevalence of zero-hour contracts or the scarcity of affordable homes to buy) aren't new, they have been made worse by the pandemic. "The coronavirus crisis acts as a kind of magnifying glass", the report reads.
Young people want obstacles removed
The young people who used the app have come up with several suggestions for the government, from offering more face-to-face classes for students with problems at home to streaming "the best classes in basic subjects".
They also suggested the government to subsidise more work placements for young people and invest in training for those who want to switch to "deficit sectors" such as healthcare or teaching.
What's more, they expect the government to take concrete action to alleviate their housing problems. First, they feel that student debt should no longer be an obstacle for young professionals looking to get a mortgage for a home. Secondly, the government should do more to curb slumlords and tackle youth homelessness.
Interestingly, some young people see a positive side to the crisis: working from home is getting easier and easier, and digital education has certainly improved. They also appreciate that we're lessening our impact on the environment by travelling less and shopping more from small, local businesses.
Quarantine stacking
During the online unveiling of the report, held on Thursday, January 28, Dutch Prime Minister Mark Rutte acknowledged that these are hard times for young people saying that Zoom classes "wear you out".
Dahran Çoban, Chair of the Dutch National Students Association (ISO), told the Dutch PM how important it is for young people to be given an outlook on the future. She said that it's hard to be hopeful when you're in financial trouble or having problems with your living conditions. 
Çoban also explained to the PM what "quarantine stacking" means. "If you live with forty other students in a house, and several people test positive for coronavirus in a row, then you're probably going to have to isolate yourself at home for three or four weeks."
Raring to go
Çoban thinks that many young people are keen to contribute to solutions for the crisis. She suggested that they could help transform theatre halls into study halls, or submitting ideas about digital education. "We don't want businesses to collapse, but if we let a younger generation collapse now, we'll be stuck in this crisis a lot longer."
Prime Minister Rutte was more optimistic about the job market. "The Netherlands has a strong economy, and eventually we are going to need all those young people again", he said. "So I'm not really sombre about the long term, but right now it is going to be challenging for a while."