Covid-19 rules in student homes: 'use your common sense'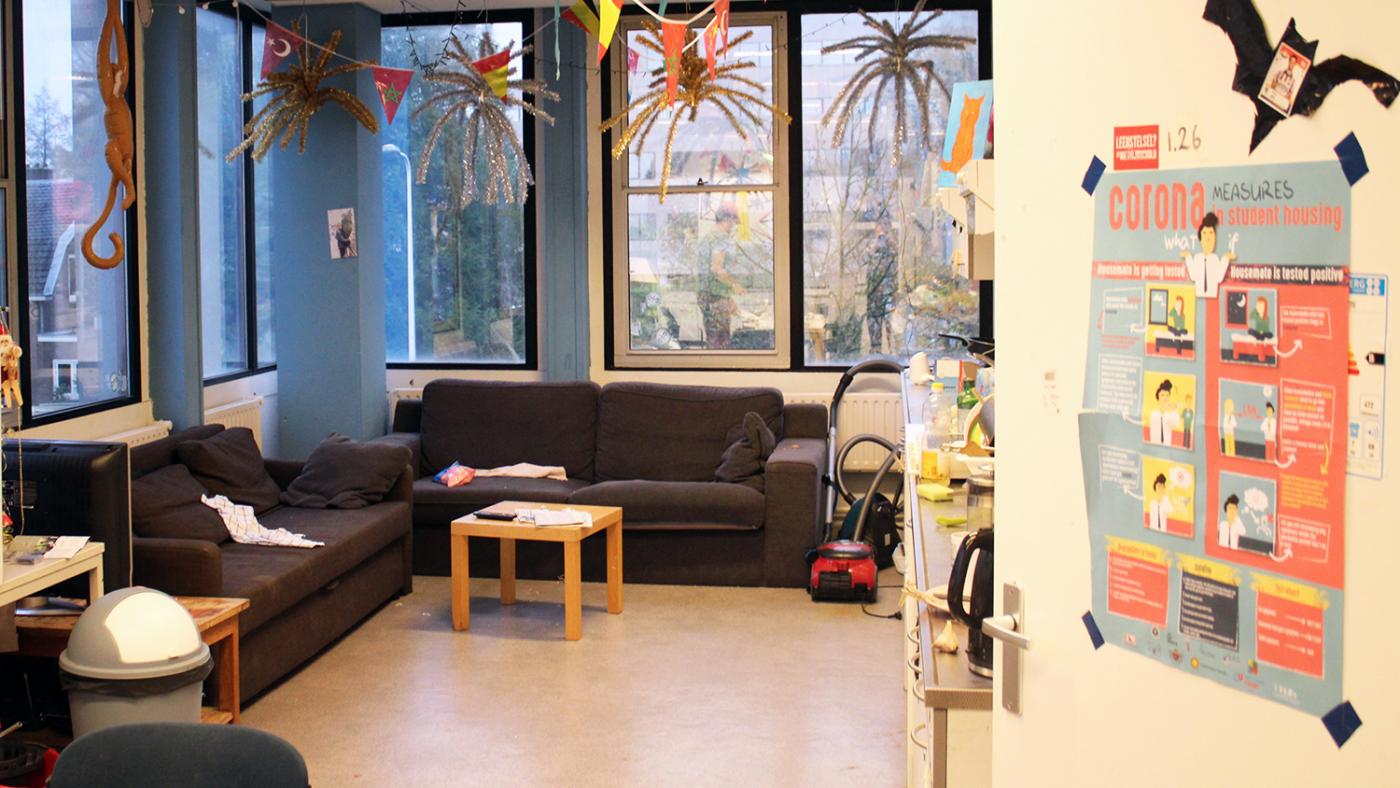 Photo: DUB
"Aaaa... choo!" goes one of your roommates. Oh my, does he have the coronavirus? What to do now? Go to class or stay home?
Do not worry, for here's a summary of the rules student homes should abide by to contribute to the fight against the virus.
The basic rules are simple: wash your hands regularly, keep a distance of 1.5 metres (6 feet) from others, open the windows for some fresh air whenever possible, and stay home and get tested if you experience any symptoms. Remember to sneeze and cough in your elbow.
If you're experiencing mild symptoms, then you can take a self-test first. You don't have to call the local health services (GGD) for a PCR test, unless the self-test is positive. Students are entitled to get self-tests for free, as they are expected to take them twice a week, even when they don't have any  symptoms. After all, sometimes people carrying the coronavirus are asymptomatic. 
Another important rule for student homes: do not welcome more than four guests a day and do not visit others more than once a day. Also remember to take a self-test before going to someone else's place, just to be sure.
If you do have Covid, then you must isolate for at least one week. For example, if you find out that you're sick on a Friday, then the following Friday will be your last day of quarantine, as long as you don't feel any symptoms for at least 24 hours (but beware of these medical exceptions).
There are also specific rules for student homes (page in Dutch, Ed). If one of the roommates has mild coronavirus symptoms, then the others do not have to quarantine. But if this roommate gets a fever, is short of breath, or tests positive, then that's a different story. In that case, all roommates must quarantine until they receive the results of the PCR test made by the GGD. That means none of the roommates are allowed to do grocery shopping.
If one of your roommates is a confirmed Covid-19 case, then take a self-test and schedule a PCR test at the GGD. But beware: sometimes the PCR test gives a false negative, as it takes a while for the virus to be detectable. That's why you should wait five days to get tested at the GGD.
With the constant changes in the measures announced by the government, many students wonder when a student home is considered a single household. Do you form a single household with your roommates even when you barely see them? Even when you only share a hallway with them, or a bathroom or kitchen? Should everyone self-isolate if someone down the hall has Covid?
Granted, this information is hard to find. News agency HOP asked for an official position, but kept getting directed to different institutions. The National Institute for Public Health and the Environment (RIVM) is not so sure. "Good question", says their spokesperon, stressing that they "issue advice, not rules." But he dares making a suggestion. To him, it's all about the amount of times you've been in touch with that person. "If someone in your house has tested positive, but you didn't see them at all, then you don't have much to worry about."
He directs HOP to the Ministry of Public Health, but their spokesperson said they should talk to the National Team of Crisis Comminication (NKC in the Dutch acronym) instead. The contact details of the latter are hard to find, but HOP managed to get someone on the line. But they didn't know the answer to that question, either. "It's hard to foresee all situations that can happen in a student home and come up with a single rule. It's also a matter of using your common sense."
But HOP's journey didn't end there. The NKC recommended they speak with the Ministry of Education. Their spokesperson found the question "very specific". He said he would have to do some research and would get back to them soon. 
Staying home isn't always an easy decision for students, as courses oftentimes demand their presence in a certain number of classes. Besides, many study programmes are not so advanced in terms of hybrid education, making it hard for students to watch classes from home. That's why some students end up going to class anyway.