The Dutch government has collapsed. What now?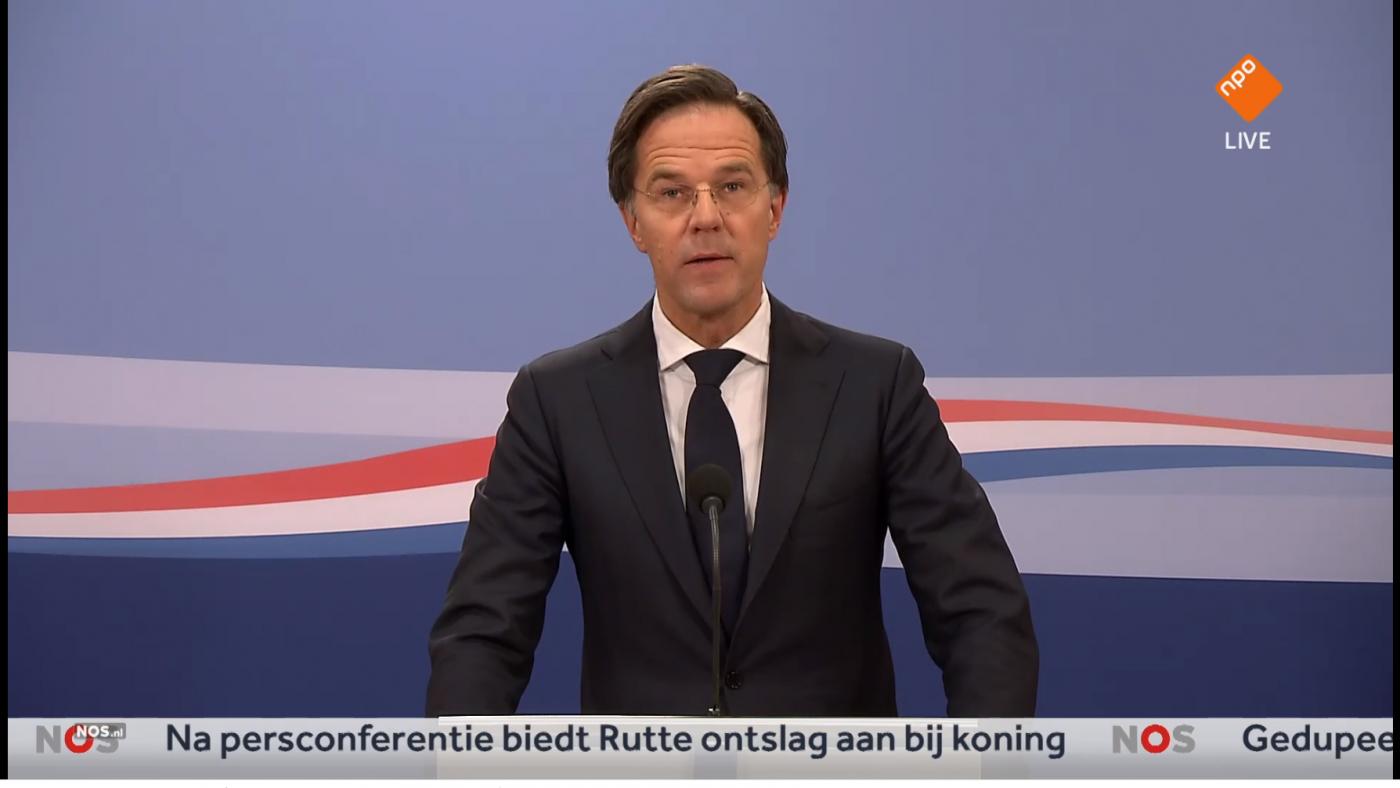 Screenshot of Mark Rutte's press conference announcing the collapse. Source: NOS website
The cabinet will remain in place in a caretaker capacity until the next elections, set to take place on March 17. Until then, no "controversial" subjects will be handled. 
It is up to house representatives to decide what they consider "controversial" but, in practice, it's anything that a few political parties would object to.
For higher education, this means that some key draft legislation will be put on the shelf, such as the one deciding whether popular study programmes can have a lottery system to select students.
English language
In the Senate, for example, the Language & Accessibility legislation (link in Dutch) is currently awaiting approval. This law aims to rein in the use of English in higher education in the Netherlands, requiring programmes to be able to justify why their courses are offered in English instead of Dutch. The draft legislation also intends to change the tuition paid by students from outside of Europe, ensuring that they pay the institution's fee at a minimum.
Parties on both the left and the right have expressed doubts about this proposal. GroenLinks, PvdA, PVV and Forum for Democracy, which represent complete opposite positions in the Dutch political landscape, have all voted against the law in the House of Representatives. Just before reaching the finish line, this draft legislation could be declared controversial.
Lottery
Right now, programmes with a limited number of places are forced to select their new students, even if they don't find it necessary. The government had been meaning to submit a draft bill to parliament in the near future, proposing to reintroduce student lotteries.
This bill will almost certainly encounter delays because parties VVD and ChristenUnie don't think it's a good idea. They believe that it is better to select students based on how well they match a programme than to let it be decided by chance.
Student funding
It's also possible that the return of a basic student grant will be delayed. The Socialist Party submitted a private member's bill enabling the quick rollout of new student grants following the election. This will undoubtedly be put on the back burner because some parties, the VVD in particular, aren't happy about it.
At your own pace
According to a majority of the House of Representatives, students should have the right to pay tuition per credit rather than for a whole academic year. That way, they can study at their own pace. A motion was put forward directing the minister not to wait for the outcome of ongoing experiments but to start working on legislation right away. SP, GroenLinks and PVV voted against this motion, which means the controversial draft bill will not be submitted for the time being.
Varia
Presumably, other matters will proceed as usual. For example, draft legislation covering miscellaneous smaller issues (a "varia" act) is currently awaiting approval in the Senate. Issues included cover replacement diplomas when alumni change their names, and financing HBO Master's degrees (and the accompanying student funding).
Not a single party voted against this bill in the House of Representatives, so even the collapse of the government won't put a spanner in the works.
After the fall
Sometimes elections lead to a substantial change of course. Mark Rutte knows all about it. When he was State Secretary for Higher Education, he wanted to overhaul the funding of universities and universities of applied sciences. From that time on, students would acquire "learning rights" that they could spend at the educational institution of their choice. Rutte's draft legislation got through the lower chamber of Parliament but never made it to a vote in the upper chamber. It was declared controversial after a collapse of the government in 2006. In 2007, his successor Ronald Plasterk (PvdA) threw it out.
Ten years ago, the parties VVD, CDA and PVV wanted to implement a fine for students who were taking too long to complete their studies. They would have to pay three thousand euros extra in tuition fees if they took longer than an additional year to finish their Bachelor's or Master's degree. Ultimately, no one ever had to pay a fine, as the law was immediately withdrawn after the 2012 election.
Negotiations
The big question is how quickly a new government coalition can be put in place. Because of the pandemic, there are already calls to delay the election. After the election, it often takes months of negotiations to arrive at a new coalition agreement.