Dutch House of Representatives to abolish student loan system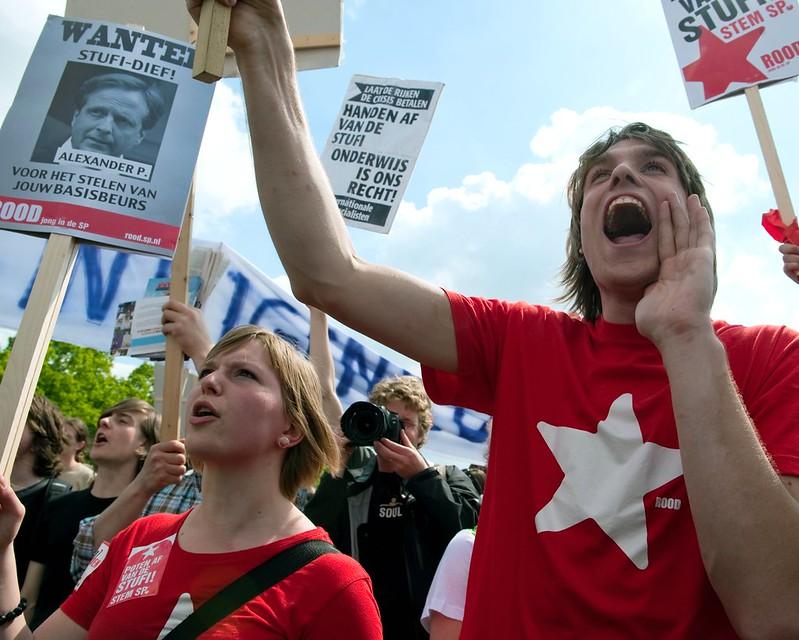 Young people associated with the SP party protest against the student loan system. Photo from 2010 from Flickr / Jos van Zetten.
Three motions were brought against the student loan system, of which two were adopted in the General Review of the new National Budget, announced last Tuesday. It's the first time such a large majority of MPs express their opposition to student loans in the House of Representatives.
Parties SP and Volt each submitted motions, while ChristenUnie and CDA presented a joint one. SP's motion was rejected, but the other two passed with an overwhelming majority: of the biggest parties, only VVD voted against.
Tabled motion
Caretaker Prime Minister Mark Rutte had the SP motion tabled, but not the other two. That's because the one from SP "asks the government" to get started, while the other two motions only "pronounce" that something has to change.
It's a subtle difference, but it means that the government doesn't have to take immediate action. Another difference: Volt, ChristenUnie and CDA say nothing about compensating the students who missed out on the basic student grant. SP's motion includes such action.
The National Students Association (ISO in the Dutch acronym) is celebrating the votes as a triumph, calling it the coup de grace for the student loan system and "an occasion for all Dutch students to celebrate".
But Rutte warned in advance that the return of the basic student grant will take time. Education Executive Agency DUO is unable to make a switch overnight as it also has numerous other duties. Even so, it seems inevitable that the next cabinet will be examining the reintroduction of the basic student grant. We'll have to wait and see what happens, and how fast.
Funding
For instance, it is not yet known how much funding the next government will be able to spend on the reintroduction of the basic student grant, nor where the money will come from. Will it be taken from the budget for education?
It also seems unlikely that the basic student grant will make a comeback by the next academic year, as student associations the and youth wings of political parties demanded earlier in the week. Who knows—maybe a committee will have to be set up to carefully examine the issue first, after which the Ministry of Education can take its time fine-tuning the draft bill.
Despite the motions adopted, it may actually be a couple of years before the House of Representatives and the Senate approve the restructuring of the funding system for Dutch and European students.