Dutch Minister of Education: universities will not shut down during fourth wave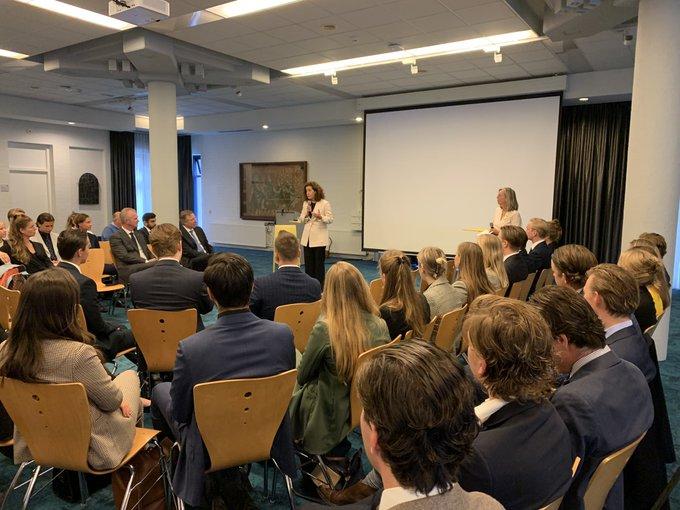 Photo: Twitter account of the minister. @ivangelshoven
"My answer is no", van Engelshoven told local radio station 1Limburg when asked about the subject. "We are simply not going to do that anymore."
Access passes could be made mandatory in extreme cases, however. Students and staff will then only be allowed to enter the campus if they have been vaccinated or tested. These rules are already in her "back pocket", the Minister said, but she hopes they will not be necessary as "it's a very tough measure."
Testing
The minister also took the occasion to call on students to get vaccinated or at least tested if getting vaccinated really isn't possible." In addition, she reminded listeners that self-testing kits are available free of charge. "It'd be of great help if as many students as possible would take that test twice a week."
Later that same day, the minister spoke in English to a group of people at the Limburg conservatory. Her speech focused on how happy she was that educational activities can take place face-to-face again. She also thanked everyone for their recent efforts.
"Let us continue to work together and do everything we can to hold onto our renewed freedom", declared her speech, referring to the vaccines, self-tests and other precautionary measures put in place. Last but not least, she called for international cooperation in education and research.
Painful
The minister didn't forget to mention the cultural sector, where many students in Limburg would like to work. It is "truly painful" to see how hard the sector has been hit, particularly the freelancers. But the minister swore she has done her best to ensure they get a share of the billions of euros that have been granted in support.
However, even with that support, the government cannot alleviate all pain, according to van Engelshoven. She stated that structural problems came to light thanks to the crisis, and the next cabinet will have to do something about all the advisory reports and analyses produced lately. "I sincerely hope they will rise to the challenge."