Election debate: parties promise to throw billions at science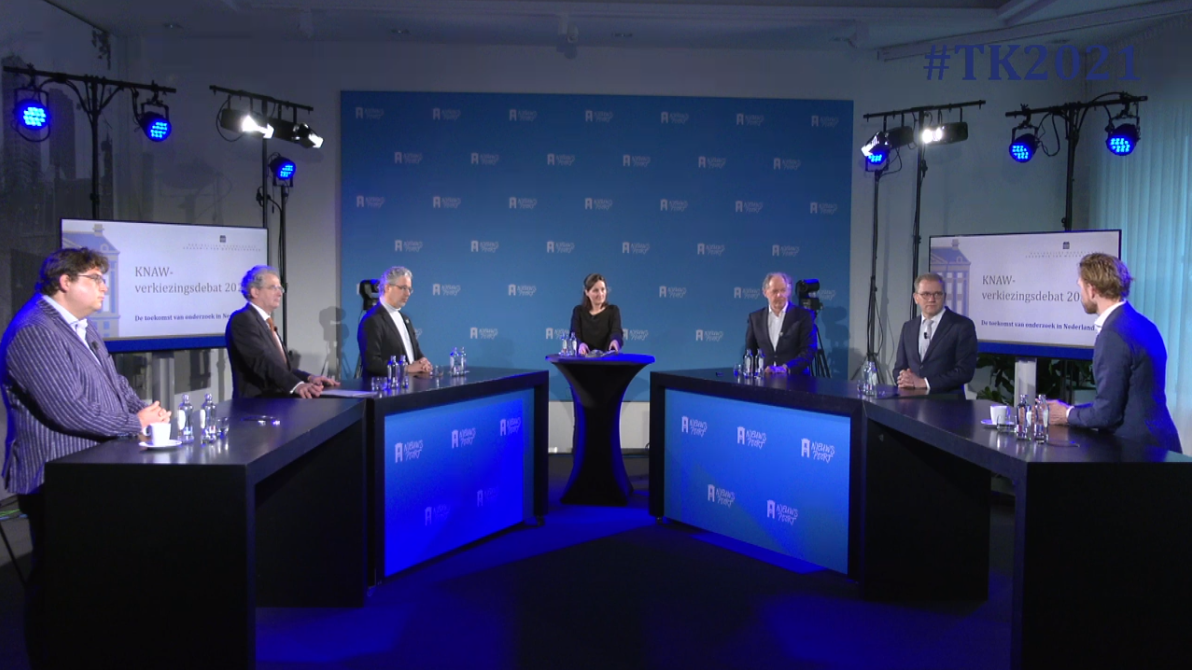 Screenhot of the debate. Source: HOP
Although the parties disagreed on many topics, the politicians of the VVD, CDA, D66, ChristenUnie, SGP and GroenLinks parties unanimously agreed on the following: they have every confidence in science. But how to ensure that science is not questioned by everyone and their neighbour?
Talk shows
Eppo Bruins (ChristenUnie) believes that researchers should appear less on talk shows. To those watching, anexpert's considerations can be easily seen as "just another opinion". Additionally, Bruins is not happy about the fact that virologist Jaap van Dissel was asked to appear on behalf of the government in a court case, as that makes him seem less independent.
Niels van den Berge (GroenLinks) felt it prudent to ask the leading expert in the field to explain the necessity of a curfew to the judges. But he called it a 'fine line'.
Roelof Bisschop, of the SGP party, advocated for more transparency in the translation of scientific insights into government policy, which he believes would make a difference. Paul van Meenen (D66) lobbied for an interest in other scientific disciplines than virology during these coronavirus times.
Funding
Moderator Lucella Carasso brought the focus of the debate back to funding. Wouldn't we be more prepared for the next pandemic if science had a bigger budget? The Netherlands invests markedly less than the amount agreed by all European countries.
Mustafa Amhaouch (CDA) pointed out all additional investments the government has made and also drew attention to the National Growth Fund set up by the government. But he did in fact call it a sticking point that investments in research aren't higher: "Which buttons do we need to press?", he wondered.
The moderator pointed out that his own party leader is currently the Minister for Finance. But what Amhaouch mainly intended to bring across is: how can we convince the corporate world to invest more in research? "The government serves as a lever."
But Bisschop (SGP) still believes it all starts with the government. He watched with amazement as all four government parties stated, during their election campaigns, that they want to invest more in science. "Why haven't they done so in the last four years?" He wants to give the universities more money, without the associated project conditions.
Van den Berge (GL) showed a little more understanding, but only for D66. Together they asked the government to consider how those investments could be raised, with the caveat that of course no changes could be made overnight. You have to make sure that the additional funds are well spent. "There has to be a good balance between curiosity-driven and thematic research."
Water cooler chats
The debate got more heated when they were asked where the money should go. D66 wants to add a billion euros a year for science, particularly for curiosity-driven research. Van Meenen criticised VVD and CDA, who he believes want to combine all funding with 'valorisation' and economic gain.
ChristenUnie is also reserving a billion euros of funding for science, according to Bruins. He wants more scope for "spontaneous ideas" that come up during water cooler chats. He stated that all the money is currently going to matching and projects.
Wiersma (VVD) stressed the larger challenges the Netherlands is currently facing. He stated that his party wants more funding for curiosity-driven research, although he was unable to mention a specific amount and added that scientific breakthroughs alone are not enough: you also have to protect and use your expertise. In short, you have to help "keep knowledge here".
Science is more than just economy though, Van Meenen (D66) sneered. Bruins (CU) added that humanities and culture are very important to the economy, as they form one of the reasons why foreign researchers flock to the Netherlands. "We must invest in all areas of expertise. This is a delicate balance."
Temporary
But there is more bothering Dutch politicians, such as heavy workloads, temporary contracts, project funding and the endless rigmarole surrounding funding applications in science. The parties agreed this is a huge waste of talent. Permanent jobs and less bureaucracy in science seemed like a good idea to just about everyone.
"I think us politicians want it all", noted VVD's Wiersma. Top-level education, top-level research, the best scientists, limited support... "But that's impossible, like a square circle." However, the politician had come up with a number of solutions, including fewer student enrolments at universities and a more focused investment in research.
So, fewer students to unburden science? The other politicians were ready to jump in, but the moderator decided to put an end to the discussion at that moment as they had run out of time. "It remains to be seen how much additional funding will be made available and who the recipients will be", she concluded.
The debate was initially organised by the Dutch Research Council (NWO), but after this week's cyber attack, the KNAW science association took over.