French artist builds treehouse at the Uithof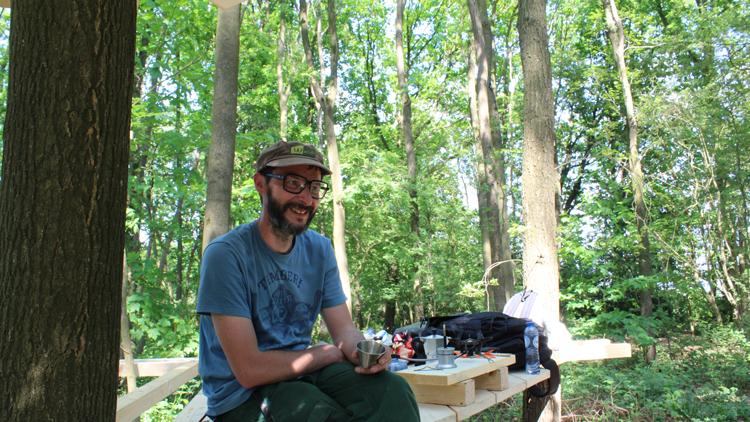 Kunstenaar Laurent Tixador: "We bouwen hier zonder dat er een schroef in een boom gaat." Foto DUB
Gleaming with sweat, Tixador walks into the woods behind the Botanical Gardens. The French artist is using the woods as the location for his project Nature helps man to take root. He's constructing several platforms in the trees that will rise when the trees grow. The construction is a part of the art project Zero Footprint Campus , that will launch an exhibition Wednesday, May 31st.
The artist has been camping in the woods since May 18th. "I'm not afraid of being found. People know this is a part of the project," he says. "Everyone can see me, meet me, when they walk into the woods." He says everyone is welcome to come to the launch on May 31st to see the artwork. Tixador himself won't be there long. "I'll leave for France in early June."
"The idea is that the wooden construction will rise when the trees grow. Because the tree will grow thicker as well, the planks will hold better," the artist explains. According to him, building a construction without having to put screws and nails in the tree is one of the most important parts of the project.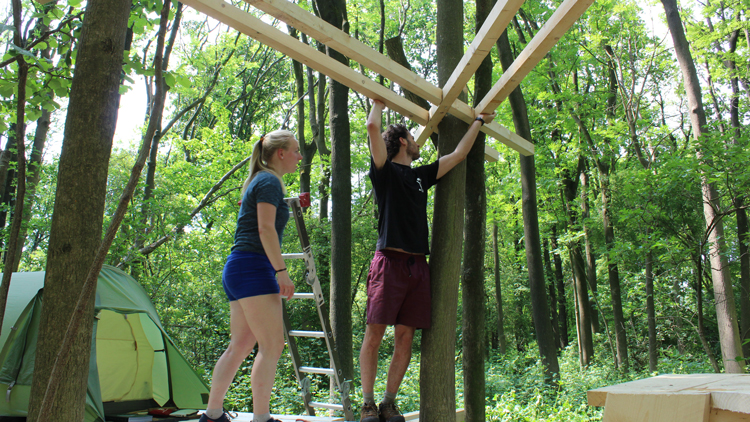 Tara Pesman and Jacob Herrie assist in the construction of the artwork.
During construction, the Frenchman has two assistants: Jacob Herrie, student of Social Geography at the UU, and Tara Pesman, a Master's student of Logic in Amsterdam. "One day, I saw a poster that said 'come camp out at the USP and build unique treehouses," Herrie explains. "I was immediately enthusiastic, because I'm actually doing a project on ways of living for my studies, so this ties in neatly with that." Pesman found the project in a volunteer bank. "I wanted to do something outdoors, in cooperation with others," she says. "This project is a perfect fit."
Aside from the treehouse, Tixador also has another project at the Botanical Gardens called Man helps nature to take root. Near the greenhouses, Tixador placed a glass tube. The combination of moisture in the soil and sunlight produces condensation in the tube. "The water ensures something can grow in that place," he says. "It starts with moss, that will turn into grass, and in the future, perhaps a tree will grow there."
"These works form a diptych," he explains. "In both projects, I'm adding to nature without taking something else away. It's a treehouse here, and in the Botanical Gardens, it's vegetation in a spot in the pavement."
The Zero Footprint Campus project will launch on Wednesday, May 31st. Several artworks across the Uithof are exhibited from then until June 25th.