Happietaria reopens after two years: having lunch for charity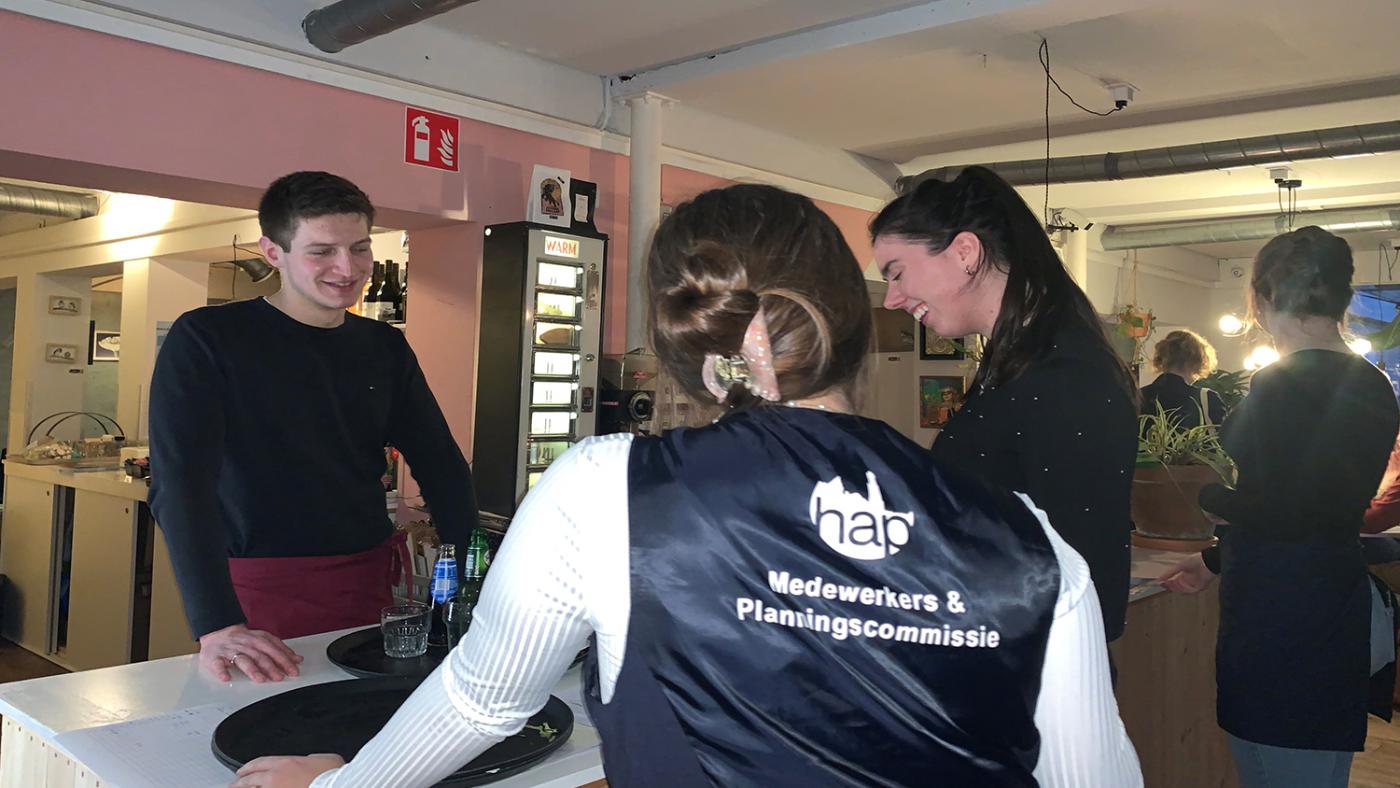 Happietaria up and running again. Photo: DUB
The measures to combat Covid-19 threw a spanner in the works, keeping Happietaria from opening for two whole years, but the break is finally over. The project made its comeback on February 22 at Kaffeetaria, a café near Vaartsche Rijn station.
Happietaria is an initiative from higher education students, who run a restaurant for a month to raise money for charity. From kitchen to waitressing, students do all the work on a voluntary basis. Sponsors provide food so that they can give as much money as possible to charity.
This time, the student restaurant is raising money for young people living in the Belle-Anse region, in Haiti. The money raised will go to a project offering thousands of youngsters an agricultural business education, teaching them how to save money and start a company. Additionally, all participants receive a square metre of land to begin with. This charity has been chosen because Haiti has suffered through political unrest and natural disasters over the last few years.
The owners of Kaffeetaria offered their property on Saffierlaan avenue to support the students' initiative. Usually, Kaffeetaria is open until 5.00 pm, but now they will be closing a little earlier to allow the volunteers to prepare everything they need before the restaurant opens at 5.30 pm. Happietaria is open from Tuesday to Saturday. On Thursday, they host a happy hour. There are also going to be live performances and themed nights. Most tables are for two, but bigger groups are also welcome.
Happietaria is linked to the Tearfund foundation, a Christian organisation running several volunteering projects to raise money for the poor. The restrictions caused by the coronavirus prevented them from using a restaurant in the past two years, but they started selling drinks and snack packages instead. 
Would you like to volunteer for Happietaria as well? The Happietaria Management Team (HMT) in Utrecht could use some more volunteers to run the restaurant. DUB reporter Menke Leber took a look around and made a radio item: "Nice to eat out, even better if it's for a good cause."
Do you speak Dutch? DUB reporter Menke Leber went to Happietaria and recorded an audio report of her experience. "It's nice to eat out, but even better if it's for a good cause", she concludes. 
Listen to it here.