House of Representatives wants vulnerable students to get 'hybrid' education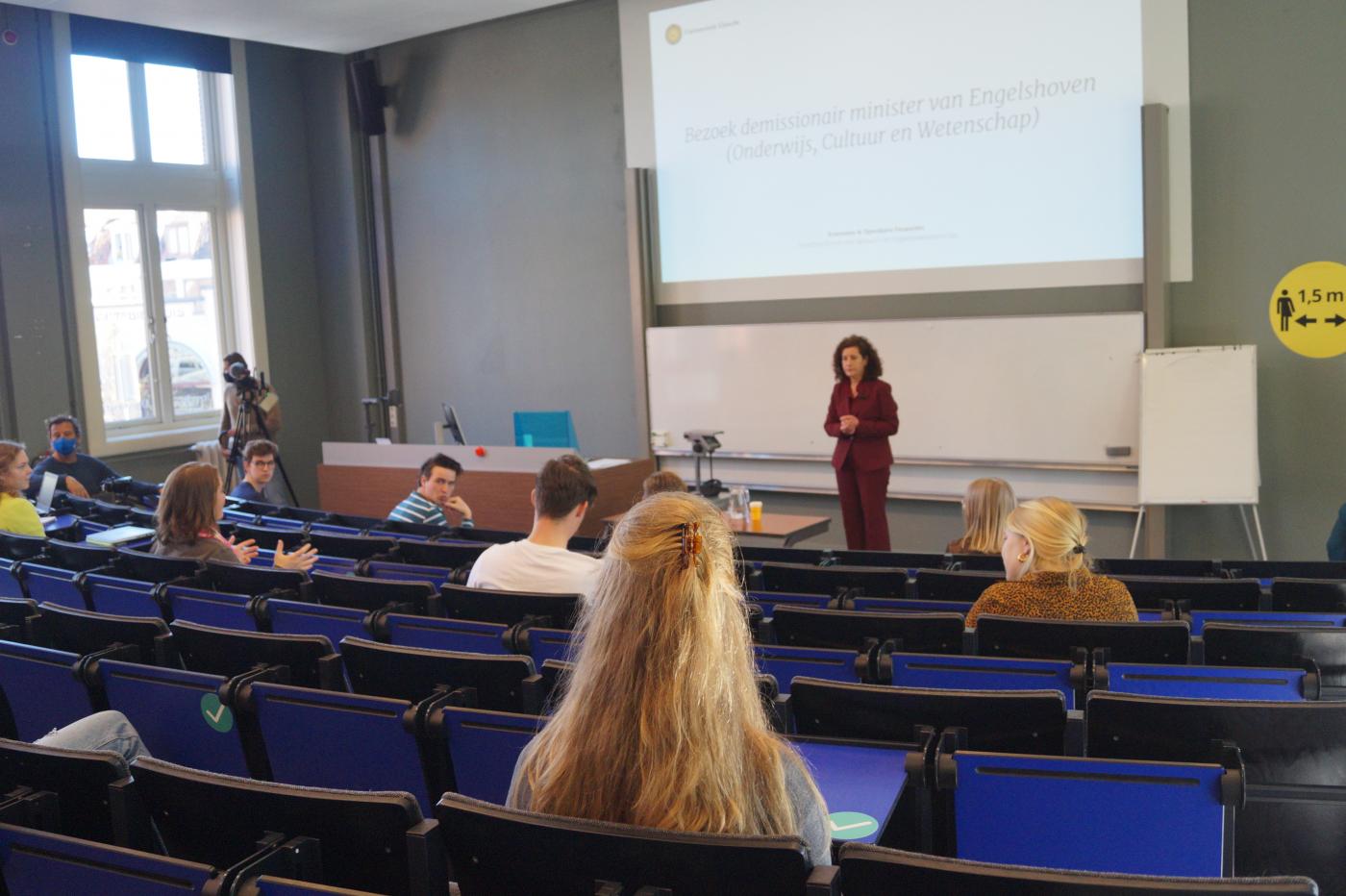 Minister van Engelshoven gaf zelf eerste college na de lockdown in Utrecht. Foto DUB
Last week, the Dutch House of Representatives debated the government's coronavirus policy. Many MPs were glad to see higher education institutions opening their doors again. They celebrated that students would have classes on campus at last.
But some wondered what should be done about the students with health conditons that make it impossible for them to be vaccinated. There also students who live with or take care of sick family members, who are afraid of passing the virus on to them. Can those students continue to receive a "hybrid" form of education, comprising both classes on campus and online?
Although the Minister of Education, Ingrid van Engelshoven, said she "completely" understands the question", she did not welcome the idea, citing the extra work pressure for teaching staff. "We cannot ask the impossible", she stated, adding that she is unwilling to promise the "right" to hybrid learning.
Education must continue
"Yes, educational institutions see it as their core task to ensure that education continues for everyone, including vulnerable students", she said. "That requires a lot of tailoring, because every vulnerable student is different."
She thinks it might be possible to come up with other solutions, such as extra social distancing in the classroom, but making all education hybrid is "simply not feasible in all cases".
In the end, one of the governing parties, ChristenUnie, tabled a motion, in conjunction with parties PvdA and GroenLinks, to ensure "that hybrid learning remains a possibility for this specific group of students until conditions are safe for them."
The minister did not oppose that motion, but sounded a caveat ("We will do what can be done") and the House accepted that. The motion was carried unanimously: all parties voted in favour.
Only 75 students
The decision to not allow more than 75 students per room was also up for discussion. MP Attje Kuiken (PvdA) wondered whether institutions couldn't allow more students in the same room when applying exams in large conference centres such as the RAI in Amsterdam. Shouldn't the amount of students allowed depend on the size of the hall? The minister argued that social distancing is not a problem in the case of exams applied in large spaces, so numbers do not need to be limited. But she will discuss the matter further with educational institutions.
Nevertheless, the PvdA tabled a motion on the matter, in conjunction with D66, GroenLinks, CDA and VVD. This motion too gained the unanimous support of the House of Representatives.
In addition, almost everyone in the House hopes that young people will be willing to be vaccinated, but wonder how far the government should go in terms of encouraging or forcing them. Opinions varied on that issue.
If it is up to a narrow majority of D66, VVD, CDA and Volt, the Covid tests required to be admitted to certain events should no longer be free. After all, if people choose do not get vaccinated, they ought to make a contribution. The remainder of the House was opposed to that proposal.