Humanities students win UU awards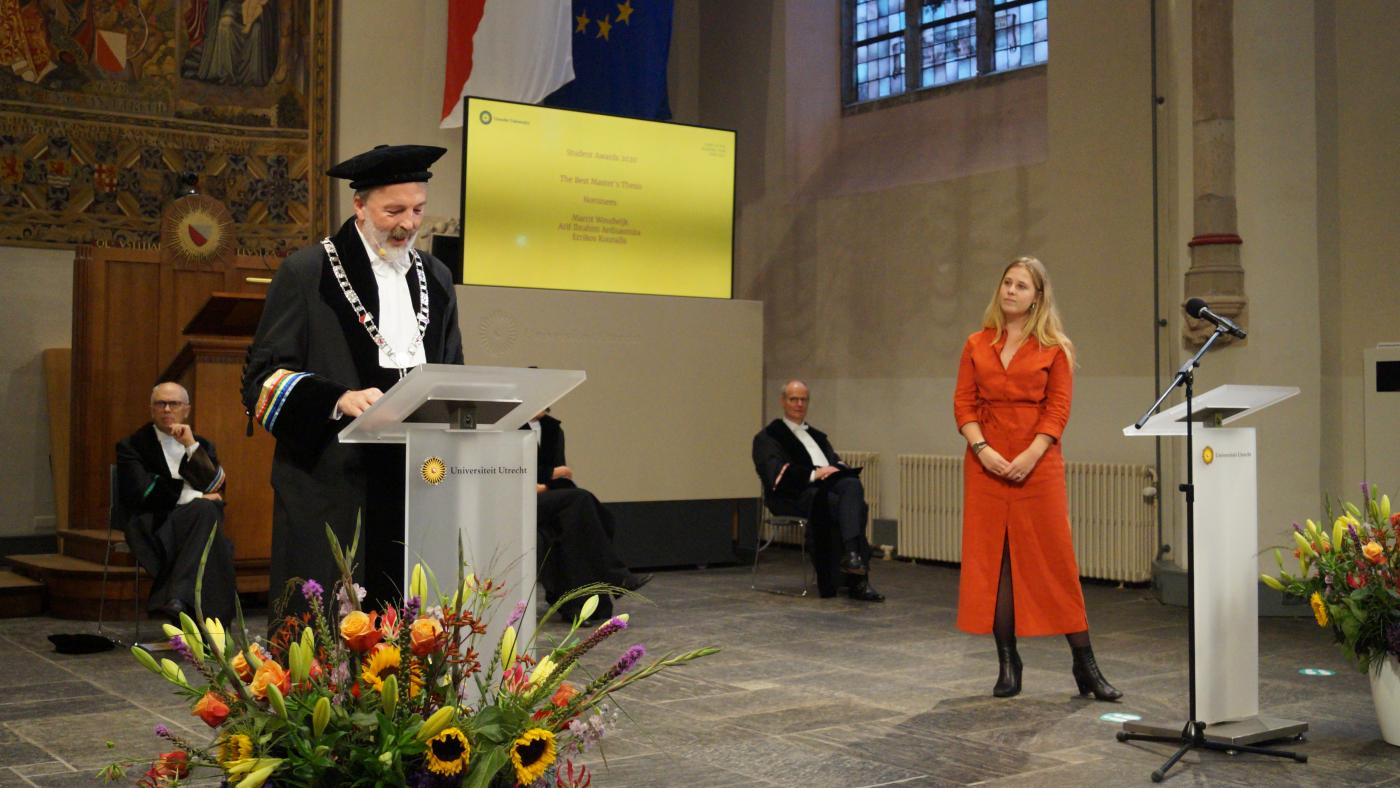 Thesis prize winner Marrit Woudwijk receives the prize from rector Henk Kummeling Photo: DUB
The winners were announced on Monday during the Opening of the Academic Year. This time, due to the corona restrictions, this did not take place in a crowded cathedral, but in a small-scale meeting in the auditorium of the University Hall. The intention was that the meeting could be followed via a live stream, but this turned out not to be possible due to a technical malfunction.
The jury that had to select the best master's thesis had a choice of 28 entries this year. In addition to Marrit Woudwijk (Conflict Studies), Arif Ibrahim Ardisasmita (Regenerative Medicine and Technology) and Errikos Kounalis (Nanomaterials) were ultimately nominated for the prize.
In her thesis, Marrit Woudwijk shows that nowadays wars are described as humanitarian and inescapable. There is no place for stories about personal suffering and the great damage that is done. According to the jury, the research stood out "because of the subject, the relevance of the subject, and the way in which the research was approached methodically, theoretically, and analytically".
Woudwijk, now a lecturer at the UU Liberal Arts & Sciences programme, wrote an article for the internet magazine De Correspondent in relation to her thesis. She also made a podcast.
The jury for the special merit award had a choice of nine student initiatives. Besides the eventual winner DOMcast, the students behind the project Begijnhof Community Composting were among the nominees. The students of the University College Roosevelt, together with residents of Middelburg, collected compost to fertilise public gardens.
The Utrecht students who started the Journal of Trial and Error were also nominated. Their journal focuses on the publication of 'failed' research with the idea that you can learn a lot from the mistakes of other scientists.
The jury said they were impressed by the enthusiasm and dedication with which the students of DOMcast took a close look at historical questions from residents of Utrecht. The initiative has the potential to grow, according to the jury.
According to the jury, the fact that the students are now researching a permanent memorial for a Jewish family who lived in the Jan van Scorelstraat and for which research has been done, proves the strong link between the project and the city of Utrecht.
Both Woudwijk and the students of DOMcast received a certificate and a cheque for 1500 euros.