Ingrid Robeyns wins AcademieKus prize for her struggle against work overload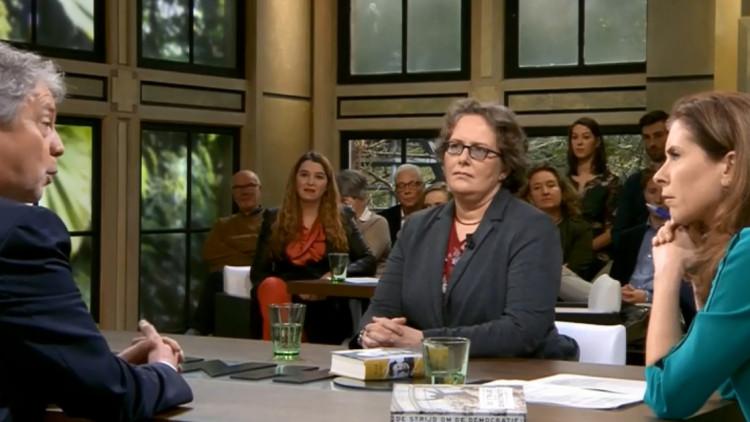 Ingrid Robeyns in the interview TV show Buitenhof, talking about work overload in academia.
Until recently, Robeyns was a driving force behind WOinActie, a protest movement against high work pressure in higher education institutions. With co-authors Professor Rens Bod (University of Amsterdam) and Professor Remco Breuker (Leiden University). she has written a book titled 40 stellingen over de wetenschap (40 Proposals for Science), which addresses the problems of crushing workload pressure and systemic overtime at universities.
Last year, WOinActie joined forces with unions to denounce the "systematic exploitation" taking place at universities to the labour inspectorate. The movement collected more than 700 reports of researchers and lecturers experiencing work overload. Their stories resonate with many, Robeyns said at the time. "I work about 55 hours a week. I know it for sure because I kept track of it for a while".
Last month, Robeyns, Professor of Ethics at Utrecht University, announced on Twitter that she had to abandon her work for WOinActie because of health problems partially caused by her being overworked. She was showered with messages from lecturers, researchers and administrators. thanking her for her work and wishing her a speedy recovery.
Quickly settled
The decision to give the AcademieKus prize to Robeyns was made quickly and unanimously, says jury member Marijtje Jongsma, board member of trade union AOb, which organises the award. Robeyns stood head and shoulders above the other nominees. "It wasn't just just people who were already involved with WOinActie".
According to Jongsma, Robeyns deserves praise for much more than her work with the protest movement. Her willingness to open up on Twitter also shows how much she cares about academic culture. "It's about having the courage to raise awareness to a problem that fellow lecturers and co-workers also encounter in the workplace".
Corona-proof
This year, the AcademieKus prize was awarded in an online session on Zoom. Instead of the other nominees, the people who nominated Ingrid Robeyns were the ones "present" at the corona-proof ceremony.
This is not the first time that the AcademieKus' jury praises the campaigners of WOinActie. In 2018, leader Rens Bod was chosen to accept the prize on behalf of the entire movement. Other former recipients are the Socialist Party MP Jasper van Dijk (2017), University of Amsterdam and VU Amsterdam chairs Geert ten Dam and Mirjam van Praag (2019), and gender researcher Marijke Naezer (2020).