Meet the Professor 2021: kids have video call with 'Dino professor'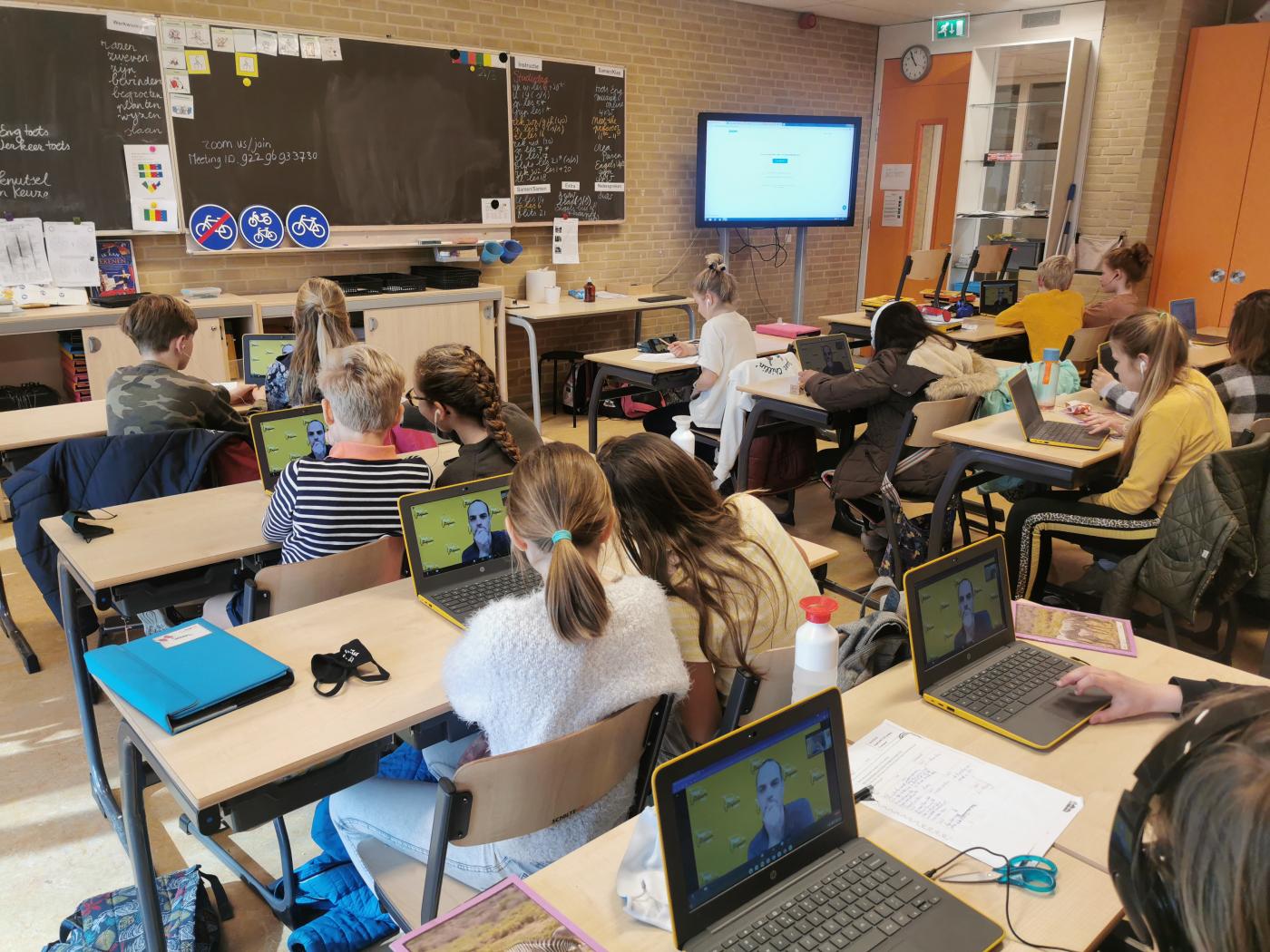 Seventh grade students at the Daltonschool Rijnsweerd school, calling Professor Jos Malda
During Meet the Professor, professors talk in class about science, their own research and the university. This gives children the opportunity to get to know him or her and ask everything they want to know. This time, due to corona, it was not possible for the professors to come to the schools, which is why they met online via video calling this year.
Castings of dinosaur bones
Anne Schulp, Professor of Vertebrate Paleontology, also affiliated as a researcher with the Naturalis Biodiversity Centre in Leiden, paid an online visit to the eighth grade of De Regenboog primary school in De Bilt, near Utrecht.
"It was a lot of fun and educational to do. Since I had to teach so many online classes lately, I still had casts of dinosaur bones at home to show them. These are as useful for Master's students as they are for primary school students", says Schulp.
The children were allowed to ask the professor all kinds of questions. Asked about the best question he got that day, Schulp was brief: "They were all nice questions". She mentions some of the topics that came up: How did the dinosaurs get their names? How do you know what kind of sounds dinosaurs made? What is the nicest dinosaur you have dug up? Finally, did the T.Rex have feathers?
It was the first time that Schulp took part in Meet the Professor, but teaching primary school students was not new to him. For example, he has given guest lectures at primary schools. For his research on the Tyrannosaurus rex (T. rex), he used research questions from primary school students as well. Schulp: "We eventually used the questions of schoolchildren for an exhibition at Naturalis. For such an exhibition, it is good to know what kinds of questions occur to them".
Successful online edition
Eline Dondorp, one of the organisers of the event, hopes that the professors will be able to cycle to the schools again in March 2022, as is customary. "Nevertheless, we are very pleased that Meet the Professor was able to go on this year, given the circumstances. We also received many positive reactions from teachers and professors. We are very satisfied with that".
Advertisement