New tram stop shelters might become six times as long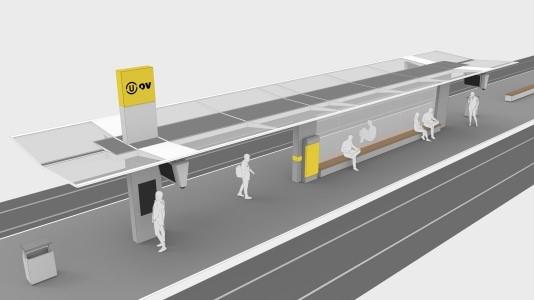 Sketch of the new tram stops courtesy of the Province of Utrecht
Since tram line 22, also known as the Uithoflijn, was inaugurated came in 2019, users have complained about the tram stops along the route, saying they're too small and the shelters, too narrow. As a result, some passengers have to stand in the rain when the weather is harsh. The criticism was confirmed by a questionnaire. As if standing in the rain wasn't enough, the inadequate tram stops are also causing delays and many travellers are unsatisfied with the information boards.
Last autumn, the province announced that it was going to renovate the tram stops. The first sketch of what they're going to look like has been unveiled this week. The stops are going to get glass walls and there will be "spacious" shelters as well, as you can see in the image above. 
The exact design of the eight stops depends on their location and the number of passengers using them. In the busy Utrecht Science Park, the shelters may soon become up to 25 metres long, according to a spokesperson. The current ones measure 4 metres.
A total of 3.8 million euros have been allocated to this project. The plan is to install the stops in the summer of 2023. 
Advertisement