Nominees for Teacher Awards 2021 revealed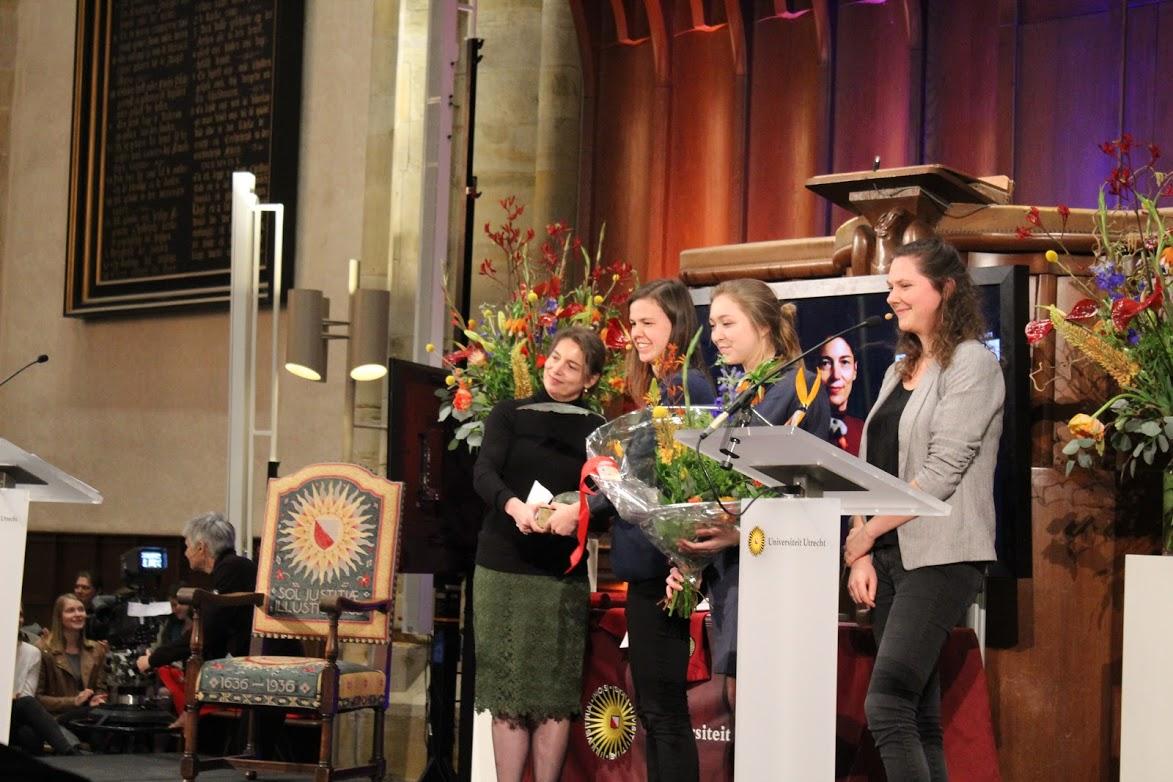 Margot Koster, Teacher of the Year 2018, with members of the student association UBV during the Dies celebration in the DOM church. Photo: DUB
The six teachers were nominated by the study associations of their programmes. The nominees for the most important prize, Teacher of the Year, are: Veronique Schutgens (Social Geography & Planning, study association Vugs), Ferdi Engels (Pharmacy, study association U.P.S.V.), and Lotte Henrichs (Educational Sciences, study association Vocus).
As for the teachers who have a chance to win the title of Teacher Talent, which is granted to those with no more than five years of experience, they are: Luciel van Vuuren (Veterinary Medicine, D.S.K), Rogier Bos (Chemistry, Proton) and Laura Karreman (Media and Culture, Akt).
The winners of the Teacher Awards will be revealed during the 2021 edition of the yearly Education Parade (Onderwijsparade in Dutch) which is set to take place on March 4, and the awards will be officially given during the university's lustrum celebrations on March 26.
The student associations nominated a total of 35 teachers this year, 18 for the Teacher of the Year award and 17 for the Teacher Talent award -- a slight increase compared to last year, when 33 teachers were nominated. The winners are picked by a judging committee consisting of Utrecht University teachers and students. 
Last year's Teacher of the Year award went to Gerda Andringa from University College Roosevelt in Middelburg. That was the second win for Andringa. The Teacher Talent award went to History teacher Lorena de Vita.
In addition to a trophy, the Teacher of the Year and the Teacher Talent of the Year receive a prize of 5,000 and 3,000 euros respectively, while the study associations that nominated them get 1,000 euros each.