They are choosing other countries instead
Number of EU students in UK universities halves post-Brexit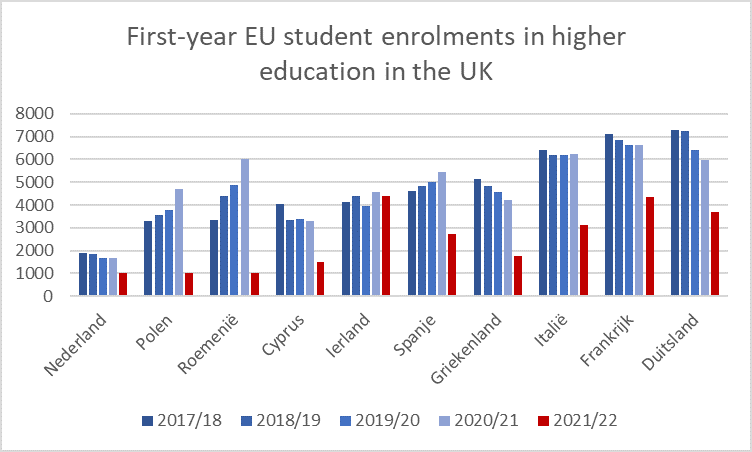 © HOP. Source: HESA.
In September 2017, a total of 1,900 Dutch students enrolled for the first year of an undergraduate or postgraduate degree in the UK. Although this number has been declining in the past few years, a dramatic drop took place in the academic year 2021/2022, when only 1,000 people from the Netherlands enrolled in UK institutions. That's because studying in the UK became more expensive for EU nationals that year, with tuition fees now costing as much as 38,000 pounds a year (almost 43,000 euros).
But the Dutch are not the only ones refraining from pursuing academic degrees there after Brexit. There's also been a sharp decline in the number of first-year students from countries like France and Germany. Irish students were the only ones to hold up, due to exceptions that apply to them.
The number of students from the Netherlands, Poland and Romania was pretty much the same in 2021: 1,015 to be exact. According to a representative from Hesa, a British data and analysis agency focusing on higher education, that's just pure coincidence, as the numbers are rounded to the nearest increment of five.
Some of the students who gave up the idea of studying in the UK may have chosen another EU country, such as the Netherlands, instead. Although Brexit's impact is hard to measure (the UK left the European Union in January 2020), Dutch universities have seen the number of international students enrolling in undergraduate programmes increase from over 15,000 in 2020 to more than 18,000 in 2021, which outstrips the growth in enrolments recorded in previous years.
In addition, figures released by the association of Dutch Universities (Universities of The Netherlands) show that the number of students from the UK coming to the Netherlands has declined since 2018. By contrast, enrolments from countries such as Romania, Cyprus, Poland and Spain are increasing.
From outside the EU
On the other hand, British universities are attracting far more students from countries outside the European Union. The numbers are significant, with more students now coming to the UK from Pakistan and Nigeria than ever came from an EU country.
Furthermore, the number of Chinese students enrolled for the first year of an undergraduate or postgraduate course in the UK has been around 100,000 for several years. First-year student enrolments from India have risen sharply from 53,000 to 87,000.
Despite the influx of students from other parts of the world, the decline in the number of students from the EU is a cause for concern for British universities, in terms of the pipeline of talent for the UK. The exodus of EU students also weakens the financial stability of some universities, especially when it comes to Bachelor's programmes.
Advertisement