Petition for more education at the university; UU executive board hopeful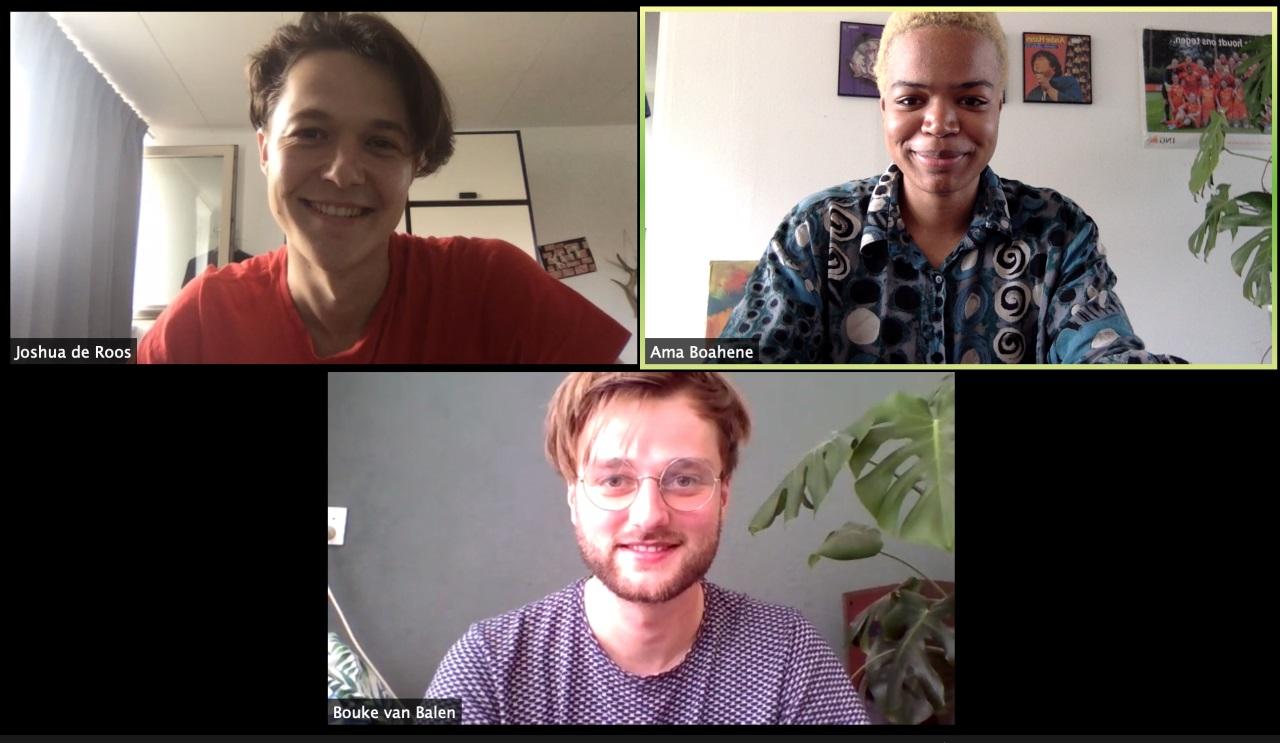 The three initiators of the petition. Own photo.
The online petition 'Give us Space' has already been signed more than 2400 times. It is an initiative of Utrecht Law College student Ama Boahene and her Amsterdam friends Bouke van Balen and Joshua de Roos, who are both studying at the UvA.
"We've been amazed for a quite a while that everyone seems to come to terms rather easily with the fact that all education is now digital," says Ama.
According to her, it is underestimated what students are missing out on now that education is online completely. "It is more difficult to create a discussion, to ask questions, to work together. Not to mention the social aspect. It's a regression in many areas."
More possibilities
The three students have a feeling that universities, but also student unions, are not making themselves heard enough, and therefore the students have decided to put the petition online. They have written to numerous student and youth organisations asking them to support their request. Together with Joshua, Ama published an opinion piece in the Dutch newspaper Het Parool on Thursday.
The initiators think that there are more possibilities than are given now, even under the strict corona rules that apply. Ama: "You can work in small groups in one of the large lecture halls, you can let students come in shifts, you can teach outside. And there are also many students who live in the city of their university and don't have to travel."
Hopeful indications
In an interview with DUB last week, Utrecht Rector Kummeling also expressed his frustration about the ongoing lockdown of the university. But according to him it is complicated to find solutions. For example, large groups of cyclists on their way to the university grounds are problematic as well. But the restrictions on public transport are the biggest culprit, Kummeling states.
Ama shows only partial understanding: "We understand that public transport cannot be overburdened now, but it often seems to be used as an excuse."
During committee meetings of the Utrecht University Council, UU executives responded with hopeful indications. According to them, conversations between the universities and the Ministry of Education and the transport companies seem to be taking a positive turn. There will be another meeting on Thursday.
Executive Board chairman Anton Pijpers did not go into detail about what is being discussed, but he is hopeful that after the summer the flow of transport of students to the University may be about 40 to 50 percent of the normal size. Until now that was limited to 10 to 30 percent. This would allow for considerably more education in the university lecture halls.
Ama: "That would be great, because the way things are now, it really can't go on much longer."