Rutger Bregman chosen as alumnus of the year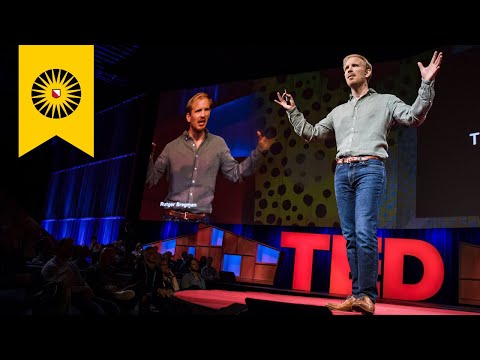 Rutger Bregman is onze Alumnus van het Jaar 2020
Rutger Bregman (32) studied History at Utrecht University between 2006 and 2012. He started his writing career collaborating for DUB and for the magazine of student association SSR-NU, but soon went on to write for several Dutch newspapers. After his studies, Bregman worked for newspaper De Volkskrant and then joined the journalism platform De Correspondent.
Bregman was one of the jury members of the campus columnist competition in 2013. At the time, DUB published an interview with him, in which he said: "what I find so bizarre is that I actually only get positive reactions to the critical pieces I write about universities".
He is a fervent advocate of the universal basic income, as well as of tax increases for the rich, two themes present in his international best-seller Utopia for realists. Most recently, he released Humankind: a new history of human nature.
Bregman became world news in 2019, when he participated in the World Economic Forum as a panelist and did not shy away from pointing out that the rich structurally pay too little tax. He was later interviewed about his Davos speech by Fox News journalist Tucker Carlson. Bregman annoyed Carlson by addressing him personally, saying that he, as a millionaire working for an organisation of billionaires, belonged to the group that should pay more tax. Carlson did not appreciate his criticism and therefore did not air the interview. However, the audio recording that Bregman made himself went viral. 
His latest book, Humankind, was translated into forty-three languages. The BBC called Bregman "The Dutch historian who went all over the world", and French newspaper Le Monde said he's "staggeringly erudite". Yuval Noah Harari, another historian with best-selling books aimed at the general audience, said that Humankind made him "see humanity from a fresh perspective".
Academic knowledge
According to the jury of the Alumnus of the Year award, Bregman's books have a great impact: he shows courage and puts urgent issues such as climate change on the agenda. Bregman displays has wide academic knowledge, but manages to explain things in an accessible way. 
How to make a difference?
On March 25, Bregman will receive the Alumnus of the Year award during a special "Collegetour" meeting at TivoliVredenburg. Titled "How to make a difference?", the meeting will give current students the opportunity to ask Bregman questions. He will also talk to some of his UU teachers, including Beatrice de Graaf. The talk show can be followed online via UU's YouTube channel.
Alumnus of the Year
This is the fifth Alumnus of the Year award. Previous winners include environmental activist Marjan Minnesma, former DSM director Feike Sijbesma, museum director Cathelijne Broers, and cabaret artist Jan Beuving. The prize is a piece of art by Utrecht-based artist Nissim Men depicting a place in the city of Utrecht that is important to the winner. Rutger Bregman chose Oudegracht 32, the address of the Nisata society of his student association SSR-NU, above which he lived. The prize is made available by the Utrecht University Fund.
Students can send questions for the event through the following e-mail: collegetour@uu.nl.