Read in Dutch
In 2018, Israel and Switzerland surpassed the Netherlands, putting it in sixth place. This year we have recaptured fourth place. As in previous years, Germany (52), the United Kingdom (50) and France (43) finish at the top.
The 600 million euros in scholarships - with an average value of 2 million - go to experienced scientists who obtained their PhD some seven to twelve years ago (comparable to the Dutch Vidi grant from NWO). With the money they can do research and hire new people for five years. According to the ERC, this funding round would create around 2,000 jobs.
Across the border
The scientists are tackling questions such as: How will climate change affect the earth's surface? What are the health effects of food additives (colourants, sweeteners, preservatives)? And how do online tools change politics and what does that mean for democracy?
Of the 2.453 applications, only 301 were accepted, around 12,3 percent. That is comparable to last year. A third of the scholarships went to women. Of all winners, 55 have the German nationality, 33 are French, and 28 are Dutch.
The vast majority of the Dutch scientists conduct research in their own country. Four of them work across the border. Of the Dutch institutions, Utrecht University and University of Amsterdam have received the most grants: both six.
Rutger Claassen, Bas Dutilh, Ellen Hamaker, Ingmar Swart, Sander Thomaes and Stefan van der Stigchel are those Utrecht researchers whose applications have been accepted.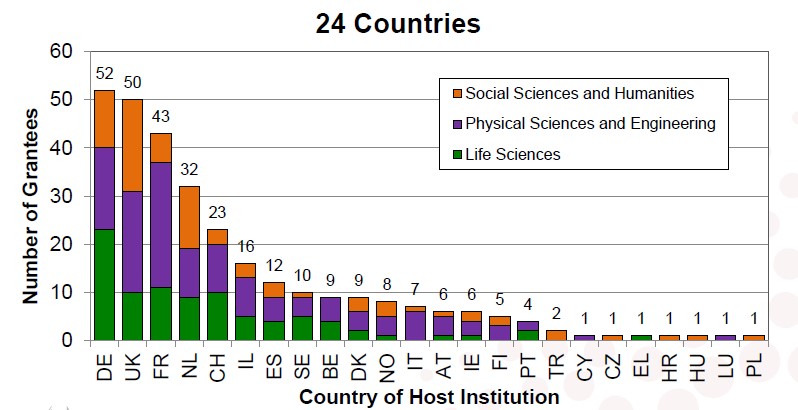 Source: ERC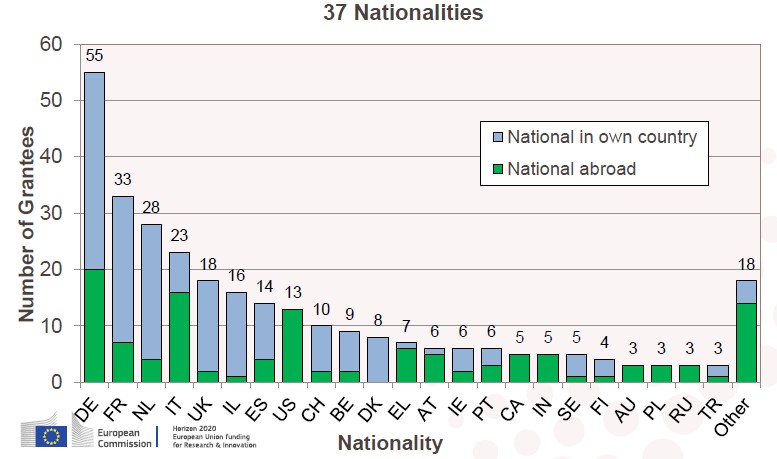 Source: ERC
| | |
| --- | --- |
| Consolidator grants per institution |   |
| Institution | Accepted |
| Utrecht University | 6 |
| University of Amsterdam | 6 |
| Leiden University | 4 |
| Vrije Universiteit Amsterdam and VUmc   | 4 |
| Radboud University Nijmegen | 2 |
| University of Groningen | 2 |
| Maastricht University | 1 |
| Eindhoven University of Technology | 1 |
| UMC Utrecht | 1 |
| AMC UvA | 1 |
| Delft University of Technology | 1 |
| University of Twente | 1 |
| Netherlands Cancer Institute | 1 |
| Princess Maxima Center Pediatric Oncology | 1 |
| Total | 32 |