Squatters leave Lage Weide, USC can celebrate its lustrum there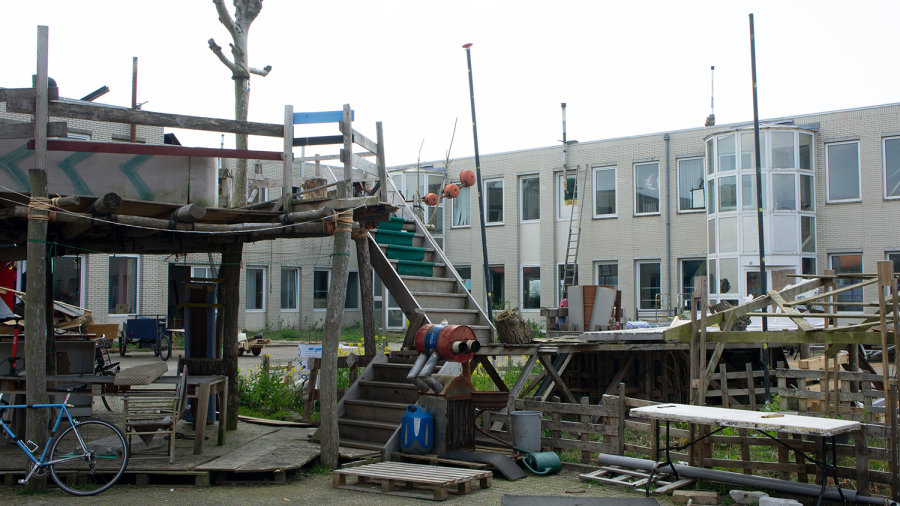 The buildings on the Reactorweg road have been left by the squatters. Photo: Madee Hofenk/DUB
A few weeks ago, a group of 25 squatters learned that they would have to leave one of the buildings located on the Reaktorweg road, where they had been living for 1.5 years. They also had a vegan café and a bike workshop there.
The owner of the terrain, company De Waal Beheer, signed a deal with USC allowing the student association to host its lustrum festivities on the location. However, since the squatters refused to leave, the landlord filed a lawsuit. The squatters protested in front of the 'yellow castle', as USC's headquarters are known, ahead of the judge's verdict, saying that the right to have a place to live is more important than the right to party. The demonstration was to no avail. The squatters lost the legal battle and have left the place.
USC's attitude toward this matter was aloof. According to the student association, they want no conflict with anybody. The agreement to organise their summer party in the industrial terrain was made with the owner of the complex, who intends to demolish the buildings after the celebrations and then build new office spaces.
The squatters claim that the landlord actually has no plans at all for the space, but the judge ruled that there are enough reasons to order the police to clear the area. After the verdict on May 12, the squatters decided to leave the building voluntarily. One of them, Teun, told DUB that the USC refused to talk to the squatters. "Maybe we could have come to an agreement and they would have saved some 40,000 euros in renting fees".
The USC has rented the complex from July to October. They will be starting the preparations for their lustrum party soon. The costs of the lawsuit must be covered by the squatters, but they have already raised that sum thanks to the help of people who support their cause.