Students living on the Cambridgelaan receive underground waste containers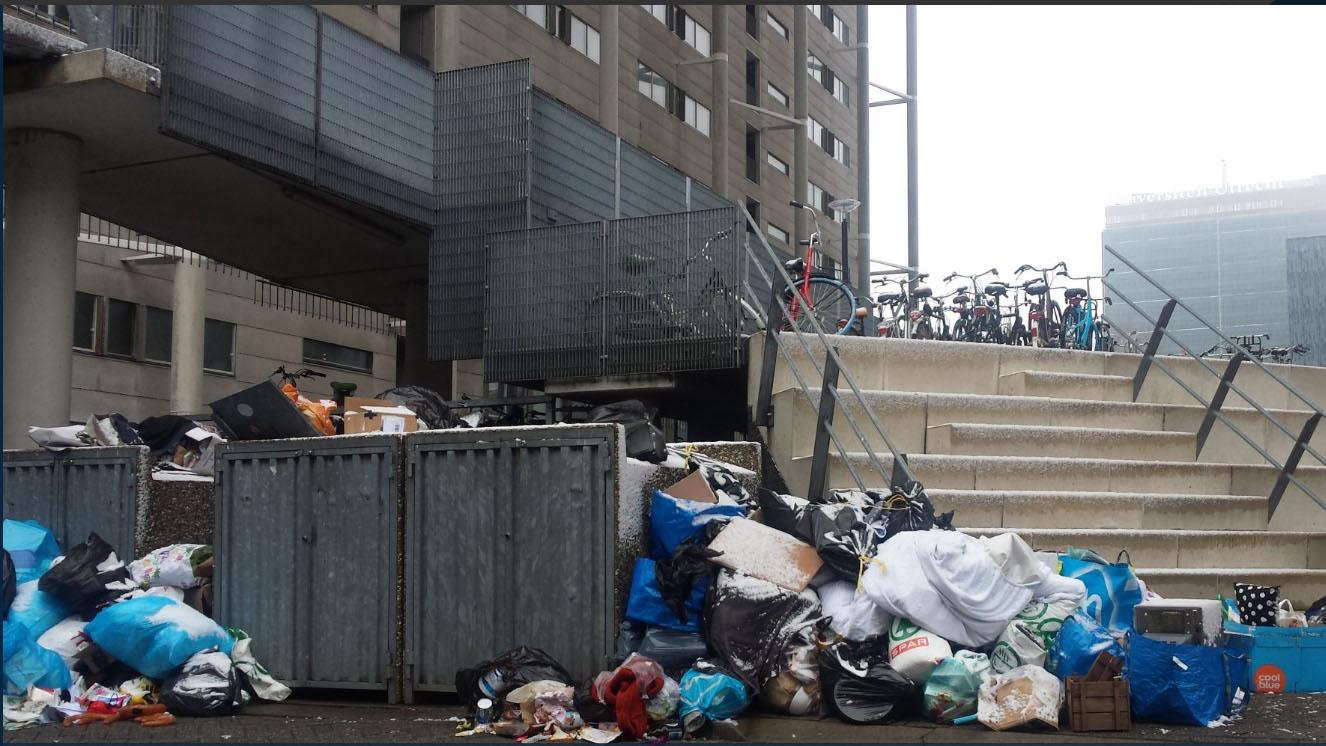 Photo Susanne van de Brink on Twitter
The student complex is littered with waste every second. Last month, PhD candidate Susanne van den Brink was completely fed up with it. In frustration, the biologist posted a tweet with photos on which the trash is meters away from the waste containers. "Many containers do not have a top flap. Birds tear open the garbage bags. That smells, especially in the summer when it is very hot. The broken garbage bags attract rats. They can transmit all kinds of diseases. The waste blows out of the bags and into the adjacent ditch, which is terrible for the environment. According to the cleaner this has been the case for thirteen years already. Students who live here sometimes no longer throw their waste in the containers because it does go out anyway. Often, there is also waste at the bike shed and then my bike, shoes and even my pants get dirty", she says.
Blocked
The waste mountain was so large last month because the first semester of this academic year had ended. This is the moment when many students, especially international students, leave their rooms. Large inventory, such as beds and desks, are left behind for the next tenant, but smaller items such as duvets and potato peelers are not. Landlord SSH started a new project in January to recycle these usable items. The items are offered to thrift stores in Utrecht or go to places where they are needed, such as French refugee camps.
One underground press container for plastic and one bin for residual waste must put an end to the garbage problem. They have already been ordered, according to an SSH spokesperson. The containers can only be there when the necessary preparations have been completed, such as digging concrete pits and laying electrical cables. It is not yet known when students can use the underground waste bins. SSH covers part of the costs for the containers. The rest comes from the budget of the municipality.
For years, students and the Cambridgelaan housing council have wanted the current containers to be exchanged for underground waste bins. Susanne is one of those people as well, she has made several reports to the SSH via the housing board of waste nuisance. "Last summer, the waste smelled worse because it was so extremely hot. Then I posted a complaint on the university's Facebook page, but it was blocked by the timeline administrators."
The residential management of the Cambridge flat has announced that they will welcome the new containers. "This solves the problem and hopefully it will look better," says chairman Jorrit van Wees.
Lids
At the Johanna student complex there are already underground containers. The Leuvenplein at Casa Confetti is being refurbished and around August underground bins must also be placed here. At De Bisschoppen there are above-ground containers.