Motion in Parliament asked for discount
Tuition fees for refugee students remain sky high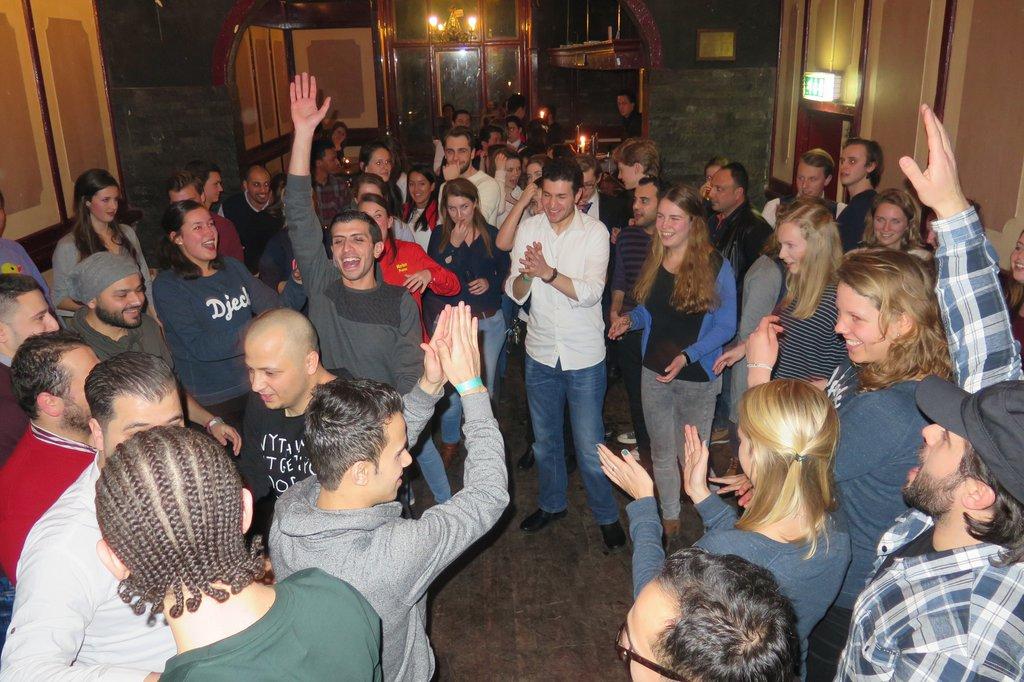 Refugee party in Utrecht. Photo: DUB's archive
If refugees awaiting a residence permit study at a university or university of applied sciences, they are classified as "international students". This applies to, for example, Syrians and Ukrainians who have made their way here.
Since students come from outside the European Economic Area, they have to pay several thousand euros per year in tuition fees. Higher education institutions have recently made arrangements for refugees from Ukraine, at their own expense: these students are not allowed to study for the same tuition feed as Dutch and European students. But the institutions would like a more permanent solution that applies to everyone.
The situation is the same for young people who have grown up in the Netherlands without papers, possibly because their parents came here illegally. Some of them have lived in the Netherlands their whole lives, but still cannot study at the normal fees.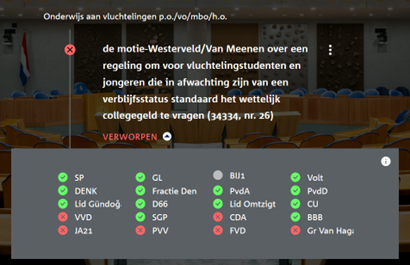 Pull factor
The Minister of Education,Robbert Dijkgraaf, has already said he does not want to change that. He thinks that low tuition fees can be a "pull factor" for refugees, partly because there are so many English-taught programmes in the Netherlands. In addition, he says that the government is working on a "fundamental reorientation of the asylum policy" and he does not want to interfere with that process through a decision on tuition fees for asylum seekers.
GroenLinks and Dijkgraaf's own party, D66, disagree with his standpoint and tabled a motion. Refugees are here out of necessity, the two parties write. Unlike international students, refugees cannot choose where to study.
Without papers
The same applies to young people without papers who were born and raised here, the two parties feel. "The education of these students should not depend on the goodwill of educational institutions", the motion says. They ought to be paying the statutory tuition fees.
The coalition parties are divided on the issue. Last Tuesday, VVD and CDA voted against the motion, along with opposition parties PVV, FvD, JA21 and Groep Van Haga. All told, they have a narrow majority (76 seats). Coalition parties ChristenUnie and D66 supported the motion, along with the rest of the opposition.
The motion had been tabled in February by Lisa Westerveld (GroenLinks) and Paul van Meenen (D66). "We held the motion back at the time, hoping an agreement could be reached behind the scenes", says Westerveld. "But that didn't happen, and I regularly hear distressing stories." So they put the motion to the vote on Tuesday.
Unsustainable
Universities of the Netherlands (UNL) and the Netherlands Association of Universities of Applied Sciences are disappointed. They say the situation of refugee students is distressing enough already. Last year, the institutions – at their own expense – reduced the tuition fees for refugees from Ukraine, they write in a joint reaction. "But the educational institutions won't be able to keep this up. As far as we are concerned, the decision about what we charge refugee students is a matter for the government."