UIT 2021 gets hybrid programme: half of participants welcome in the city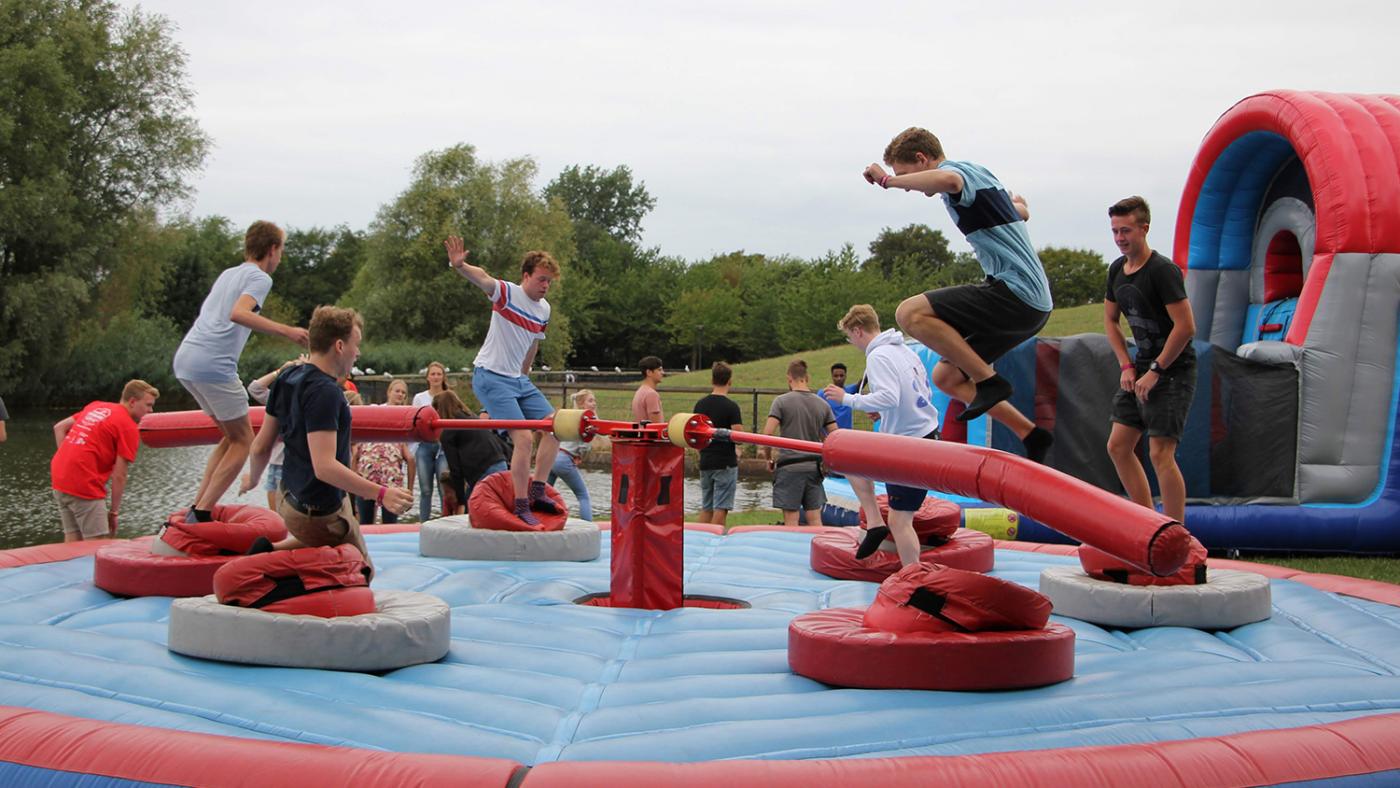 A game in the Griftpark that can be played at 1.5 metres distance. Photo from 2018, DUB
This year's UIT will take place on August 16-18, which makes it two days shorter than usual. The programme is not completely done yet. "We have finished the basis for the programme now," says Merel Smeets, the board member responsible for communications. "It's going to be a hybrid event: partly physical and partly online." The motto of UIT 2021 is: Uitdagend Utrecht (Challenging Utrecht).
This year, four thousand participants are welcome. They can choose whether they want to follow the programme physically or online, but both the physical and the online programme can be followed by a maximum of two thousand students. First come, first served. The participants who do come to Utrecht do not have to show a vaccination certificate or a negative coronavirus test.
"We also stick to the national guidelines. If the metre-and-a-half distance rule is lifted, then we will adjust our programme accordingly. We also have a scenario drawn up for an all-digital UIT, just like last year," says Smeets. All plans are made in consultation with Utrecht University and the Utrecht University of Applied Sciences. Registration is also going to happen later than usual: you can register from July 2.
UIT and coronavirus
For those joining the event online, there will be a digital platform that can be visited and interacted with through an app or a website. As for the physical participants, they are going to be received in the Griftpark, where almost all activities will be organised. "This prevents us from having all UIT participants walking through the city," explains Merel, "and it makes it easier to maintain the distance of a metre and a half. Moreover, we work in shifts, so not all participants will be present at the same time."
All participants are to be divided into small groups. Each group shall get two mentors, older students who know the city and student life well. The ones guiding a group in person will get an extra task this year: they will have to make sure that all participants keep their distance from each other. On the online platform, mentor groups can "sit together" to get to know each other better.
Time slots allocated for activities
Three locations have been reserved for the first-year students who come to Utrecht for UIT: the Griftpark, Sports centre Olympos and concert hall TivoliVredenburg. In the Griftpark, the 'walk-through market' is going to stay open every day so not everyone comes to the market at the same time. On Monday, there is an information market, on Tuesday a student association market, and on Wednesday a culture market. In sports centre Olympos, located in the Utrecht Science Park, participants will be able to visit a sports market. "Through the app, both physical and online participants can discover the city. We have made a general, online introduction of the city. By scanning QR codes, they can get more information about certain locations," says Smeets.
Furthermore, mentor groups can get to know each other better in the Griftpark. This year, the groups are smaller than in other years, to be able to build a relationship from a distance and to have more personal contact with the mentors. The park will also feature food trucks and bars where alcohol will be served.
An evening programme will follow at concert hall TivoliVredenburg. "Each mentor group can attend concerts on one of the three evenings," explains Merel. "Every half hour, you and your group can go to a new hall where a different artist will be playing, a kind of living room concert." During the concerts, all participants must remain seated and wear a face mask when walking from hall to hall. The artists have not been disclosed yet.
Chatting with associations
The digital platform for the online version of UIT will be as interactive as possible to replace physical activities. "All the walk-through markets, for example, are fully interactive. During their visit to a stall, they can ask questions directly via chat to the association or the person behind the stall," Merel explains.
There will also be live streams for both the physical and online participants, including the Opening Show, which will follow the usual format with presenters, a talk by the Executive Board and the mayor.
"We want to make sure that those who take part in UIT online have as fun a week as the physical participants. The emphasis is on getting to know each other and we expect that to be possible with the platform we have," says Smeets. On the platform, UIT participants can walk around as avatars and match with each other by adding hobbies and interests to their profiles. The idea is to encourage them to meet new people outside their groups.