Universities plan to spend half of loan system millions on extra teachers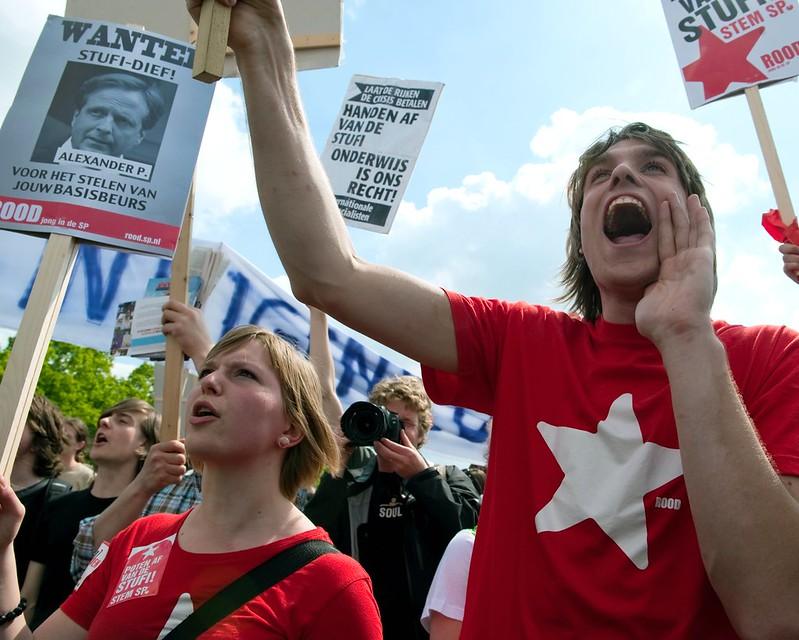 Studenten protesteren tegen de afschaffing van de basisbeurs in 2010. Foto: Jos van Zetten / Flickr
The abolition of the basic student grant in 2015 was meant to give universities and universities of applied science hundreds of millions of euros to improve higher education. The condition was that they would detail their plans for spending their share of the money between 2019 and 2024 in 'quality agreements' (links in Dutch, ed.)
For the universities, umbrella association VSNU has created an overview of their plans. By far the most common allocation of the loan system millions is on 'more intensive and small-scale education'. At €433 million, it will account for almost half of the total €908 million available until 2024. In practice, this means more lecturers and tutors will be recruited.
No lavish spending
And that is definitely not lavish spending. In recent years, an increasing number of young people have enrolled at university, while government funding per student continues to shrink – from €20,000 in 2000 to €14,000 in 2024, according to the VSNU. Since 2012, the number of teachers has only increased just enough to maintain a constant student-lecturer ratio, as recently revealed in a calculation by HOP.
The fact that the loan system millions are needed to compensate for the growing numbers of students, is underlined by the plans of several universities, states the VSNU.
The Dutch National Student Association (ISO), which was heavily involved in the inventory, would have preferred the circumstances to be different. ISO President Dahran Çoban thinks it is a pity that it is not actually additional investment. "At the moment, the money is sorely needed to maintain educational standards, rather than improving them."
Didactic course
Not all of the loan system millions will be spent on extra lecturers. €94 million has been budgeted for professionalisation over the coming years. For example, lecturers can take a didactic cursus or English lessons.
In addition, €91 million will be invested in educational facilities, such as in student workplaces and digitisation of education. Better guidance for students is also incorporated into the plans, for which the universities have earmarked around €80 million by 2024, including recruiting additional student psychologists or mentors.
Consultation
The quality agreements were made within the institutions in close consultation with the participation bodies. The ISO assessed this cooperation as "generally positive". "Of course it takes time to figure things out and there are a few teething problems," says Çoban. "However, when I look at the plans now, I am glad that there is so much collaboration between students and executive boards."
Of the total amount, €66 million was spent in 2019, the VSNU reads in the annual reports of the universities. For example, extra tutors have been employed at Erasmus University Rotterdam, and Maastricht University has reduced its maximum group size to fifteen students.
The quality agreements of almost all universities have now been approved by the Ministry of Education, Culture and Science. One university is still waiting for a final approval from the minister. In fact, there is still some money left in the pot; the VSNU reports that no definitive plan has been agreed for the allocation of another €81 million.
Read here what the UU plans are.