UU doesn't sign Amnesty International manifest, but does want to work on safety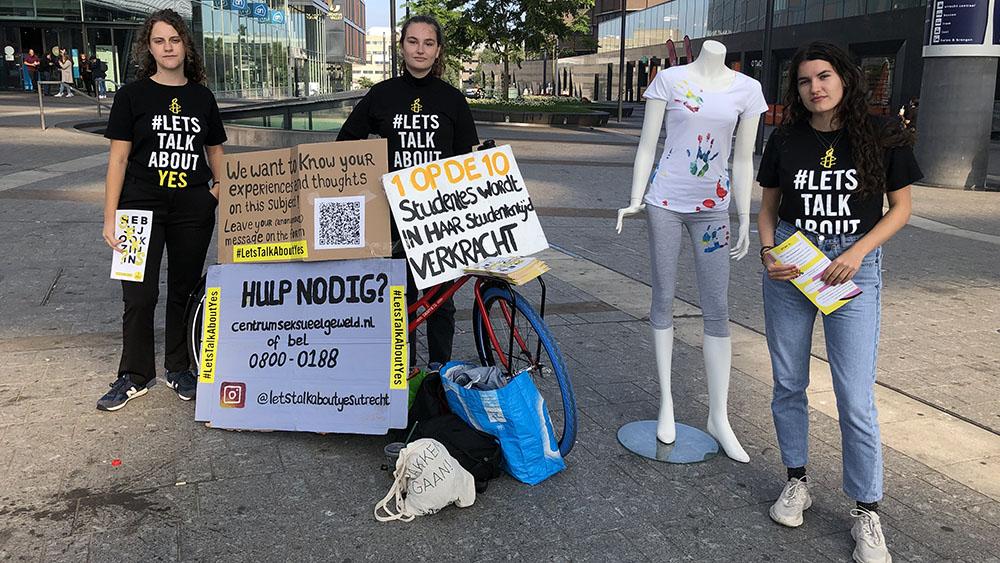 Gender Studies Master's student Juliette van Leeuwen (left): 'It's the university's responsibility to make sure students feel safe."
Last month, UU's Executive Board received a request from activists of Amnesty International to sign the manifest (page in Dutch, Ed). In the document, universities commit themselves to fight sexual violence and raise awareness among students and staff that sexual relations must be consensual. For example, signatories vow to organise workshops on the topic and better educate the employees to support the victims of sexual violence.
The initiative is part of the Let's Talk About Yes campaign, which follows the research carried out by the organisation. A few months ago, Amnesty published a report revealing that one in ten women is raped while being a university student in the Netherlands. Although the manifest has been signed by some prominent Dutch universities like Vrije Universiteit Amsterdam and Hogeschool Rotterdam, Utrecht University has decided not to follow suit. 
Private sphere
"This type of sexual violence occurs in the private sphere, so we shouldn't give the impression that universities alone can solve this problem," explains a UU spokesperson.
The university finds that avoiding sexual violence requires a "broad coalition". By this, UU manifests its appreciation for the initiatives currently being taken by Utrecht-based student associations.
For instance, student association Veritas launched the campaign #thisishowwedoit during the introduction week. This Friday, October 8, almost sixty student associations have signed a joint letter of intent vowing to combat transgressive behaviour. "The university wholeheartedly supports these initiatives, as well as those by the Utrecht-based students behind the 'Let's Talk About Yes' campaign," stated the spokesperson.
Limited focus
Additionally, the university finds that the strategies proposed by the manifest are "one-sided and their focus is too limited". A few months ago, UU started working on an action plan to make sure that complaints about inappropriate behaviour are handled in a better way, and the victims receive more support. The recent appointment of new ombuspeople is part of these efforts.
"As far as we're concerned, this question is about more than just sexual violence. UU's approach tackles inappropriate behaviour across the board, and addresses both students and staff," according to UU's spokesperson.
Leading by example
Gender Studies student Juliette van Leeuwen, protest leader at Amnesty International, thinks it's a shame that UU is not signing the manifest. "Especially considering our visions have so much in common. Like us, the university also wants to work on education, prevention, and providing victims with appropriate help."
In her view, by signing the manifest, UU would be showing to students and teachers that they are doing something for the students who fall victim to sexual violence, not to mention that it would lead by example, perhaps inspiring other higher education institutions to do the same. "Unfortunately, it looks like universities are lagging behind universities of applied sciences and secondary vocational education when it comes to paying attention to this issue," laments Juliette.
There's still hope
To Juliette, the two reservations expressed by UU are no reason not to sign the manifest. "Yes, rape usually happens in the private sphere and yes, we're focusing on sexual violence. But it is the university's responsibility to make sure students feel safe. The Amnesty report reveals that students who fall victim to sexual misconduct often don't know where to go for help, or they don't get appropriate help. These matters have a huge impact on their studies and their college years." 
Nevertheless, Van Leeuwen is not dissatisfied with the conversations held with the university. She hopes that UU will be convinced to sign the manifest in the future. "We've agreed with the university to brainstorm about the policy concerning sexual harassment and how we can work together on the university's new initiatives. We're happy with that offer and we'll definitely make use of it."
The 
Safety Week
, to be held between October 11 and October 15, is going to shed light onto students' safety at the university. The aim is to raise students' awareness about what they can do when faced with an unsafe or uncomfortable situation, or inappropriate behaviour.
Some of the activities in the programme include:
-Kickstarting a pilot project in collaboration with student organisation Frisse Gedachtes, allowing students to talk about problems of this nature anonymously. 
-Active Bystander workshops, where students will learn what to do when witnessing inappropriate behaviour. 
-On Wellbeing Wednesday, students will be informed about where and to whom they can turn to in case of complaints about inappropriate behaviour. 
Advertisement