Where is that 1.1 billion? Protest kick-starts academic year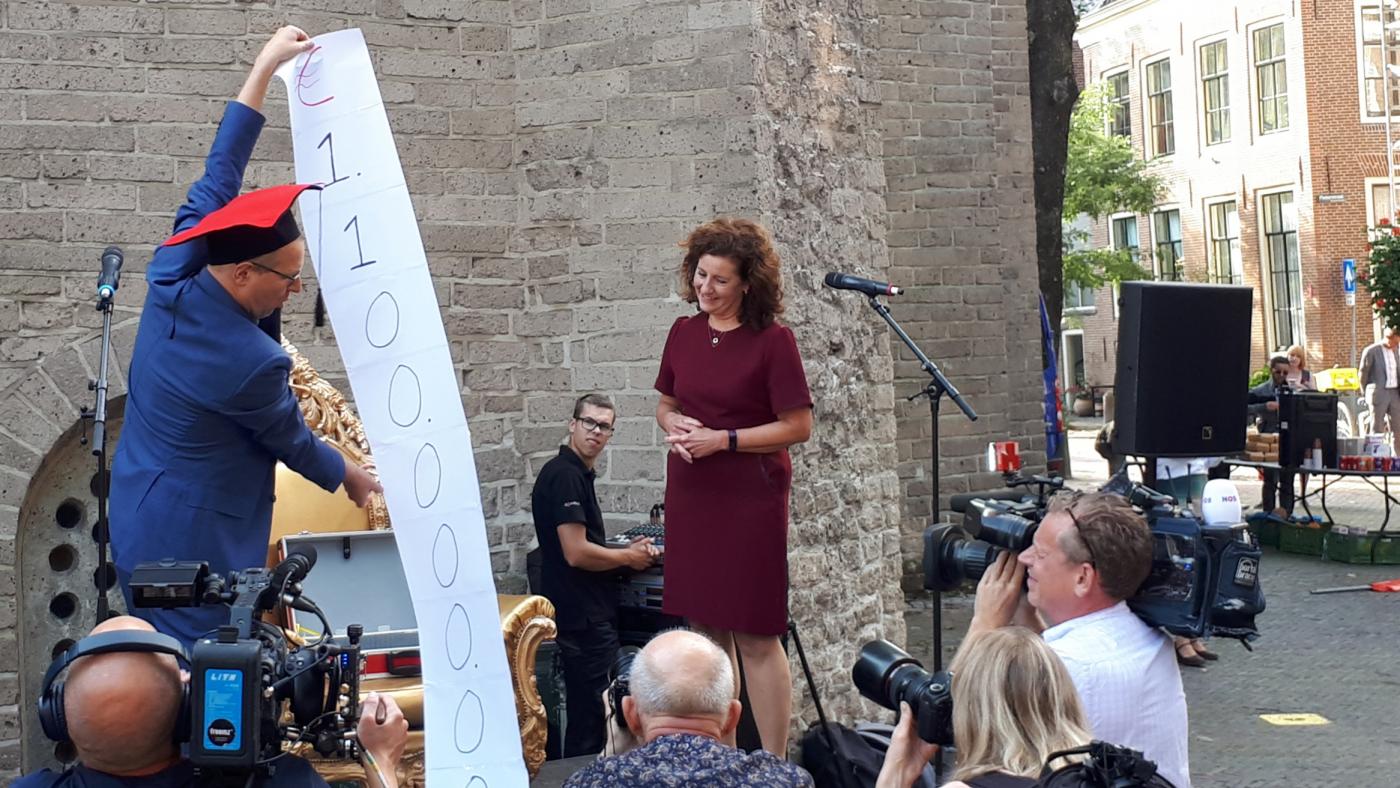 Rens Bod, of protest group WOinActie, shows the Minister of Education his 'alternative budget'. Photo: HOP
In many universities in the Netherlands, Monday's speeches marking the opening of the academic year focused on the impact of the coronavirus crisis. Administrators welcome the fact that students are allowed to return to campus again. Anton Pijpers was one of them: "we can finally meet each other again", he said.
This sentiment was echoed by outgoing Minister of Education Ingrid van Engelshoven, who gave a speech at the Pieterskerk church, in Utrecht, at the opening of the academic year of the University for Humanistic Studies. "Of the hundreds of students I have spoken to, a large number told me how they lost their sense of rhythm and motivation", stated the minister. In her view, that's why lecture halls and campus cafés "must once again be places for meeting people and getting inspired".
Many speeches highlighted the structural lack of resources universities are subjected to, something the minister herself has recently recognised. In the Domkerk church, Anton Pijpers stated that "we begin this academic year with more students than before. That requires a whole lot from us: in terms of housing, study advisors and student helpdesks, but most of all, from the teachers. I take this opportunity to once again call on the cabinet to finally provide adequate funding for the higher education sector."
Van Engelshoven didn't reply. She just said: "sometimes I think that we should learn to share again." But she was referring to society in general, not to something concrete like scholarships or financing for higher education.
No extra money
After her speech, Van Engelshoven walked to the square behind the Pieterskerk church, where trade unions AOb and FNV, protest group WOinActie, and the Dutch Student Union were holding the "real opening" of the academic year for the third year in a row. About a hundred students and faculty were in attendance.
On the podium, Professor Rens Bod, of the University of Amsterdam, presented an "alternative budget" on behalf of WOinActie. This turned out to be nothing more than a long scroll of sheets of paper taped together, which said "€1.100.000.000" – the amount the Dutch higher education should be getting as its annual funding increase. Recent research carried out at the direction of the House of Representatives has confirmed this amount.
According to Bod, this isn't really extra funding, but rather money that university faculty should have received, but have not been paid for years. He added that about the same amount ("actually 1.7 billion euros") is required to re-establish the basic student grant, a social benefit that was done away with in 2015 in favour of a student debt system (you can learn more about how it happened here). "Students and faculty have joined forces and we're not going to let anyone come between us." 
But van Engelshoven didn't have any good news for her critics. She agrees that universities need more support and that more faculty and researchers deserve full-time contracts. But on Prince's Day, when the Dutch government announces its budget, the minister won't be pulling an extra billion euros out of her hat. She explained once again that a decision concerning so much money is not one a caretaker minister can take. Van Engelshoven didn't have anything to say about the student loan system, either.
Strike action
It wasn't just the minister who was lambasted during the protest, university administrators and executive boards were also targeted. Although they support the call for more funding, they're not giving enough employees a permanent contract. Campaign group Casual Leiden, who is disappointed about the most recent collective labour agreement for university employees, proposed that if the situation doesn't improve before Christmas, they should get ready to go on strike. The plan was met with applause, and FNV union director Jan Boersma offered support, also on behalf of his colleagues at AOb.
Certain universities (which happened not to be present) were given "Penny-Pincher Awards", for example for having the most PhD scholarship students (University of Groningen), the most expensive executive board (Maastricht University), and the lowest number of women on staff (Delft University of Technology). But which Dutch university is the one with the most temporary contracts? Well, it depends how you calculate this number, but Utrecht, Rotterdam and Leiden all rank poorly in this area.
To conclude the protest, campaign group 0.7 called on all faculty and researchers to be made accountable. Particularly those with permanent contracts must stand up for their colleagues in dependent, precarious positions, and should be doing much more to fight abuses of power. "Be critical!", was their call to action.
Gratuitous
After the event, asked about the minister's speech, Rens Bod called it "gratuitous" to pass the buck to the new cabinet, instead of taking responsibility herself. "We've been waiting for four years for sufficient funding and the minister can't hide behind the old coalition agreement anymore, because that government has resigned. Now, she should say: ; this is a dire situation, we're making it a priority and we'll be making structural investments in higher education come the third Tuesday of September'"
While Van Engelshoven has acknowledged many of WOinActie's demands, it remains to be seen what will actually be done, Bod feels. "I want to see it first. Unfortunately, we're just going to have to keep fighting. This is not enough."