The Fischer-Tropsch synthesis of Pasi and José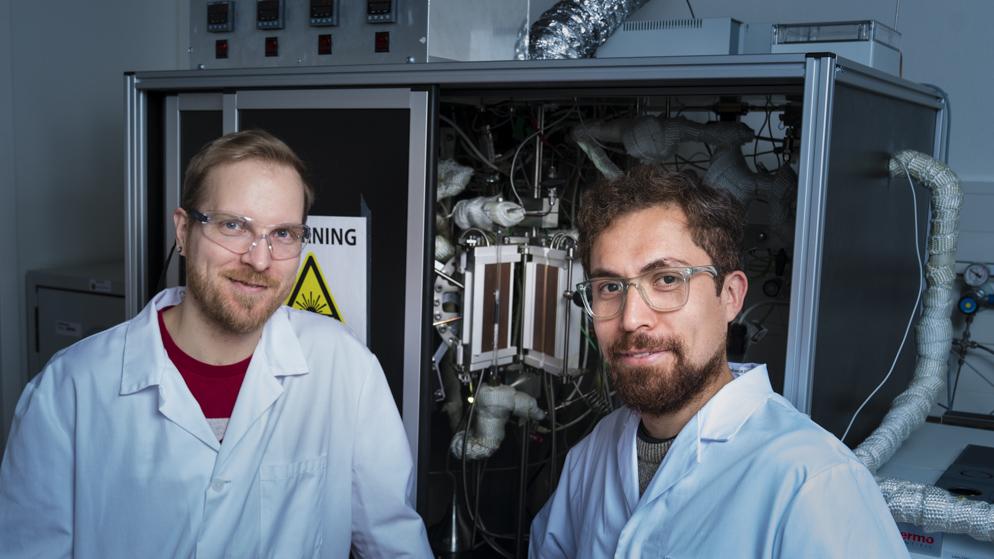 Who are you and where do you come from and what do you do?
"We are Pasi Paalanen and José Moya-Cancino. Pasi comes from the town Mikkeli, Finland. This town is in the  middle of lakes and forests. José is a Chilean guy from the small town of Cauquenes in the middle-south of the country. He arrived to Utrecht a bit more than 2 years ago, from Munich (Germany). Both we are doing our PhD under Bert Weckhuysen's supervision in the Inorganic Chemistry and Catalysis Group in the Chemistry Department."
Where is this workplace?
"This workplace is in David de Wied building, 5th floor, a pretty calm and nice place where we are surrounding by nice colleagues."
What is special about your research and your cooperation?
"José: I am researching a very interesting topic: Coke and carbide formation onto Co-based Fischer-Tropsch Catalysts", and I am using very advanced synchrotron techniques, as X-ray Raman Scattering. This research gives me the opportunity to work with the worldwide experts in the topic and to travel to incredible facilities as European Synchrotron Radiation Facility in Grenoble, France, where I can perform very unique experiments.
"Pasi: My research topic is also within the realm of Fischer-Tropsch synthesis. In my view the most interesting aspects in the research is the combination of several experimental approaches and knowledge from different fields. A bit of engineering, chemistry and some physics knowledge is needed for the research. The research also gives plenty of opportunities for international cooperation, with colleagues from all-around the world and collaborations with various instances within Europe and the US."