A shorter academic year: at UU, that's hard to do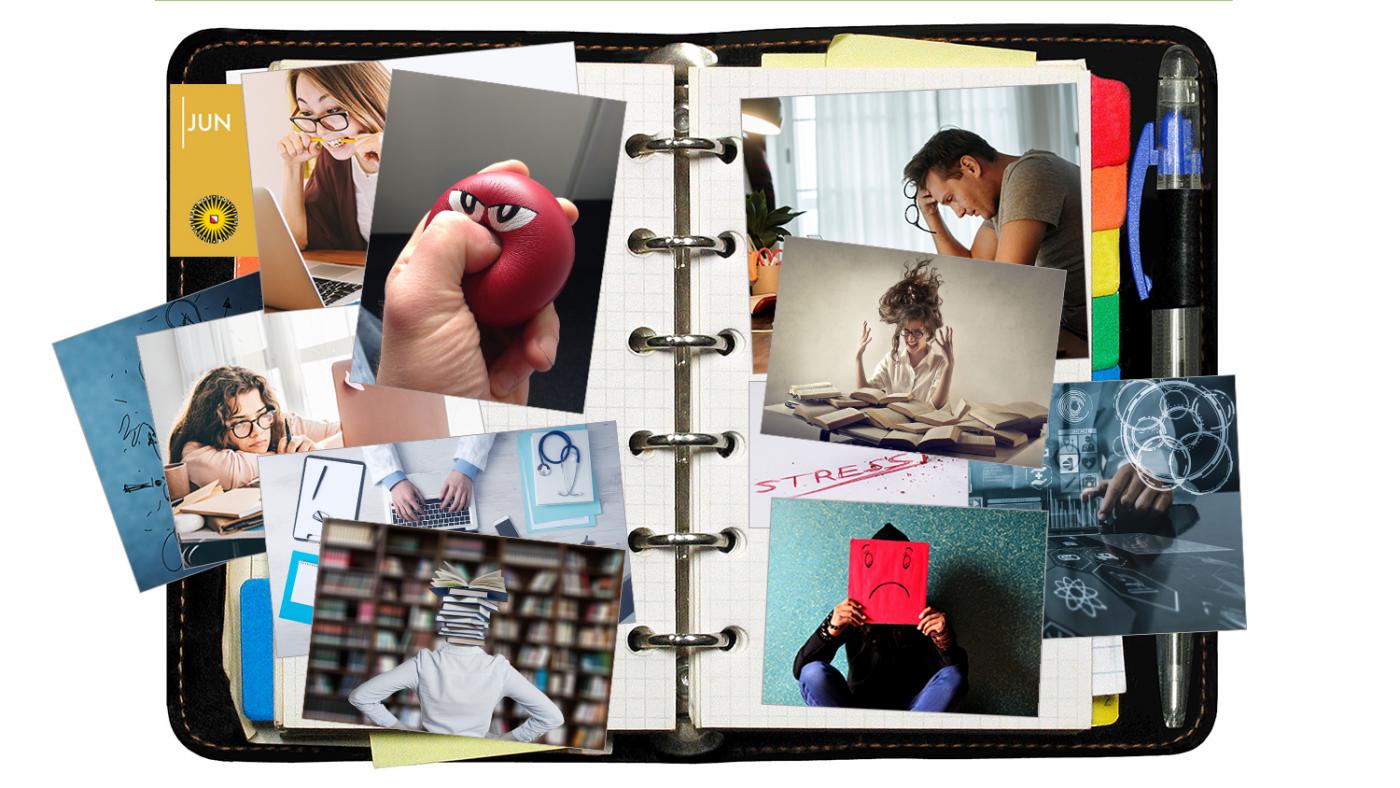 Photo: 123rf, shutterstock, DUB
In comparison with foreign colleagues, Dutch higher education teachers spend an average two extra months on teaching, according to the report A Smarter Academic Year, published earlier this month by De Jonge Akademie, an independent group within the Royal Netherlands Academy of Arts and Sciences comprising scientists aged 25 to 45.
Their conclusion: this has to change, because research and other core tasks are being put at risk by all that teaching and testing. Besides, students and teachers are experiencing an extremely high workload throughout academic year, which hardly contains any quiet moments between September and July.
A feeling of rush
De Jonge Akademie's call to schedule less teaching and testing weeks, so that there are more weeks "free of teaching", certainly hasn't appeared out of thin air. Multiple teachers at Utrecht University have already expressed this desire.
For many students and teachers, UU's system of four blocks of ten weeks, running from September to June, is very intense. Even more intense for those employed at faculties with many students and/or have a major teaching position. Those students and teachers often compare UU to other Dutch universities, where teachers are supposed to teach fewer weeks in a year, which means they are also less tied up with testing and revising.
No wonder so many UU teachers would love to see the academic year be arranged differently. The proposal surfaced yet again during the so-called workload lunches, organized by the Executive Board in 2018. By adjusting the calendar, teachers also hope to take away the 'rush feeling' that goes with the current block system, as can be read in a report.
However, up until now, time and again those propositions hit a wall, thanks to insurmountable objections and differences between faculties. Changes only seem possible within the borders of the current block system, but even so that option has been only sparsely used so far.
The same study material in less time
Following the workload lunches in 2018, a work group led by Peter Schrijver, then vice dean of the Faculty of Humanities, was given the assignment to examine whether it was possible to introduce a semester system in Utrecht, as many participants had expressed a preference for such a system, which would include a block until Christmas and another block from February to May. For this investigation, the work group met with the vice deans of all seven UU faculties.
What made this matter tricky was the fact that such a semester system – which is used by Utrecht University College – had already been considered when UU restructured its bachelor education in 2011. In addition to the extension of research time for teachers, simplifying the international student exchange was a big desire at the time. The current block system, in which block two is scheduled fifty percent before and fifty percent after the turn of the year, isn't ideal for students looking to study in Utrecht for six months.
Despite these advantages, the semester system was quickly dismissed in 2011, because the university feared that students would run into problems if they had to learn the same study material in less time. The educational quality could be jeopardized in such an intensive system. In addition, UU's buildings would be vacant too often.
No enthusiasm
In the plan that was rejected ten years ago, there was talk of fifteen-week semesters. The option that Schrijver's workgroup examined in 2018 aimed for semesters of sixteen to twenty weeks. Even so, once again there was no enthusiasm. Only the teachers of the Faculty of Humanities were keen supporters.
It soon became clear that other faculties weren't on the same page in this discussion. As it turned out, science and geo-researchers often experience more work pressure from research than from teaching. Besides, converting study programmes to a semester system would actually involve a lot of extra work.
Moreover, faculties such as Social Sciences and Law believed that the relatively low dropout rate and high study efficiency verified in Utrecht can be attributed to the block system, which makes students concentrate on a limited number of subjects, usually two, for a brief period of time. In a semester system, students usually follow several subjects at a time.
All teaching weeks
Another idea discussed in the meetings with the vice deans, was to have teaching and testing take place four times in nine weeks, instead of four times in ten weeks. This would mean that there would be only 36 teaching weeks instead of forty and that the months of January and June could be considered 'weeks free of teaching'.
This adjustment was also pleaded in an opinion piece, published by DUB three years ago, by art historian Annemieke Hoogenboom, then council member of the Faculty of Humanities and now member of the University Board.
But that, too, turned out to be unachievable. The proposal to introduce shorter blocks was met with insurmountable objections from some faculties, especially Medicine and Veterinary Medicine, where teachers and study programmes argued that they need all study weeks for their classes.
Uniform system
One might wonder why the Faculty of Humanities doesn't introduce the semester system single-handedly. Or why the university doesn't design a system of four blocks in nine weeks, like Medicine and Veterinary Medicine do. In its report, De Jonge Akademie also suggests arranging the academic year calendar more flexibly, letting each discipline determine how many teaching weeks they need.
But, in Utrecht, that would be a challenging task, as UU is happy to give students the option to also follow classes at other faculties, not to mention its desire to offer cross-disciplinary education. This means that the beginning and the end of the blocks must invariably be the same. 
Creative solutions
When it turned out that it wasn't feasible to make radical adjustments to UU's annual schedule, the work group guided by Peter Schrijver started to investigate options to reduce the work pressure within the current system of four blocks. Their reasoning was that, when the system was introduced, it was not compulsory for each of the ten weeks to be filled with teaching and testing. In June 2019, two meetings with students and teachers were organized to discuss the topic.
Those sessions eventually led to two changes to which the vice deans agreed in February 2020. Firstly, the vice deans agreed that all faculties were going to shorten their teaching periods to a maximum of nine weeks, so that there would at least be one week of revision time.
Humanities and Social Sciences had already decided to schedule less teaching weeks, so, for those faculties, this outcome did not change a thing. However, the work group hoped that setting a new norm would start a cross-faculty conversation about teaching pressure. After all, other faculties also have study programmes with many students and overburdened teachers. In the discussion meetings, students also indicated that they had no problems with a higher work load if that also meant having more weeks off.
The idea was that teachers would already be able to adjust their courses in 2020-2021. Only block four, that includes many holidays, was excluded from the agreement. It is still unclear whether this agreement has been honoured during the pandemic. The vice deans agreed to evaluate the agreement after two years.
Even at Humanities
Additionally, the faculties decided to examine whether teachers could get a longer pause around Christmas by splitting up block two. Remarkably, and perhaps also revealing, is that the first initiative in this direction led to intense discussions at the Faculty of Humanities.
The Faculty Board considered creating a 'winter intermezzo' by prolonging the Christmas break by two or four weeks. Eventually, after loud protests from the teachers, the decision was made to limit the extention to just one week (article in Dutch). "On the one hand, it's good to see how much importance teachers attach to the quality and intensity of the education, but on the other hand, it's regrettable that we are apparently not able to relieve the incredibly high work pressure felt by many," sighed the Faculty Board in a memo to the Faculty Council.
A long way to go
This summary shows how difficult it is to achieve a lower teaching load for UU teachers. There are considerable differences between the faculties and sometimes teachers appear to be their own biggest enemy. Adding insult to injury, the Executive Board aims to offer students the same academic schedule at all faculties.
Strikingly, right before the pandemic struck, the work group emphasized the benefits of online education in terms of reducing the workload. The question is whether teachers actually experienced that effect during lockdown, or perhaps will experience this in the future. It also raises the question whether online education will change the perception of a rather long or full academic year.
Annemieke Hoogenboom is happy with the long Christmas break at the Faculty of Humanities, but at the same time she thinks there's still "a long way to go." The diverse reactions to her op-ed on DUB indicate how opinions about the academic calendar vary across the university.
In her view, the report by De Jonge Akademie is a reason to raise the issue within the University Council yet again this year. "I personally think that the Executive Board can no longer ask faculties to settle this problem among themselves, because they have failed to do so all too often."
The number of teaching and testing weeks must be reduced, the teaching-free periods must be closely monitored and the teaching calendar must be more flexible. These are the propositions of the Young Academy. The reactions to this plan are certainly not unanimous:
The
Comenius Network
of educators, who focus on the innovation of higher education in the Netherlands, is not yet convinced. They agree that the workload in higher education needs to be tackled but they believe that simply shortening the academic year comes with too many risks.
According to co-chair Marion Tillema, it is possible to provide the same, or better yet, superior, quality of education in less time. But she believes this requires a thorough review of the educational system. "The current system is already under pressure, so we believe reducing tuition time at present would pose too great of a risk to the quality of education", says Tillema.

The Dutch Student Union (LSVb) has similar concerns. "Reducing workloads is a great goal, but too risky if you want to do the same in less time", according to chairperson Ama Boahene. What might help is reducing the number of exams to create more time. "But a thorough review of degree programmes would be necessary first."
The Dutch National Students' Association (ISO) emphasises that these plans should not be the result of financial considerations. "But of course we can talk about it", says chairperson Lisanne de Roos.

The Association of Universities in the Netherlands views the plans more positively. Chairperson Pieter Duisenberg is interested in having "serious talks" with The Young Academy about the topic. The Netherlands Association of Universities of Applied Sciences has also observed a high workload for lecturers and researchers and is "very interested" in reviewing the proposal.

The General Union of Education (AOb) has shown the greatest enthusiasm, stating that they "fully support" the plans and that they believe it is "a fantastic tool for reducing workloads". The Union believes more use could be made of digital and independent education.

According to the General Union of Education, a shorter academic year could also help lower workloads at universities of applied sciences, although the link between teaching time and less research applies to a lesser degree there. The Union would like to see a follow-up study on the topic.
Advertisement