Read in Dutch
Everyone is happy and that is just great to see. It is a bit like carnival, but very different," says Italian physiotherapy student Cecilia, who has been living in the Netherlands for three years. Zoé from France, who is doing a master's degree at Utrecht University, can confirm this after last year's experience: "This is incredible. In France this would never be possible. Such a party would be complete anarchy. Here, everything goes berserk, but more checked."
On King's Day, the Netherlands celebrates the birthday of King Willem-Alexander. He turns 52 on 27 April. The king is visiting Amersfoort this year and the rest of the country is celebrating with flea markets and parties. (see box) The parties in Amsterdam and Utrecht have been very popular for years. They start on the evening before the 27th.
Celia and Zoé had to get used to all those festivities when they experienced King's Day for the first time. Celia: "Everyone was dressed in orange. I had not taken that into account, so I felt a bit strange among all those people the first time. I was also surprised how friendly everyone was to each other." This year she will be dressed up. "I have already bought an orange T-shirt and an orange hat."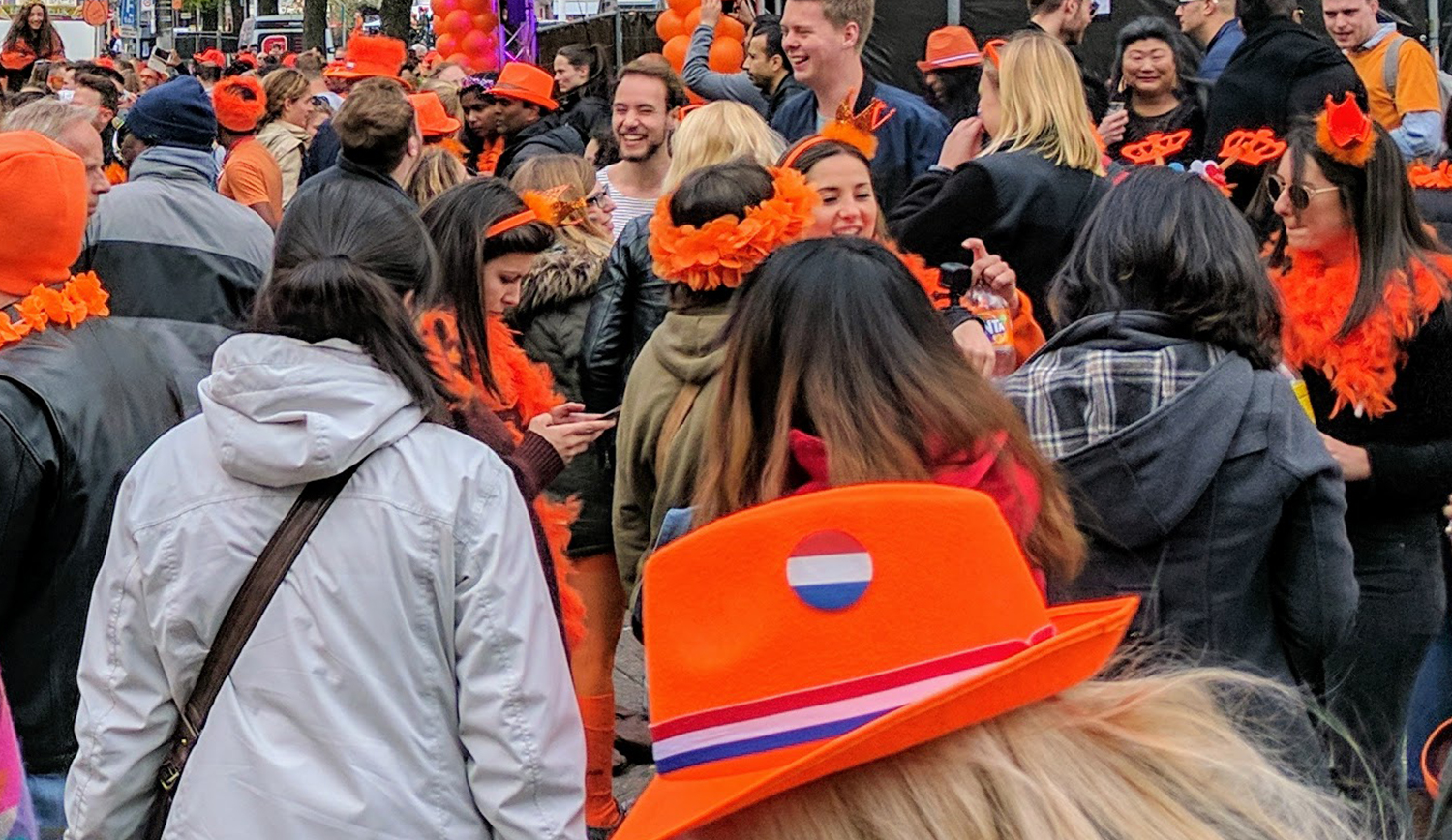 This will be the first King's Day for Antonia from Germany. She is studying at University College Utrecht and is sitting outside in the sun with a group. "I am not sure what to expect, but I'll let myself be surprised." Percy from Germany does not yet know whether he will join the party. Antonia laughs and says, "What else are you going to do, do you want to sit here on your own while the rest is partying?"
Most of the students walking around the UCU grounds think it is not surprising that the Dutch celebrate the king's birthday. Yota from Japan: "I think it's just part of a constitutional monarchy. The English do it too." Yota will certainly take a look at the festivities in the city.
The Italian Cecilia had to get used to the traditions of the Orange Festival. "I laughed a lot when I first saw nail pooping and cookie biting." This time she won't hesitate to try it. "I am going to walk around the flea market, I have not been there in previous years." Nail pooping and cookie biting are old Dutch games that are played at King's Day or children's parties. With nail pooping, a nail is attached to a string. The string is tied around your waist in such a way that the nail dangles under your buttocks. Then you try to slide the nail into the neck of a bottle by assuming a sitting position. With cookie biting, cookies hang on a string on a clothesline. You have to try to eat the cookie with your hands on your back.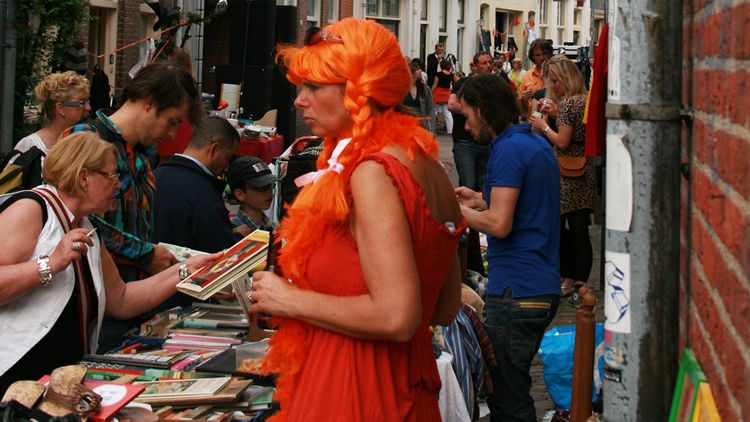 Zoé from France admits that she finds the idea of ​​the party a bit strange. "It is strange that everyone celebrates the birthday of a man who nobody really knows. But in the end, it doesn't really matter that much, because it's a good excuse to party hard." At first, she didn't know it was on the king's actual birthday either. "I thought it was just a holiday that was named after the king."
This year Zoé has made real plans for King's Day. "I have invited a friend from France. Of course, I told her to bring something orange. I want to show her King's Day to the fullest. I'm sure she will like it. I also want to go to King's Night, but we are still contemplating how long we will stay, because I think King's Day is more important.
Cecilia is also going to take a bigger approach this time. "I am going to Amsterdam to celebrate King's Day on a boat. Together with ESN students. Every year I try to give a different interpretation to the party," she says as she gets on her bike to cycle to college
---
What exactly can you do in Utrecht?
The party starts exactly on at 6pm on Friday 26 April. Then the flea market opens in the city center of Utrecht. As time progresses in the evening, more and more parties will start. Especially on the large squares in the center such as the Janskerkhof. These parties can be visited free of charge. Some student associations also open the doors of their premises to the general public for a party at the association. In addition, there are many special parties in clubs such as Ekko and De Helling. A comprehensive overview of the program in Utrecht can be found on De Utrechtse Internet Courant DUIC.
What's King's Day?
King's Day is a national holiday in the Kingdom of the Netherlands. It is celebrated on 27 April, the birthday of King Willem-Alexander. If April 27 is a Sunday, King's Day is celebrated the day before. It is a national holiday which means that most Dutch people have the day off. Since 1948 the Kingdom has been celebrating the birthday of the monarch. It started with Queen Juliana, who had her birthday on 30 April.
Nowadays various festivities are organized in all cities in the Netherlands. These can be festivals and street parties. In addition to the open-air parties, there are flea markets in many villages and towns. People empty their attic and shed and try to earn a pocket money by selling their things.
Many children gather everything they can sell or do in order to earn something. They sell their old toys, play their guitar, sell cupcakes or come up with a game that you can participate in for a small amount of money.
The day before King's Day is called King's Night. There are different parties then. In Utrecht there are parties on the street and in the pub during this night King's Day is peppered with traditions. For example, almost everyone is dressed in the national color orange. Crazy games are also included. Sack runs for example, where you step into a burlap bag and hop on a course as quickly as possible. It is also very popular to throw raw eggs at someone who is dressed as a famous person with whom you are in disagreement.
The orange 'tompoes' is also indispensable on King's Day. This is a pastry that is normally colored pink with yellow cream between two puff pastry cakes The king himself visits a municipality in the Netherlands with members of his family. The residents do their best to give the Royal Family an unforgettable day with music, performances and games. This year he is going to Amersfoort. The royal day is broadcast live on television.