Read in Dutch
Why did you choose your study programme?
"I mainly chose the city, really. I'm from the countryside, and I thought a large city like Amsterdam was too intimidating. Utrecht feels more like a village and has gorgeous university buildings in the city centre. Except I wasn't able to enjoy them for long. After half a year studying English Language and Culture, I realised a study programme in hthe humanitie wasn't for me, so I quit. I felt more at home at Biomedical Sciences, but all my classes were at the Utrecht Science Park (De Uithof)".
Why did a Sciences programme suit you better?
"I love English and Dutch literature, but it didn't take long for me to notice that I prefer to read in my free time. I was very young when I started at the University, only seventeen. I had a hard time making myself work. At Biomedical Sciences, the setup is more school-like, there are more contact hours. I needed that to stay focused. It also helped that, in the meantime, I spent six months scanning documents for a tax consultant office. After spending such a long time doing mind-numbing work, I wanted something challenging".
What's your connection to the university?
"I have a pledge class at study association Veritas, and I keep in touch with peers from my studies. But my connection to the University really started to grow when I dove into the city's history for my job as a tour guide. I was the only scientist on the team, so I thought it would be fun to give scientific city tours . As a university city, the scientific stories of Utrecht University are everywhere. The first laboratories and research gardens were all located in the old city centre: at the Janskerkhof and Dom square, at the Lange Nieuwstraat and the Catherijnesingel. Those buildings are used for other purposes now, but they are all still there. Even today, history is being made with ground-breaking research. I like to involve researchers in my tours, who talk about the research they're conducting".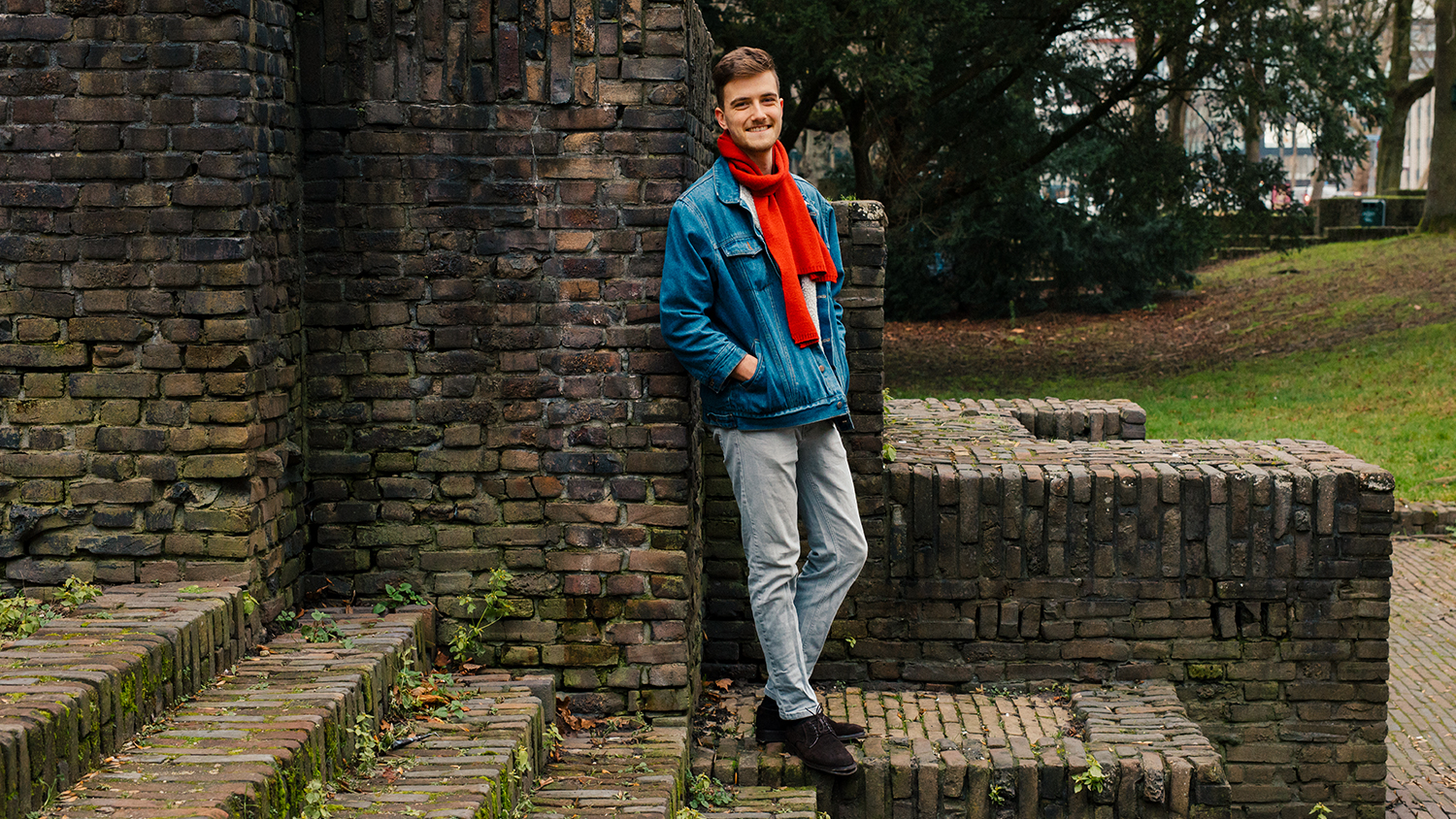 What's the most special place in Utrecht for you?
"I think it's the solar system that creative entrepreneur Louk Roëll created in Utrecht. The metal ball in front of the University Hall represents the sun – it was built in 1994, for the 350th anniversary of the Astronomy programme. In 2017, planets were built around it, scattered all across Utrecht. You can see the Dom from every planet. That's a beautiful concept. It's also made exactly to scale: the balls that represent the planets and the sun, as well as the distance between the planets: the scale is one to a billion".
What do you like the most about your work?
"The fact that it covers all of my interests. I love the world of cells and the body, but I don't enjoy being in a laboratory. I prefer the theories and stories behind things, and I like to think about how to make science interesting to a broad audience. That's what I do at Studium Generale, too. At the moment, we're working on a lecture about the secrets of the bottom of the ocean. A deep-sea geologist is going to show how this undiscovered area is being mapped better and better. That's important to researchers, but also to companies looking to do harmful deep-sea mining. That suddenly generates tension there – something everyone can think about and have a say in".
What's the biggest difference between studying and working for you?
"That your work is no longer graded. On the one hand, that's nice, but on the other, it's tricky to know when you're doing well. You have to read it in your employer's face, or just trust your own instincts. I think that if you learn to decide for yourself when you're doing a good job, that gives you confidence. I also like teamwork. I didn't get to do that a lot during my studies".
How did you build your network?
"I would say, from a place of genuine interest. I'm not very active on LinkedIn. I basically built my professional network through curiosity. I'm always curious about what people do and why. Scientists love answering questions, so if you want to build a scientific network, that works very well!"
What would you like to achieve in the coming years?
"I'd like to bridge the gap between science and society. That's why I've been thinking a lot about how to make scientific knowledge more accessible. I'm doing this through my work at Studium Generale and Utrecht Free Tours, but perhaps it's also possible to do it through articles or a podcast. I don't mind what the method is. The message is more important than the medium. Although I would like to experiment with storytelling devices like podcasts or videos".
CV: Niels Tjoonk studied Biomedical Sciences from 2014 to 2018, and continued to a MSc in Cancer, Stem Cells & Developmental Biology at Utrecht University. He voluntarily gives scientific tours through the city centre, and has been working as a programme officer for Studium Generale since the beginning of 2021.
This article was made in collaboration with alumni magazine Illuster. The last issue of Illuster came out on March 25, focusing on the anniversary of Utrecht University and the relationship between the University and the city.